Words, Photography & Film by: Tim Charody on March 11 2018
Big Island (or Hawai'i Island) is a dramatic land of ultimate extremes. From white and black sand beaches fringed by tall coconut palms to dry, almost desert-like savannah to lush rainforest, lava-spewing volcanoes, vibrant coral reefs and even snow-capped mountains, it's hard to imagine a place that is more dramatically diverse. I love the Big Island in so many ways and what makes it even better is the fact that it is home to three great local craft breweries that will keep your taste-buds tingling like the rest of your senses the entire time you are here.

KONA BREWING COMPANY
Probably the most popular and wide-spread of all Hawai'i's craft breweries, Kona Brewing Company lay claim to beers such as the hugely popular 'Longboard Island Lager', their 'Fire Rock Pale Ale' and their 'Castaway IPA'. On top of being able to taste these well known Hawaiian brewskis fresh from the tanks, if you visit the brewery in person, you can treat yourself to some incredibly inventive seasonals and one-off releases that are constantly being crafted by their talented brewers (I found myself sipping on a delicious lemongrass wheat beer during my visit). Oh, and just a cool side-track, their beers are all brewed with deep sea water that is brought up from 3,000 feet below sea level!
Beers: The entire Kona Brewing Company flagship range as well as some seasonal surprises and one-off releases.
Food: Bacon-wrapped shrimp. Mana Grill – baby back ribs smothered in Black Sand Porter BBQ sauce, grilled chicken breast and chef's choice of sausage.
Vibe: Bright, tropical and airy.
Address: 74-5612 Pawai Pl, Kailua-Kona
BIG ISLAND BREWHAUS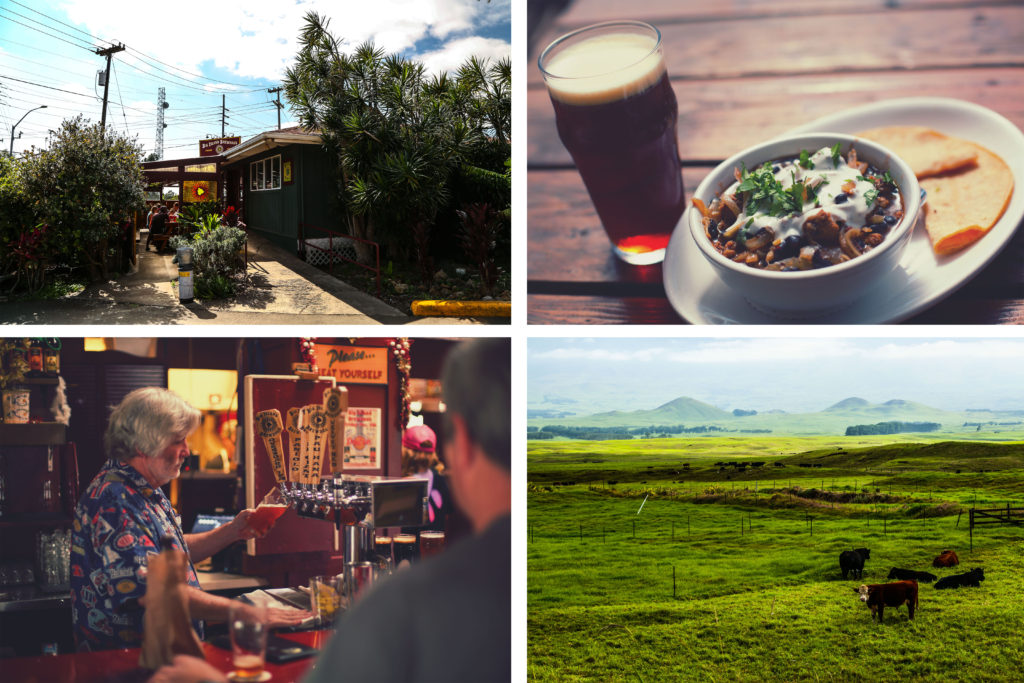 Situated in the rural, inner-island town of Waimea, Big Island Brewhaus sits smack-bang in amongst the island's rolling green hills, quaint rural towns and famous Hawaiian cattle ranches. You can drop in for a hearty country meal and a freshly brewed beer in the brewpub alongside the friendly Paniolos (Hawaiian cowboys).  
Beers: A decent range of beer brewed onsite – IPA, Belgian style Pale Ale, Red Stout, Oktoberfest Bier, Pilsner.
Food: Skinless haus-made sausage, mushrooms and onion sautéed in Big Island Brewhaus IPA served with sour cream, black beans and cilantro. Locally grown Kikela romaine leaves stuffed with savory Kalua Pork and Kung Pau macadamia nuts, topped with pickled onion and sriracha aoli.
Vibe: Simple, honest and good quality.
Address: 1066 Mamalahoa Hwy, Kamuela
MEHANA 
Located in the heavily local Hawaiian town of Hilo, Mehana's motto of "drink local" is at the core of their brew culture. While the brewery itself is nothing pretty, it is in every way a good, honest working brewery that crafts a decent range of beers that are a real hit with the local population. You can drop in for a taste test and to 'talk story' with the brewers in their little tasting room inside the brewery, or to simply pick up a few cans or growlers fresh from the tanks for later on.  
Beers: The entire Mehana range – Pale Ale, Red Ale, Blonde Ale, Porter, IPA.
Food: No food available onsite so bring your own.
Vibe: Honest working brewery with no frills.
Address: 275 E. Kawili Street, Hilo
Click here for O'ahu // Click here for Maui