Words, Photography & Film by: Tim Charody on March 10 2018
Maui's mix of ultimate luxury, adventure and genuine local Hawaiian vibes has seen it rank as a favourite by many visitors to the Hawaiian islands. For me, I love this island for it's local produce scene that is unmatched among the islands, maybe even one of the most unique in the entire US. When you couple this passion for fresh local produce with a fun-loving local culture, you have a breeding ground for quality craft beer. The beer of the island is Maui Brewing Company and you will find it everywhere. I do suggest however, like all quality beer, that you try it direct from the source. Not only is it fresh and packed full of flavour but the experience of visiting the brewery or brewpub itself will give you a deeper understanding about the beer you are drinking and the culture that surrounds it.

MAUI BREWING CO.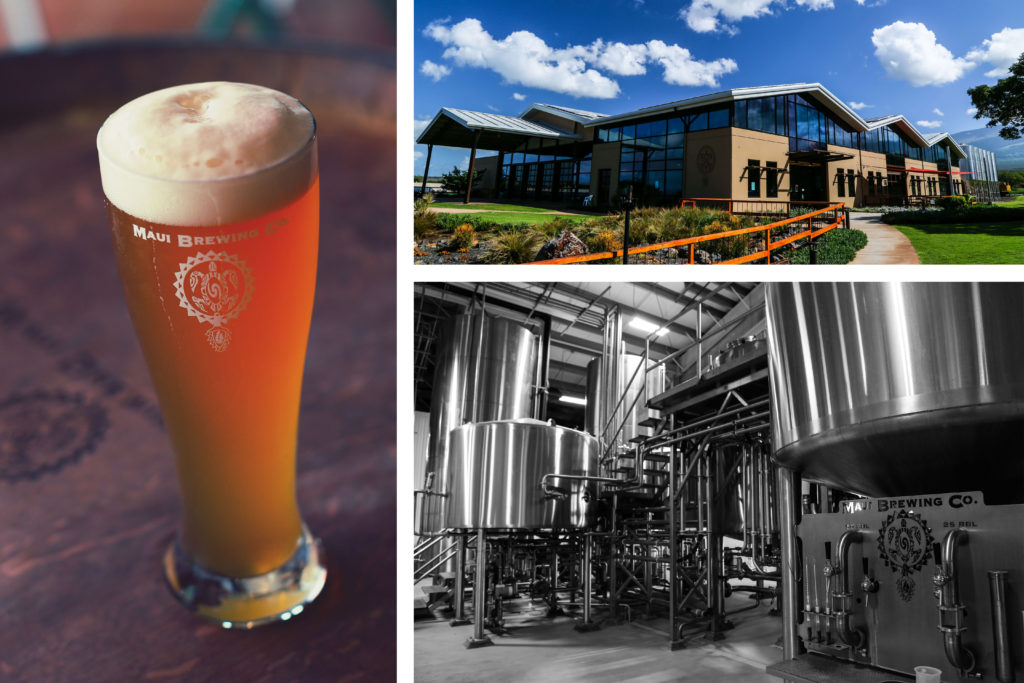 Maui Brewing Company is undoubtedly the beer range of Maui (and a fine range at that!). Their flagship brews ('Bikini Blonde', Big Swell IPA', 'Coconut Porter', 'Mana Wheat') are all great beers (especially their IPA), however the real treat with this brewery is it's long list of in-house brews, seasonals, small-batch and one-off-releases (most of which you can only sample at the brewery or brewpub itself). Maui Brewing Company's incredible success has seen it split into two separate locations on the island and both are definitely worth a visit.
 Brewery and tasting room, Kihei
This is the Maui Brewing Company's powerhouse, it's where the magic happens! A visit here isn't complete without a tour of the impressive brewery itself and then a kick back in the onsite tasting room where you can sample the final product. The tasting room alone has up to 35 Maui Brewing Company beers on tap, ranging from IPA and double IPAs to Hefeweizens, schwartzbier, amber ales, pineapple wheat beers, pumpkin ales, imperial stouts, doppelbocks, chilli beers, coconut porters and even double coconut porters!
Beers: The flagship Maui Brewing Company range as well as seasonal releases, one-offs and small batches.
Food: A rotating schedule of food trucks will come to the site serving anything from tacos and ribs to pizza, burgers and carnivorous BBQ delights.
Vibe: Big, tropical, friendly and modern.
Address: 605 Lipoa Pkwy, Kihei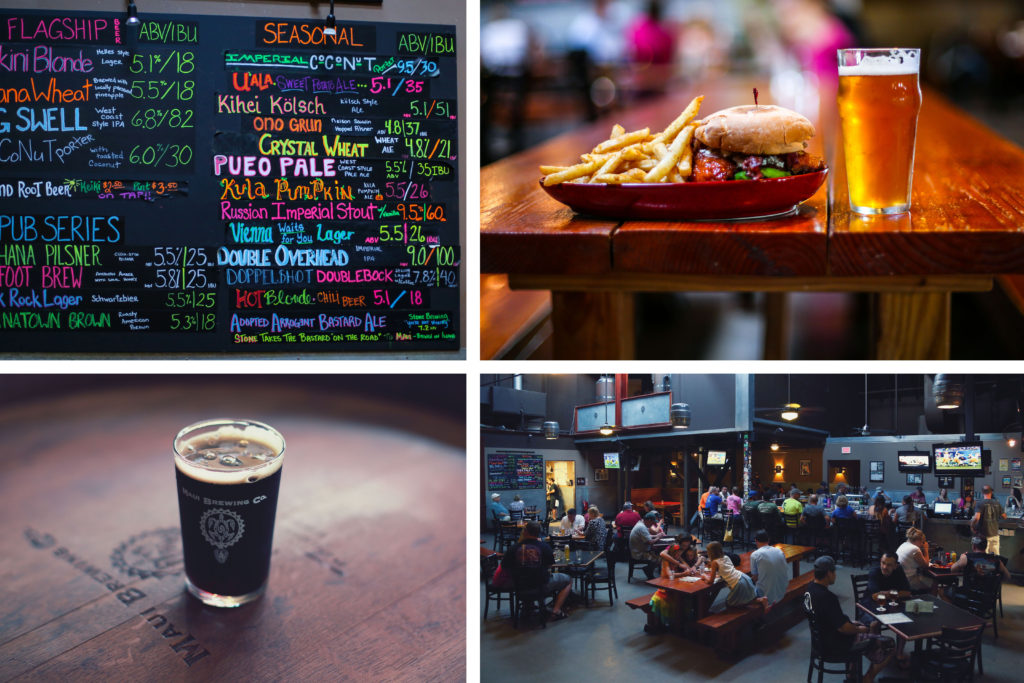 A very cool space where you can hide from the tropical heat with a quality beer (brewed either at the brewery just down the coast or there in the brewpub itself) and chow down on a classic Hawaiian-American dish. The bar itself is one of the friendliest I have come across and a great zone for sparking up conversation with some like-minded folk who don't mind a good quality craft beer.  
Beers: The flagship Maui Brewing Company range as well as seasonal releases, one-offs and small batches.
Food: Buffalo chicken burger with bleu cheese, caramelised onion and spicy bikini blonde wing sauce. Seared Ahi (tuna) with red onion, house-pickled radish and lemon tahini.
Vibe: Big, dark, cool and slightly industrial.
Address: 4405 Honoapiilani Highway #217
 Lahaina
MONKEY POD
A fine selection of US and Hawaiian Craft beers with a big focus on superstar craft breweries from the Mainland. Though the main focus of this great bar is fine food and mouthwatering pizzas cooked right there in front of you.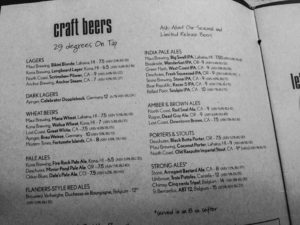 Beers: Fine selection of mainland US craft beers from Stone Brewing, Deschutes, Green Flash, Lagunitas, Ballast Point, Rogue, as well as local drops from Maui Brewing Co.
Food: Lobster deviled eggs. Hamakua wild mushroom and truffle oil wood-fired pizza. Poke (raw tuna, ginger and shoyu) tacos.
Vibe: Down to earth, tropical and pleasant.
Address: 10 Wailea Gateway Place B-201, Kihei
KAHULUI ALE HOUSE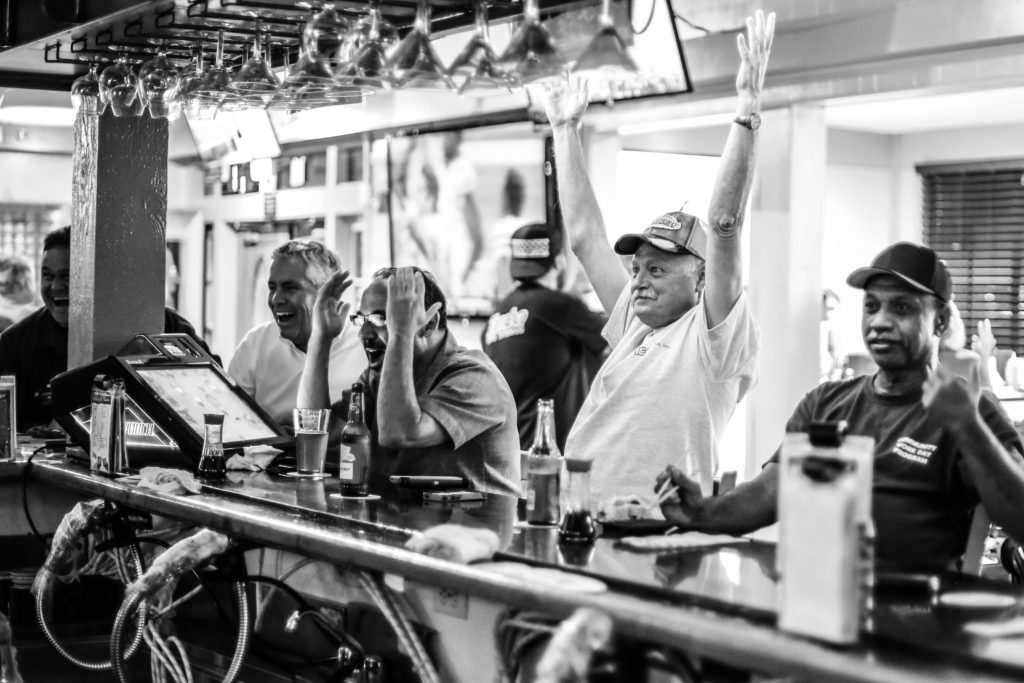 Your typical US-style sports bar that focuses on two things – sport and good beer. When I was here, there was a nail-biting game of NFL playing and I can safely say the locals get pretty involved! An added bonus is their onsite sushi bar that churns out quality Japanese food you can chow down on at the bar.
Beers: Fine range of craft on draft from across the Mainland USA and Hawaii.
Food: BBQ ribs, prime cut steak, Blackened mahi-mahi wrap, Caesar salad at the bar or a fine Japanese selection from the in-house sushi bar.
Vibe: US Sports bar-diner. Can be loud when a big game is on, but definitely a welcoming place.
Address: 355 E Kamehameha Ave, Kahului
Click here for Hawai'i Island (Big Island) // or here for O'ahu