Words, Photography & Film by: Tim Charody on February 12 2018
The tidal wave of craft beer that has taken the world by storm in recent years flowed far and wide, filling bars and bottle shops with more incredibly tasty, naturally-brewed beer than you could poke a stick at, however did it reach far enough to drench the far flung Hawaiian Islands of the Pacific Ocean with these artistic brews? You bet it did! And it didn't take too much convincing to get me over there to check out the local craft beer scene for myself!
So next time you find yourself in the islands of Aloha, follow this guide and your holiday memories will be accompanied by a fine array of fresh, bright, delicious and interesting local brews! Here is my craft beer guide to the Hawaiian Islands: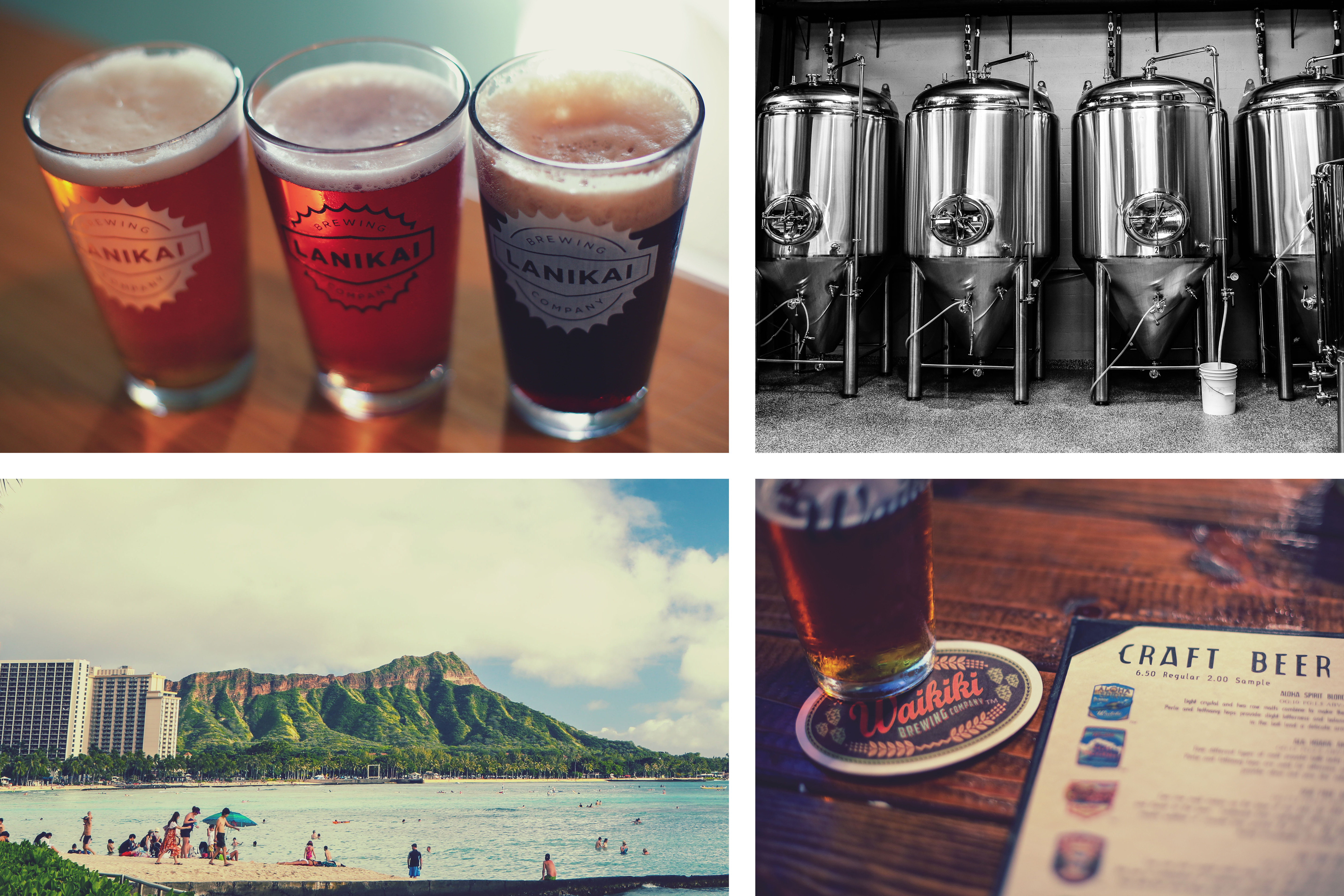 Honolulu & Waikiki
My first stop, like so many, will be the vibrant, cosmopolitan city if Honolulu and that easy, dreamy beach called Waikiki which is synonymous with any Hawaiian holiday. It's no surprise that locals have tapped into the global craft beer obsession by setting up a variety of local breweries, craft beer bars and brewpubs aimed at visitors and locals alike.
Waikiki Brewing Company (Brewpub)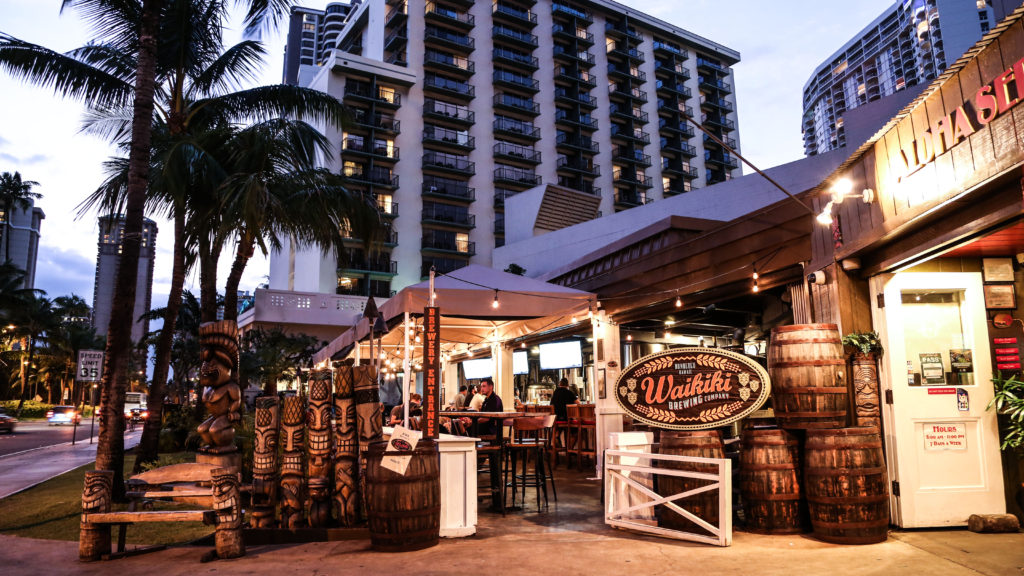 Just a short stroll from the sparkling waters of Waikiki Beach is the Waikiki Brewing Company. Take a seat at the bar and grab a fresh beer straight from the tanks standing proudly no more than two meters away from you. A friendly pub with quality beer and quality food – their cheeseburgers and buffalo wings are a fine match to their hoppy house-brewed IPAs and Pale Ales!
Beers: All brewed onsite. Tasty and experimental but approachable options available for the less beery-types. Blonde Ale, Amber Ale, Pale Ale, IPA, Hefeweizen, Porter, Jalepeño Amber Ale, English Brown, XPA.

Food: Famous for their house Cheeseburgers, though their 'drunken' chicken wings and Prime Rib are also very munchable.
Vibe: Chilled and social. A nice long bar to sit at and spark up a conversation with the bartender or a complete stranger.
Address: 1945 Kalakaua Ave, Honolulu.
The Yardhouse (Beer Bar)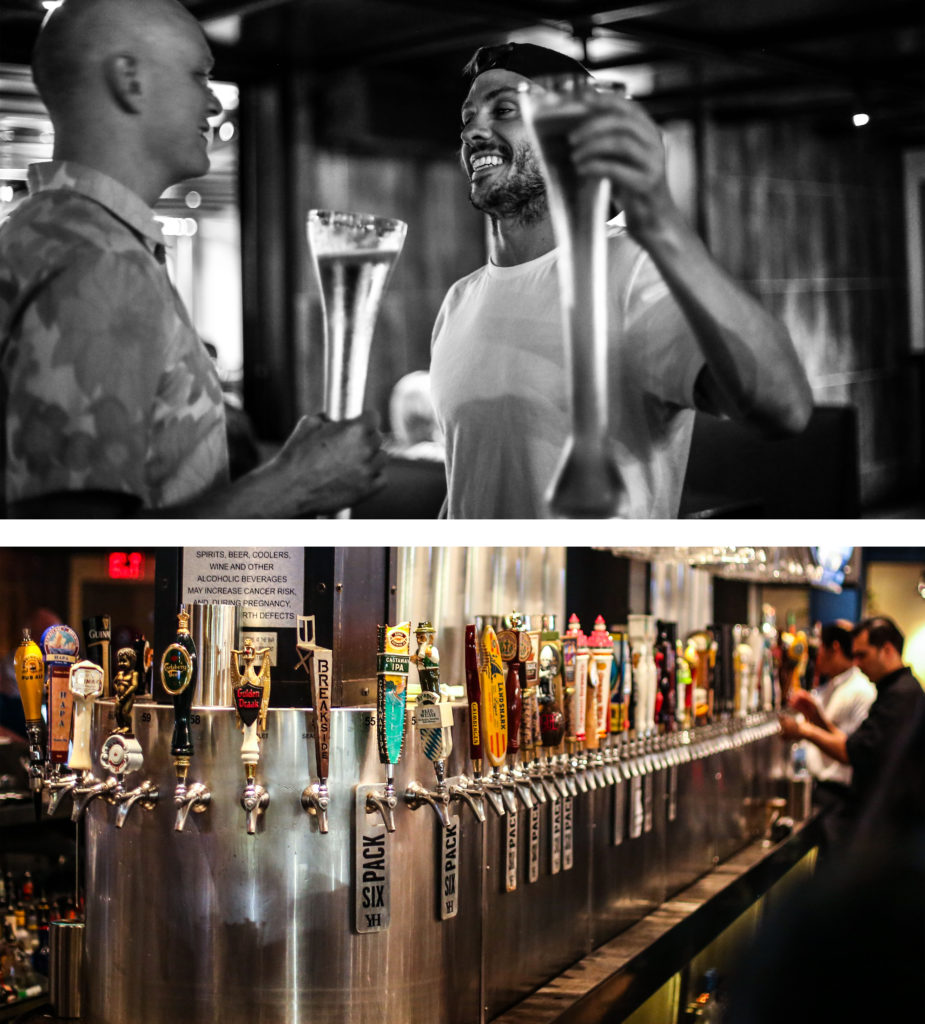 You will most probably never see a line of beer taps as long, or as diverse as you will at the Yardhouse. At 100 taps long and pouring a constantly rotating list of some of the planets finest beers, just making your mind up here is an adventure on it's own.
Beers: Everything you could possible imagine from Budweiser all the way to obscure Belgian Trappists. The knowledgeable bartenders will help you out if you get lost!
Food: Ahi (tuna) crunchy salad, Southern Fried chicken breast, Coconut shrimp on rice.
Vibe: Touristic and diverse. Being quite a popular tourist attraction, long waits for a table are common. Having said that, once you are inside, you will find a friendly vibe with bartenders who don't mind joking around and fellow beer-drinkers to chat with from all around the planet.
Address: 226 Lewers St, Honolulu.
 Honolulu Beerworks (Brewpub)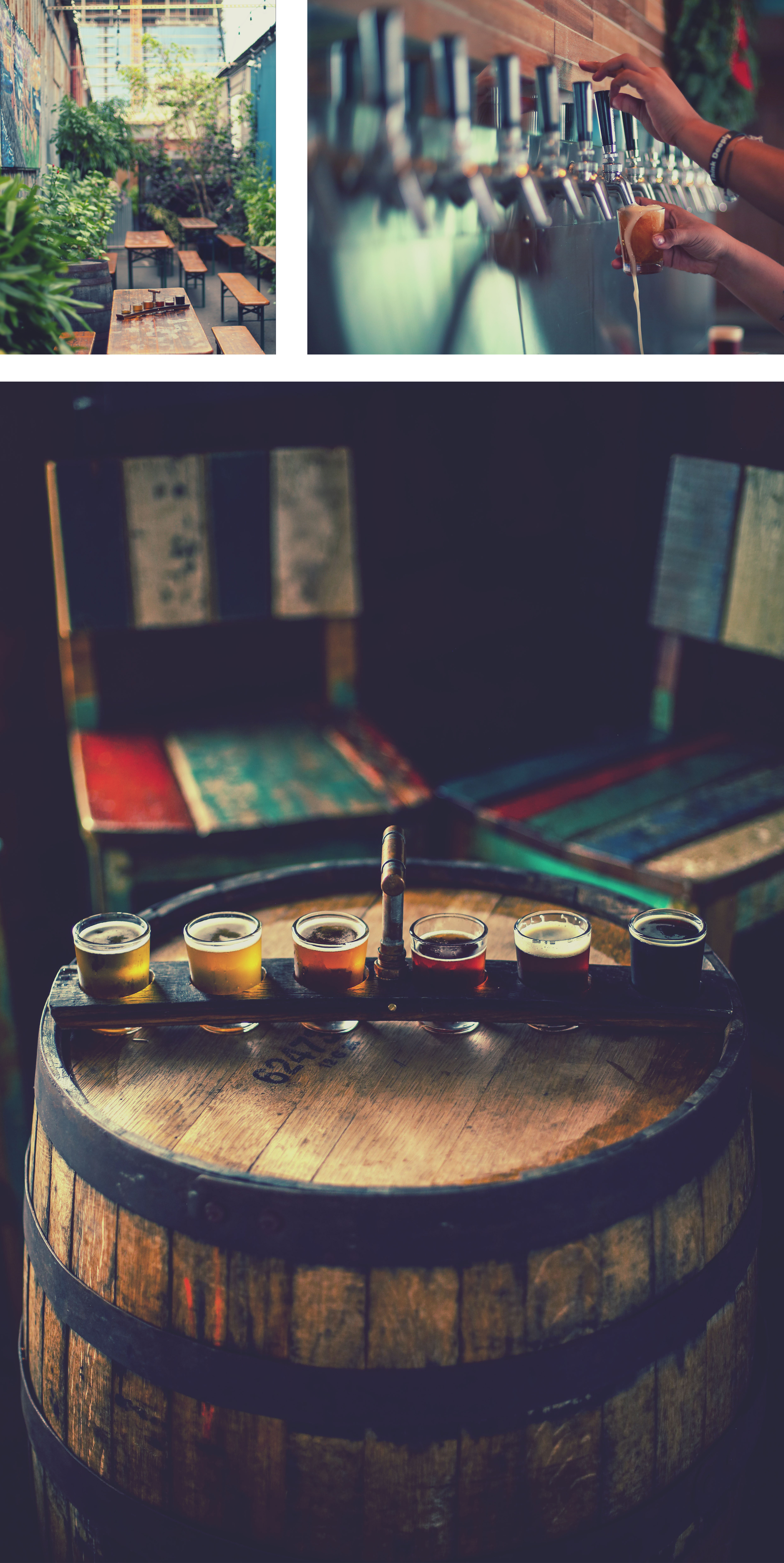 Head along the coast towards Honolulu CBD from Waikiki and you will find yourself passing through a funky little street-art adorned industrial area which is home to Honolulu Beerworks. This great space, decked out with recycled wood and beer paraphernalia is a perfect stop for lunch or dinner. The beers brewed in the onsite microbrewery cover a wide range of styles from farmhouse saisons to single hop IPAs, Stouts, ESBs and brown ales. 
Beers: A wide range of interesting styles that are all quite approachable. Nothing overly intense but all very tasty! Honey Citrus Saison, Single Hop IPA, Rye Pale Ale, Cream Ale, Brown Ale, Stout, ESB and seasonal releases.
Food: Pacific Salmon salad sandwich, Pastrami Reuben sandwich with swiss cheese on Rye bread.
Vibe: Cool and funky while at the same time remaining friendly and unpretentious. Suits a crowd of all ages and interests (as long as you like beer!)
Address: 328 Cooke St, Honolulu
'Home Of The Brave' Brewseum (Brewpub)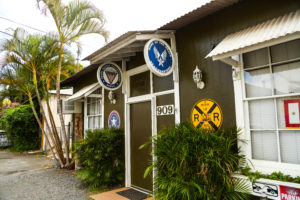 The name kinda says it all. It's a brewery and a museum dedicated to remembering the soliders who fought for the USA in WWII. Being home to an impressive collection of wartime memorabilia, you can learn a thing or two while sipping on a house-made brew!
Beers: Lager, dark Lager, IPA and Pale Ale
Food: Simple bar snacks like popcorn and pretzels.
Vibe: American bar style with piles of character and plenty of interesting memorabilia to keep your eyes wandering the room
Address: 901 Waimanu st, Honolulu
Real A Gastropub (Craft Beer Bar)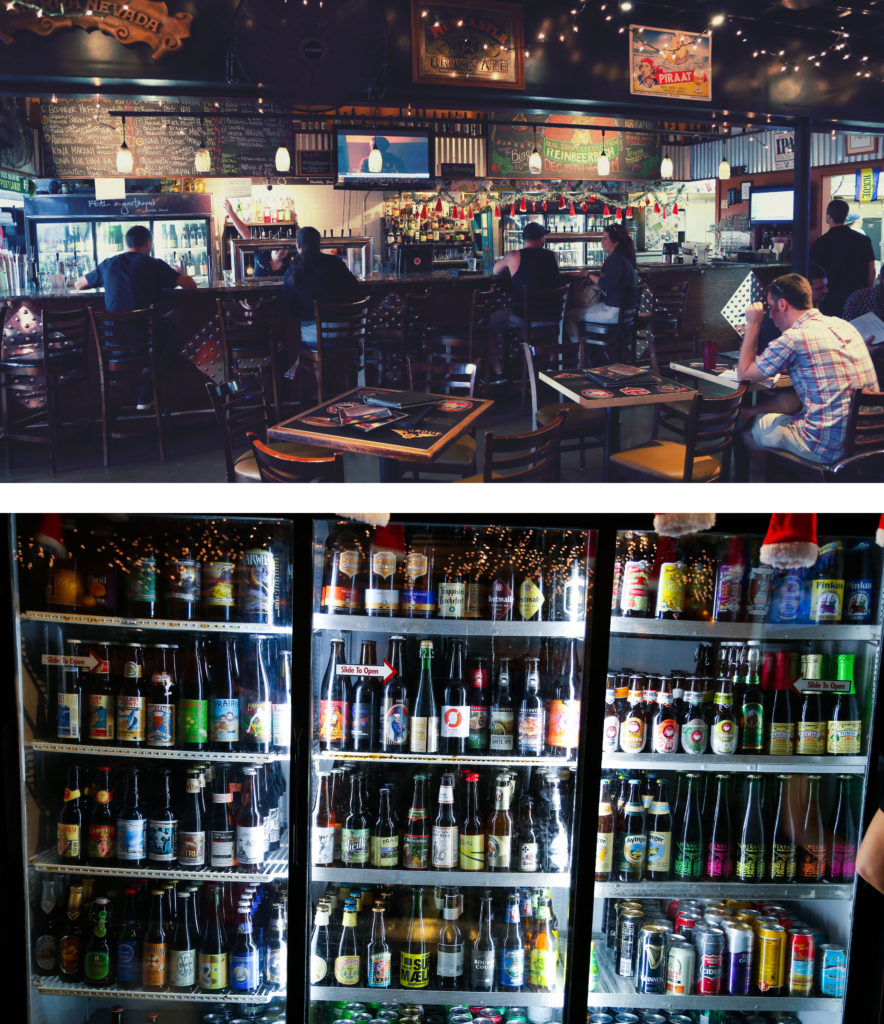 Walking in here, you tend to get the feeling this is your typical American 'dive-bar', being dimly lit and located in a pokey corner of a carpark next to a huge supermarket. One look at the beer menu however, and you realise this is possibly one of the best beer lists in the state and the bartenders will probably have to get you out of there with a crow bar (in my case anyway).
Beers: Great beer list from around the USA and the world (but mostly USA). All species of craft beers ranging from light and sessionable to the most extreme!
Food: Beer braised brisket poutine, duck confit 'corn dog' with cranberry compote and Guinness mustard.
Vibe: Divey and cool. A dingy little bar that serves the goods.
Address: 1020 Auahi Street, Honolulu
Brew'd Craft Beer Pub (Craft Beer Bar)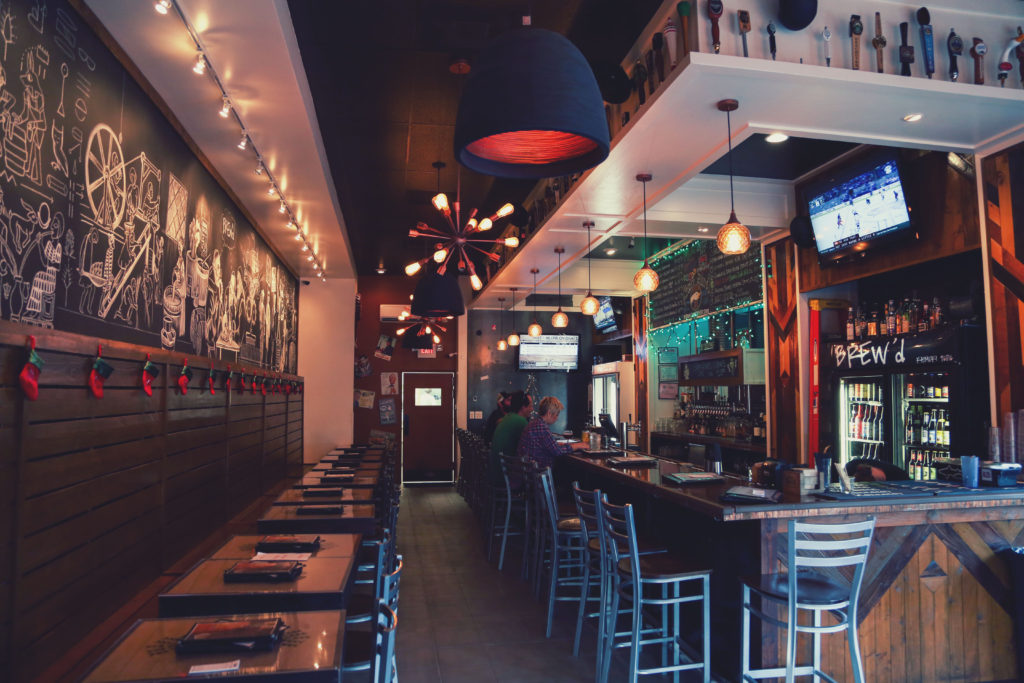 Located on the other side of Waikiki (heading East), 'Brew'd' is the sister bar of 'Real A Gastropub' so you can expect a very similar beer and food menu. It's all about craft beer here, particularly fine brews from across the USA.
Beers: 19 taps and over 200 bottled beers from across the USA and the world. Ideal for beer connoisseurs who know their ales from their lagers.
Food: Blackened island fish sliders with slaw, roasted jalapeño and aioli. Mongolian BBQ tossed chicken wings.
Vibe: Bright and modern with a good 'crafty' vibe.
Address: 3441 Waialae Ave, Honolulu

East Coast – Kailua
In my mind, you haven't truly experienced O'ahu unless you have taken a drive along it's spectacular East Coast and up to the legendary North Shore. On the way however, is a little town called Kailua, just 30minutes drive from Waikiki. It is here were you will find one of Hawaii's newest (and finest) craft breweries, so make sure you drop in to pick up a growler, have a taster (if you are lucky enough to be in the drivers seat) or pick up a few bottles for the festivities later on.

Lanikai Brewing Company.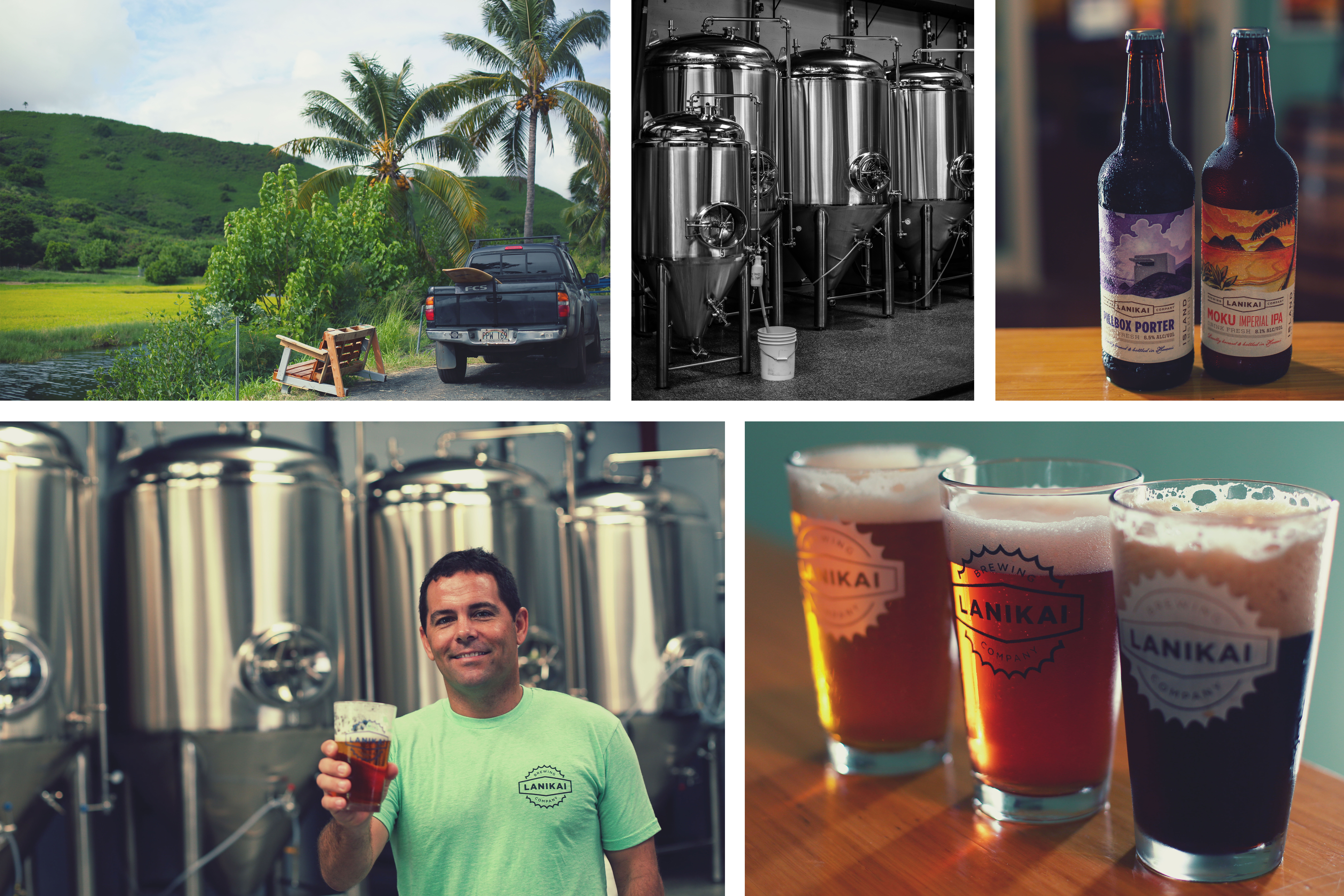 Ticking away in a small work shed on the edge of a lush, green valley in the east coast town of Kailua is an unassuming little craft brewery that doesn't tell you much at first glance. However rock up on a Saturday afternoon and the line of empty growler-toting craft beer fanatics snaking out the door and down to the street is a dead giveaway that this place hides a beautiful secret. Priding themselves on their use of exotic, 'hard to find' local ingredients, Lanikai Brewing Company have found a way to incorporate local Hawaiian fruits, herbs and spices into their magnificently crafted beers with an artists touch. Not overpowering, not trying too hard, just putting the pieces together nicely. They have a local hibiscus and honey saison that sits at a dangerous 7.5% which goes down like fine nectar. Their Moku Imperial IPA (spiced with a Hawaiian native botanical called Pikake) is a hop heads delight and their Pillbox Vanilla Porter brewed with two different types of vanilla strains (from The Big Island and Tahiti) converted me to a style I traditionally can't stand. Let's just say I am very, very glad I made the trip to this place!  
Beers: So very good!! Though the range is still very small, having only started up recently, the full flavoured (and full strength!) beers they do produce are beautiful. Imperial IPA, Vanilla Porter, Hibiscus and honey saison as well as seasonal surprises from time to time.
Food: Beer only, so eat up before you come.
Vibe: Real, honest, working microbrewery. No frills.
Address: 175 Hamakua Dr, Kailua
Oahu Beer Snacks: 
– Garlic Shrimp and rice from the North Shore's famous 'Shrimp Shacks'
– Buffalo Wings with bleu cheese dipping sauce. (it is the USA afterall).  
Hot Tip: Keep your eyes peeled when you are on the North Shore for O'ahu's famous 'Shrimp Shacks'. Inside dwells some of the finest garlic shrimp you have ever feasted upon!