Words, Photography & Film by: Tim Charody on November 17 2014
There is no stretch of coastline I feel I know better than the Australian East Coast. I literally grew up yo-yoing my way up and down this beautiful part of he world from the age of minus 9 months until now (and will probably continue to for the rest of my life!).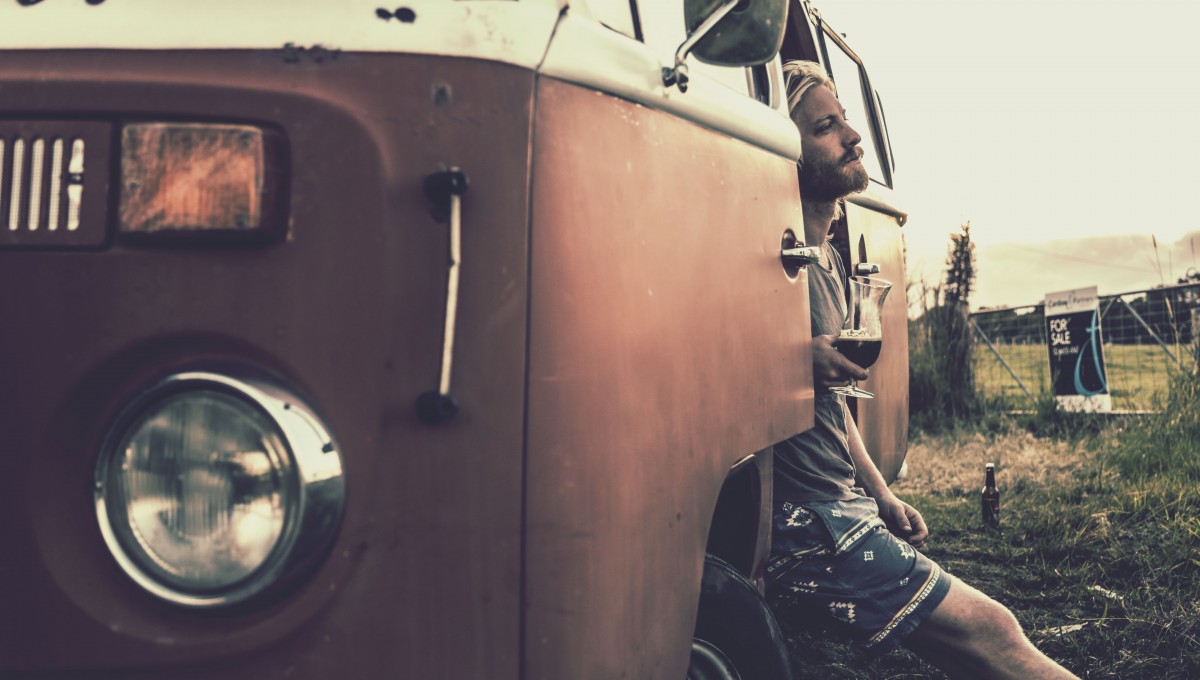 Being a passionate beer-lover, I have mapped out a pile of must-see stops along this familiar route, either for a tasting (if you're lucky to be in the passenger seat) or to pick up a few local brews to throw in the esky in preparation for the campfire later on!
I understand I have probably missed some places out so please fill in the gaps if you can see any (I'd love a few more to check out on my next East Coast road trip myself!)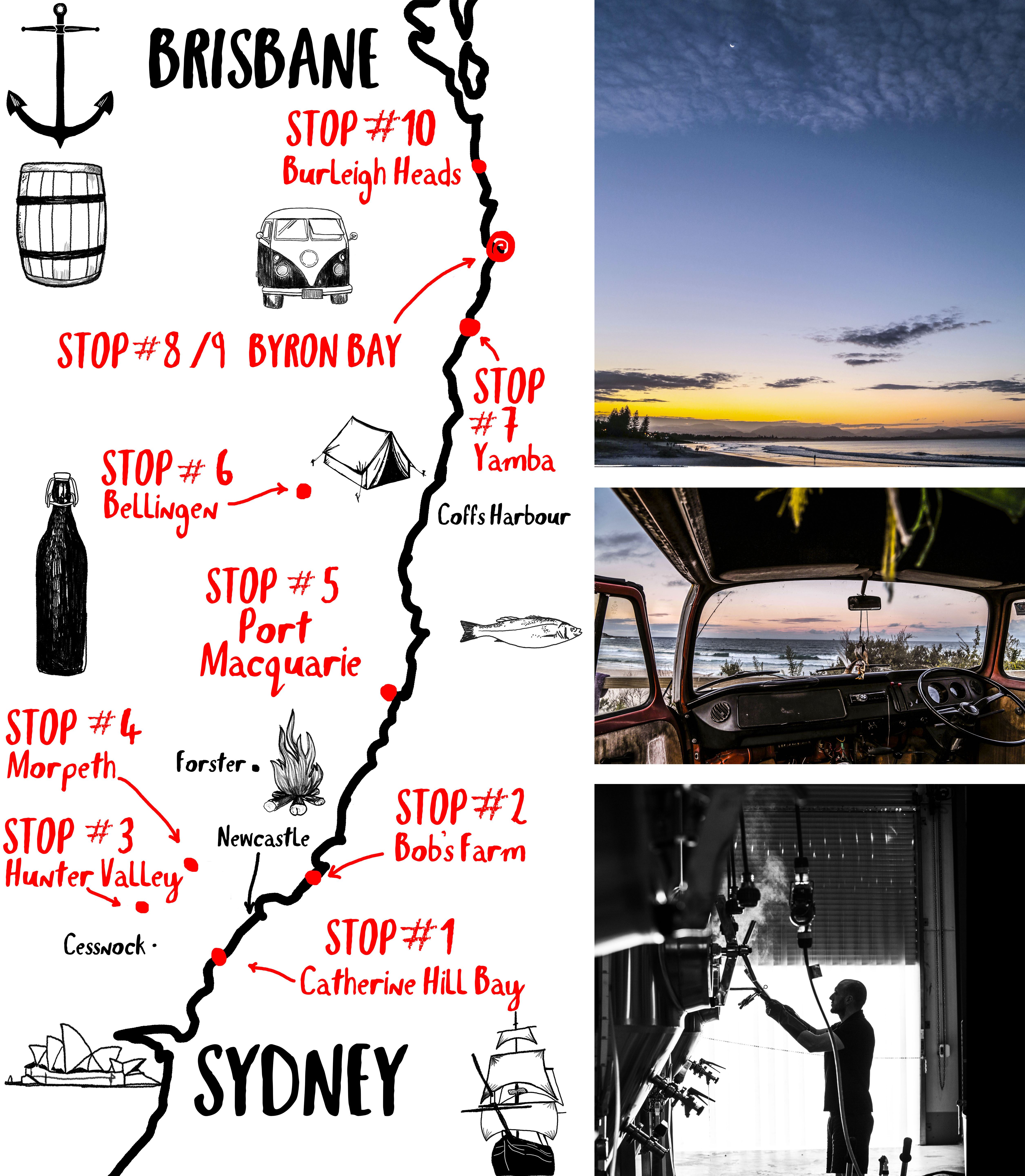 CENTRAL COAST – HUNTER REGION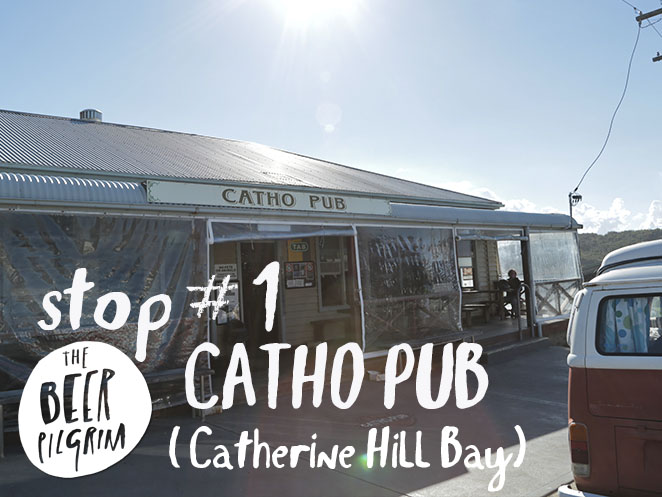 Catherine Hill Bay is a beautiful little coastal town that lies 45 minutes south of Newcastle and a perfect first stop on your way north. The Wallarah Hotel or The 'Catho Pub', as it is fondly referred to by literally anyone who has been there, is a true icon of the area (having being built in 1875) and a favourite for anyone from bikies, to surfies, fishermen and holidaying families. Everyone comes together at the Catho Pub for a beer in the impressive beer garden or to groove away to the live music that rocks out almost every weekend!
Note: if you are staying nearby and don't like the idea of driving to the pub, they do have their own private mini bus!
Location: Clarke Street, Catherine Hill Bay, NSW 2281
Opening Times: 10am until everyone leaves
Popular Food: Scotch fillet steak with garden salad and chips, BBQ Pork Ribs.
Beer Options: Fat Yak, Coopers, and a variety of other beer options (Carlton, Tooheys etc.)
Phone Number: (02) 4976 1222
Website: https://www.facebook.com/pages/Catho-Pub/309119941788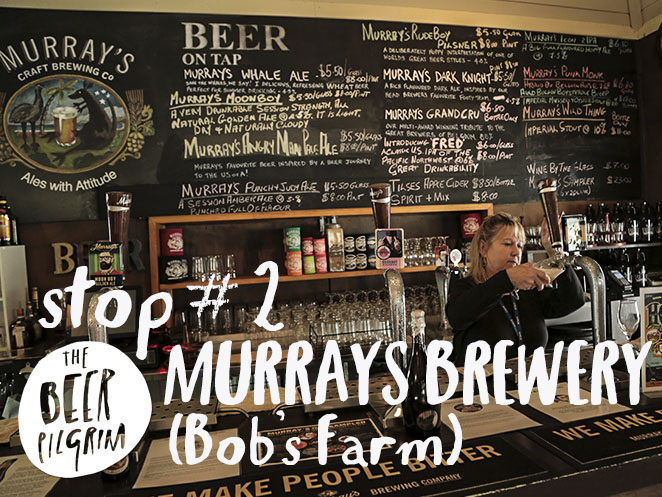 North of Newcastle along the coast before you hit Nelson Bay, you will find yourself in a little piece of land called Bob's Farm. Here lies Murrays Brewery, one of Australia's well-known craft-breweries. You can stop in to check out the working brewery in action, a delicious meal, a game of bocce and a tasting paddle in the sun or to grab a few take-aways for later on!
Location: 3443 Nelson Bay Rd, Bobs Farm NSW 2316.
Opening Times: 10am-6pm, 7 Days a week, 364 days a year (All except Chrissy)
Popular Food: Beer-cured Wagyu Pastrami (cured on premises), Beer Scones (made with Murray's Dark Knight Porter), Whale Ale battered fish n' chips.
Beer Options: Huge array of Murray's Brewing Co. Beers: Whale Ale (Wheat Beer), Angry Man Pale Ale, Rudeboy Pilsner, Moon Boy Golden Ale, Dark Knight Porter, Spartacus Imperial IPA, Smashing Pumpkin Ale and piles more!
Phone Number: (02) 4982 641
Website: http://www.murraysbrewingco.com.au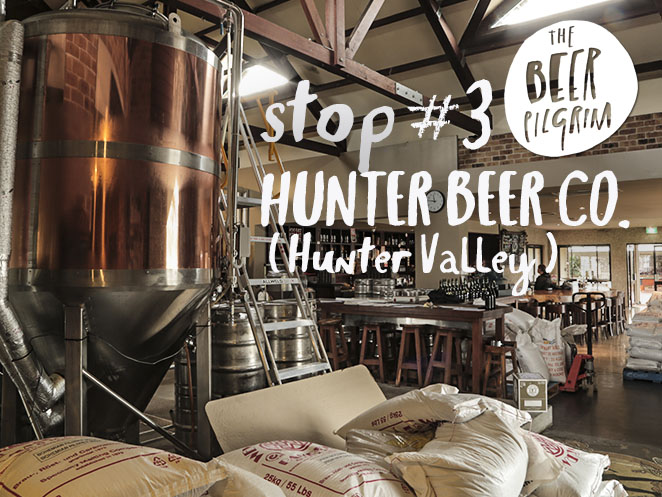 While the Hunter Valley is synonymous with wine production, beer is starting to make in-roads into the region and at the forefront of this movement is the Hunter Valley Beer Company. Part of the Potters Resort, this brewery is set up on a large, picturesque property complete with restaurant, pool, heated spa, eleven acres of landscaped gardens, tennis courts and piles of options for accommodation. A great place to stop for a night or two.
Location: Potters Hotel Brewery Resort, Wine Country Drive Nulkaba NSW 2325
Opening Times: 10am – 5pm, 7 days/week.
Popular Food: Pumpkin and Pinenut pizza, Mac n cheese.
Beer Options: Hunter Beer Co. Kolsch, Witbier, Ginger, Lager, Pale Ale, Bock as well as special release and seasonal (E.g. Cherry Bock, Fireboss Nut Brown Ale)
Phone Number: (02) 49 917 922
Website: http://www.pottershbr.com.au
MID-NORTH COAST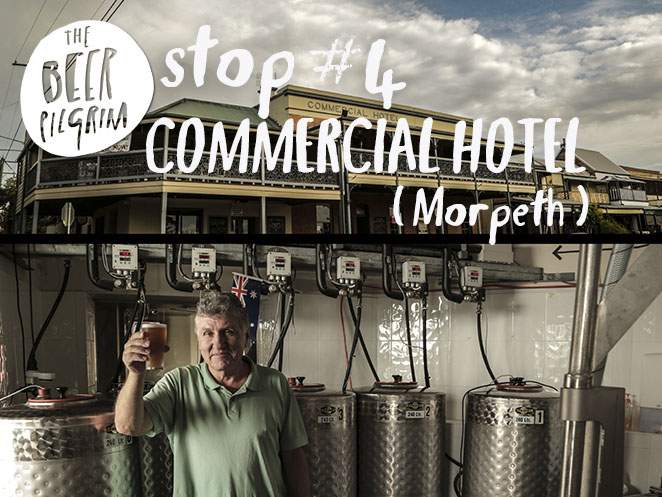 I stumbled across this little gem totally by chance and I'm glad I did. At first glance, The Commercial Hotel in Morpeth seems just like any other ordinary country pub, but when you go inside you will come across a colourful range of beer taps to choose from, ranging from the 'Full Sail' Double IPA to the 'Mullet Run' Maple Porter, the 'Paddle Wheel' Pilsner and the 'Big Hitter' Amber Ale. And it turns out all these interesting brews are crafted right there onsite by their resident brewer Dave Allen in the pubs own tiny micro-brewery! Dave had produced over 30 different styles in this tiny set up and you can expect up to 11 different unique beer styles to choose from when you visit!
Location: 127 Swan St, Morpeth NSW 2321
Opening Times: 10am-midnight Mon-Sat / 10am-10pm Sun
Popular Food: 300g Hunter Valley scotch fillet steak with chips and garden salad, Thick Pork sausages with creamy mash, caramelized onion, greens and gravy.
Beer Options: A variety of beers produced in the onsite microbrewery (eg. 'Full Sail' Double IPA, 'Mullet Run' Maple Porter, 'Paddle Wheel' Pilsner, 'Big Hitter' Amber Ale etc) as well as other beer options such as XXXX, Tooheys New, etc..
Phone Number: (02) 4934 5316
Website: http://www.commercialhotelmorpeth.com.au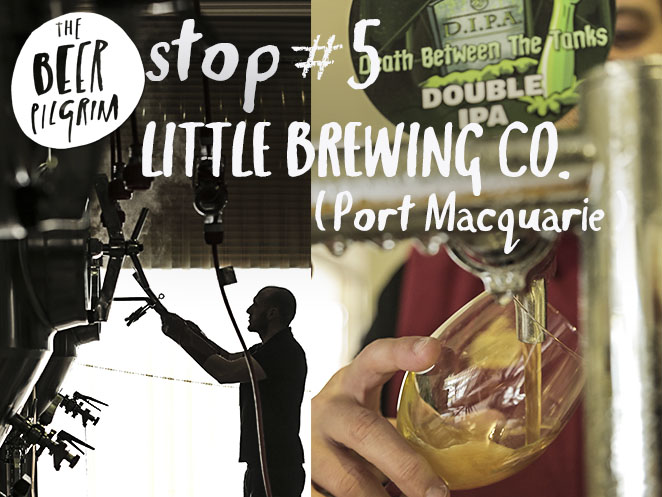 Back on the coast and a few hours north, you will find yourself in Port Macquarie, home of The Little Brewing Company – the brewery responsible for such beers as the Mad Abbott and Wicked Elf range. Run by husband and wife duo Warwick and Kylie Little, this well respected and awarded craft brewery is definitely worth stopping off at to grab some fresh brewskis for your next evening on the coast. My personal favourite is their Death Between the Tanks Imperial IPA (not for the faint hearted!) 
Location: Unit 1, 58 Uralla Road
, Port Macquarie NSW 2444
Opening Times: Monday to Saturday, 10am to 4pm (check website for changes).
Popular Food: No food at Brewery
Beer Options: All the Little Brewing Company range: Mad Abbot (Belgian Trappist Monastery styles), Wicked Elf Pale Ale, Pilsner, Porter, Witbier, Death Between The Tanks Imperial IPA.
Phone Number: 02 6581 3949
Website: http://www.thelittlebrewingcompany.com.au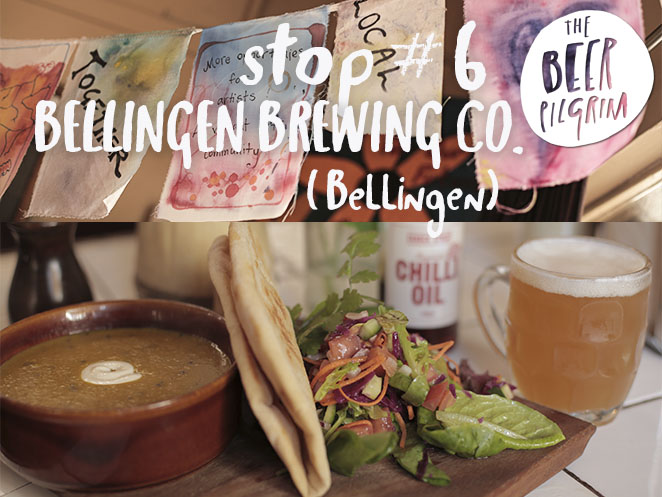 Heading north again and just before you hit Coffs Harbour, take a turn inland and you will find yourself in the quaint little alternative village of Bellingen. This town is all about art, music, conservation and fresh local produce. All things that are embodied by Bellingen's own tiny micro-brewery – The Bellingen Brewing Company. Run by local resident Richard Jennings out of his garage, this brewery operates by solar energy and only produces enough beer for the local community. While you can't visit his brewery without getting in contact with Richard first, you can taste a fresh 'Belo Beer' at a number of local pubs and restaurants (for example, 5 Church Street restaurant and The Federal Hotel)
'5 Church Street', Bellingen (Has entire Bellingen Brewing Co. range)
Location: (the name is a dead giveaway)
Opening Times: 8am-8pm, 7 days.
Popular Food: Papa Brown's Butter Dahl with local greens, Lamb curry with banana coconut, tomato salsa with preserved lemon and harissa, served over biodynamic rice.
Beer Options: Bellingen Brewing Company range: Darkwood Ale, Harvest Ale, Black Pig Porter.
Phone Number: 6655 0155
Website: http://5churchstreet.com
Bellingen Brewing Company: http://www.bellobeer.com.au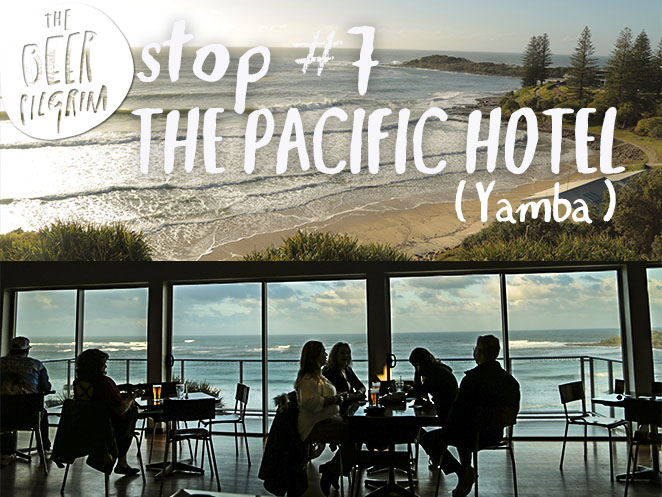 There are few pubs in Australia with better views than the Pacific Hotel in Yamba (maybe none!). Perched high on the hill above the beach at Yamba, you literally feel like you are floating over the sparkling Pacific ocean while sipping back on a cold one with some friends planning the next stop on your journey (or considering never leaving). The food is incredible as well!
Location: 18 Pilot St, Yamba NSW 2464
Opening Times: 10am-midnight (Fri/Sat until 1am)
Popular Food: Duck leg confit w orange & green peppercorn sauce, green vegetables & chats, crab meat risotto and tempura soft shell crab, roasted pork belly with apple cider reduction
Beer Options: 20 different varieties including Carlton Draught, Stone and Wood, Tiger, and 17 others…(apparently).
Phone Number: (02) 6646 2466
Website:http://www.pacifichotelyamba.com.au
BYRON BAY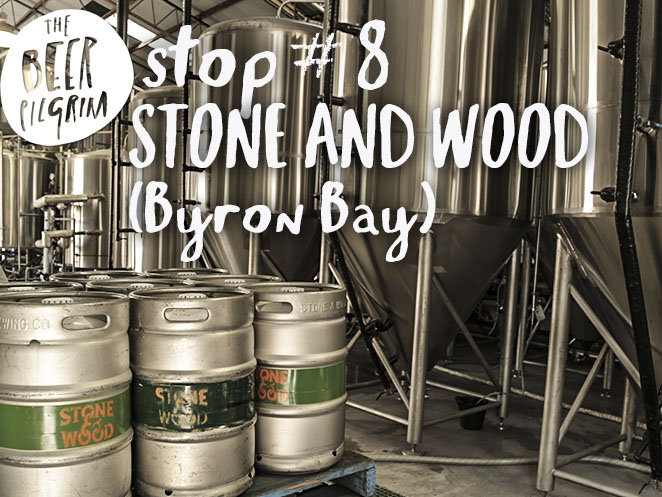 When beer-lovers think about Byron Bay, 'Stone and Wood' instantly comes to mind. It has become a proud part of the local scene and drinking a schooner of their award-winning Pacific Ale is as much a part of the Byron experience as a walk to the lighthouse at sunset or a surf at the wreck (as far as I'm concerned!).
Born and raised in Byron, you can head to the original Stone and Wood Brewery in the industrial area to see where it all came from and potentially go home with a fresh six-pack! Not that it would be any fresher than a beer from the Rails, The Northern or The Beach Hotel, which are all just down the road!
Location: 4 Boronia Place
, Byron Bay NSW 2481
Opening Times: Mon-Fri: 9am-5pm / Sat: 9am-2pm
Phone Number: (02) 6685 5173
Popular Food: No food offered here, just delicious beer! So if you feel peckish, maybe pick up a snack on the way in.
Beer Options: Entire Stone and Wood range including the famous Pacific Ale, Jasper Ale, Garden Ale and Lager. Seasonal options such as 'Stone Beer' and 'Mash Collective' available as well.
Website: http://stoneandwood.com.au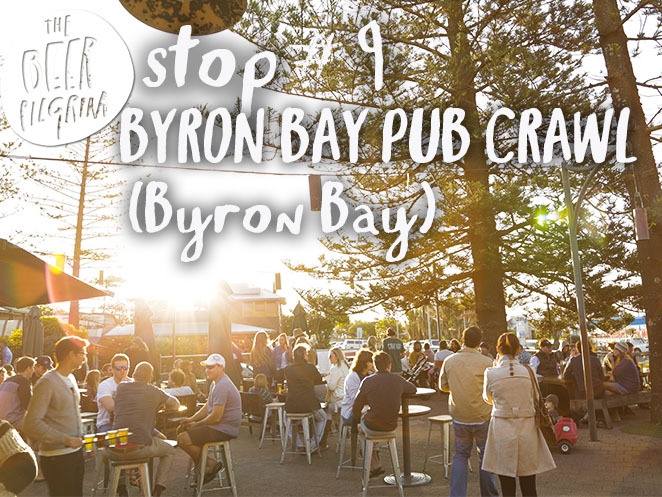 Byron is just so much fun, I absolutely love this place! Not just for the sun, surf, sand, art-scene and music, but for the parties and pubs as well of course! There are piles of great places in Byron to head out for a beer and a meal; I've jotted down my favourites below:
THE GOLD COAST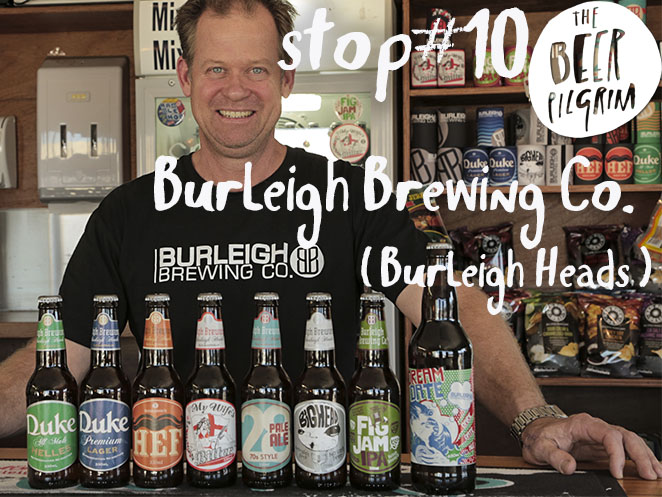 Now across the border in Queensland, you will find yourself on the sparkling Gold Coast with it's blue water, white sand, incredible surf and hordes of sun-seekers. Claiming this stretch of coastline as it's own, is the Burleigh Brewing Company based in Burleigh Heads. Founder and Head Brewer Brennan Fielding, a keen surfer who immigrated from Hawaii 12 years ago, keeps his beer motto of NFL (Near, Fresh, Local) at the core of his brewing etiquette. He said to me during my visit; "Beer is my religion and exporting beer overseas is against my religion".

 

Location: 

17A Ern Harley Drive,
 Burleigh Heads QLD 4220


Opening Times:

 

Takeaway sales: Monday to Friday 10am – 4pm /
Brewhouse Bar: Fridays 5pm to 8:30pm

Popular Food: On the first Friday of every month from 5pm-8:30pm, the brewers will spark up the barby and cook up some German sausages for all. But other than that, no meal sales at the brewery.

Beer Options: The Burleigh Brewing Company's repertoire of beers is vast and varied (and very good!): Bighead (zero carbs), Duke Helles, Duke Lager, HEF Hefeweizen, 70s Style Pale Ale, My Wife's Bitter, Figjam IPA and a constant tide of seasonals and limited release beers (e.g. Dream Date Dark Date Ale)

Phone Number: 07 5593 6000

Website: http://burleighbrewing.com.au


Stop #11: Brisbane. Too many to list so I have written an entire blog about it! Check it out HERE