Words, Photography & Film by: Tim Charody on June 22 2020
Beer crawls. I am extremely passionate about them, I genuinely think there are few more enjoyable ways to spend your day then to wander from brewery-to-brewery sipping fresh beer under the very tanks it was brewed in. And while the good old fashioned beer crawl has been put on hold while COVID runs amok, it's time for us to support our local brewers by drinking their beer – not a tough job! Soon things will open up and we will be able to join our brewers once again under the beer tanks enjoying their glorious produce.
This is a little report from a day I spent in Melbourne in pre-COVID times, walking and taking the tram from brewery-to-brewery around this fantastic city. On this visit I was trying to get to breweries I hadn't visited before so there are many great locals not on this list, however it is a fine itinerary and one I suggest you consider next time you want to embark on a Melbourne Beer Crawl.
Stop #1
Hop Nation Brewing Co.
Address: 6/107-109 Whitehall St, Footscray VIC 3011
Beers: 15 taps pouring Hop Nations core range as well as their limited releases, collabs, small batch and site fermentation project beers.
Tasting Hop Nation's 'Jedi Juice' fresh from the tanks was on the top of my to-do list while here in Melbs, I had to cross it off early so I could mentally move on to the other fine beers of the day and so it was here in the industrial zone in Footscray where I started this adventure. 
Walking into Hop Nation with it's stained glass, murals and towering beer tanks,  I felt like I'd come to worship in the temple of beer which seemed fitting as I sipped on my first ever tank-fresh Jedi-Juice NEIPA in all its hopped-up glory. While I could have spent all day here chatting to fellow beer-worshippers surrounded by barrels and beer tanks, I had a solid list of breweries I had to get to and so I had to force myself out of this fantastic brewery in search of the next.
Stop #2 
Henry St Brewhouse 
Address: 5/38 Barrett St, Kensington VIC 3031
Beers: Nine taps pouring their core range of 5 beers and some experimental gems!
One of the smallest commercial breweries in the country was next on my list, I'd heard they brew all their beers in a tiny 100L brew kit called 'Billy Blue', so their beers are basically only available here at the brewery and I wanted to try one! 
Sitting at a little candle-lit wooden table in this cosy brewery sipping a tasty seasonal stout, chatting happily with the brewer behind the bar I realised how important breweries like this are for Australia's craft beer culture. Small-scale community breweries who are so passionate about their craft they want to keep it all in their own hands, who are flexible enough to have new experimental beers on tap constantly and so warm and welcoming they become a meeting point for the whole community. I hope more small-scale breweries like Henry St open up all over the country!
Stop #3
Bonehead Brewing
Address: 86 Parsons St, Kensington VIC 3031
Beers: 12 taps pouring their Core, Limited, Seasonal, and Micro-batch beers.
Keeping with the community and local theme, I next found myself at Bonehead brewery sipping a brew called the 'Prickled Pink', a hefeweizen brewed with prickly pears, apparently reminiscent of one of the owners, Anthony Dinotto's childhood eating prickly pears from his grandfathers backyard.
Sitting on the high tables and stools of this industrial-vibed brewery, ordering beers based on some quirky cartoons above the line of taps, you realise pretty quickly that this brewery doesn't take itself too seriously. Friendly staff and experimental beers, a great stop on any Melbourne beer crawl! 
Stop #4
Stomping ground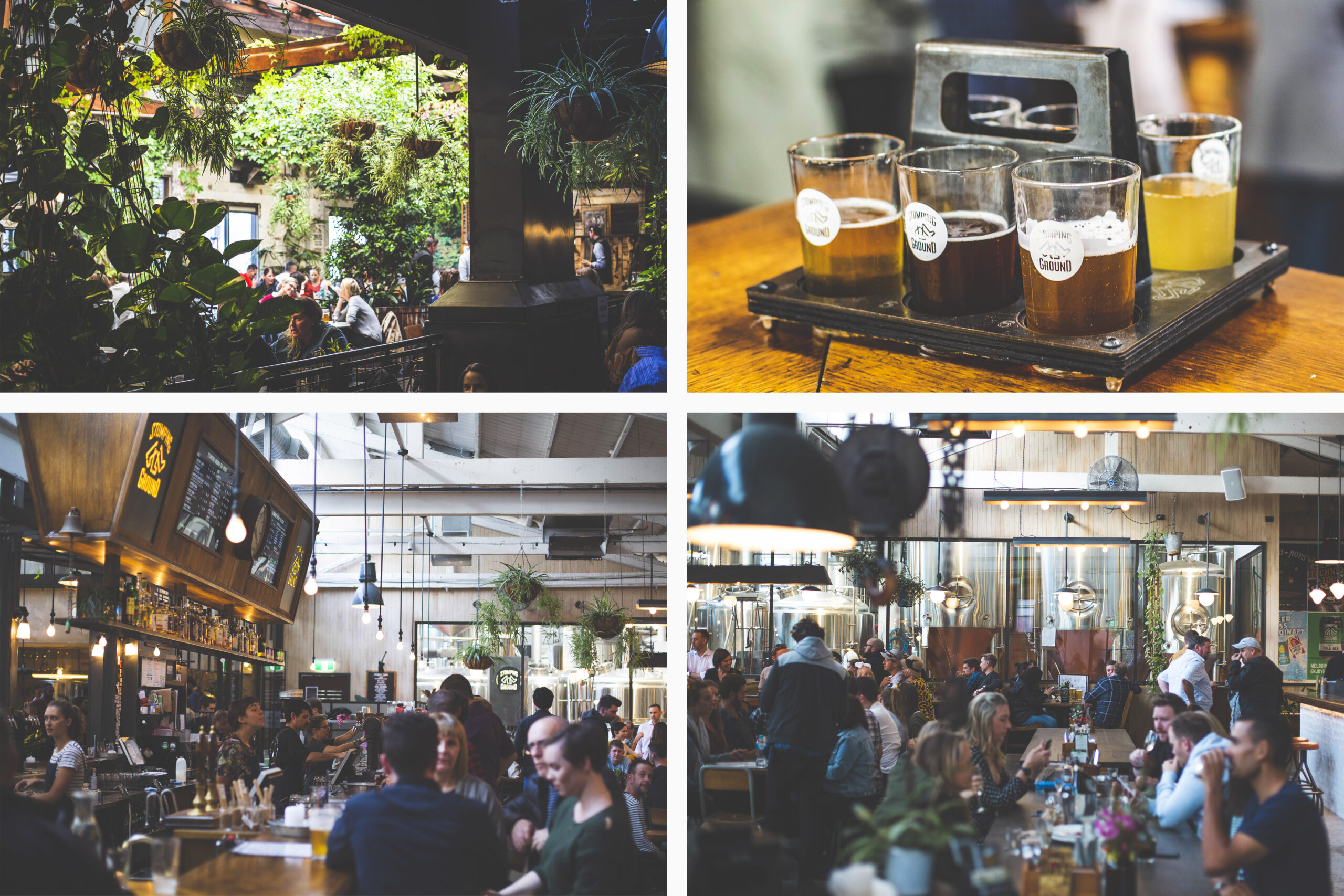 Address: 100 Gipps St, Collingwood VIC 3066
Beers: 24 taps pouring a huge variety of beers from the entire spectrum of beer. You'll find everything from simple lagers and Pale Ales up to 11.4% barley wines, sours, funky saisons, hoppy IPAs, Stouts and everything in between.
There are few breweries who have opened up shop with a bigger bang than Stomping Ground in Collingwood. And on first impressions, it's not hard to see why, they really did go all out with this brewery. An incredible space made out of Timber and iron make you feel like you're sitting in a scene straight out of The Peaky Blinders, yet if you make your way to the other side of the bar, you'll find yourself in a lush garden complete with creeper vines, ferns and a play area for kids if you have the ankle-biters in tow.
Twenty four taps pouring a fine array of house-brewed beer to suit literally every tastebud from the beginner to the ultimate craft beer freak, plenty of cozy little nooks to settle in to and a setting that makes you feel like part of the furniture, this place is a vortex and I could have easily settled in here for the evening but I still had a few more breweries to tick off before calling it a day!
Stop #5
Fixation Brewing Co. – The Incubator.
Address: 414 Smith St, Collingwood VIC 3066
Beers: IPAs. Only IPAs and lots of them. 10 Taps pouring an incredible variety of IPA.
As a proud hop-head, I couldn't be so close to the head quarters of hops and not stop by to sample their wares. Who would have thought an Aussie brewery producing nothing but IPA could have kicked so much ass, but they have, and I believe they will continue to do so for a long time to come. Since opening their doors, this brewery have produced over 40 different varieties of IPA, staking their claim as masters of the lupulin and a must-do-visit for any hop-lovers in Melbourne. 
Stop #6
The Mill Brewery
Address: 40 Sackville St, Collingwood VIC 3066
Beers: 10 Taps pouring the house range and a strong focus on small batch, seasonal and collaborative brews.
There's no doubt Collingwood has developed into a bit of a craft beer mecca in Melbourne, the proud residents championing all things locally produced, especially craft beer. One piece of the beer tapestry of this vibrant suburb is The Mill Brewery, a small, friendly little warehouse brewpub that brews a fine range of hand-crafted beers. After speaking with a few locals I came to realise you really can expect something new each time you come here since the brewery's founder and head brewer Mirek Aldridge is so passionate about crafting new brews and collaborating with breweries from all over the country to create tasty new drops to enjoy here in Collingwood. 
Stop #7
Burnley Brewing 
Address: 648 Bridge Rd, Richmond VIC 3121
Beers: Rotating line of taps serving an ever-changing range of beers from simple lagers and pale ales to west coast IPA, mandarin gose, plumb berliner weisse, nitro coffee brown ale and black IPA. 
It seems like the perfect Melbournian tale, a popular Italian restaurant turned into a craft brewery and though I didn't know it's story when I first walked into Burnley Brewing I knew it was different from most other craft breweries I had been in. Big, private, family-sized booths that once had families chowing down on Italian delicacies now seat groups of fashionable Melbournians sipping a colourful range of beers and chatting happily in front of the big shiny beer tanks and long line of beer taps, but Burnley still keeps that Italian restaurant charm and there's no shortage of places to sit in a big group making your way through the long menu of beer options and tasty food.