Words, Photography & Film by: Tim Charody on September 27 2017
Oktoberfest is well and truly in full swing, however you don't have to be in Germany to take part in the beery festivities, in fact you don't even have to be in Europe. If you love your beer, then you should head on down to Hope Brewhouse in the Hunter Valley on the 30th September and 1st October to get amongst their incredible range of award-winning brews. Having won not only top-gong for Champion Small Brewery at the CBA Awards in 2016 but bagging a whole swag of awards for their range of beers (eight CBA awards in total this year, including two gold medals for their barrel-aged Imperial Stout and Choc Milk Porter), you can be sure the beer (most important part right?) is going to be top shelf, especially drinking it as fresh as it gets straight out of the brew tanks.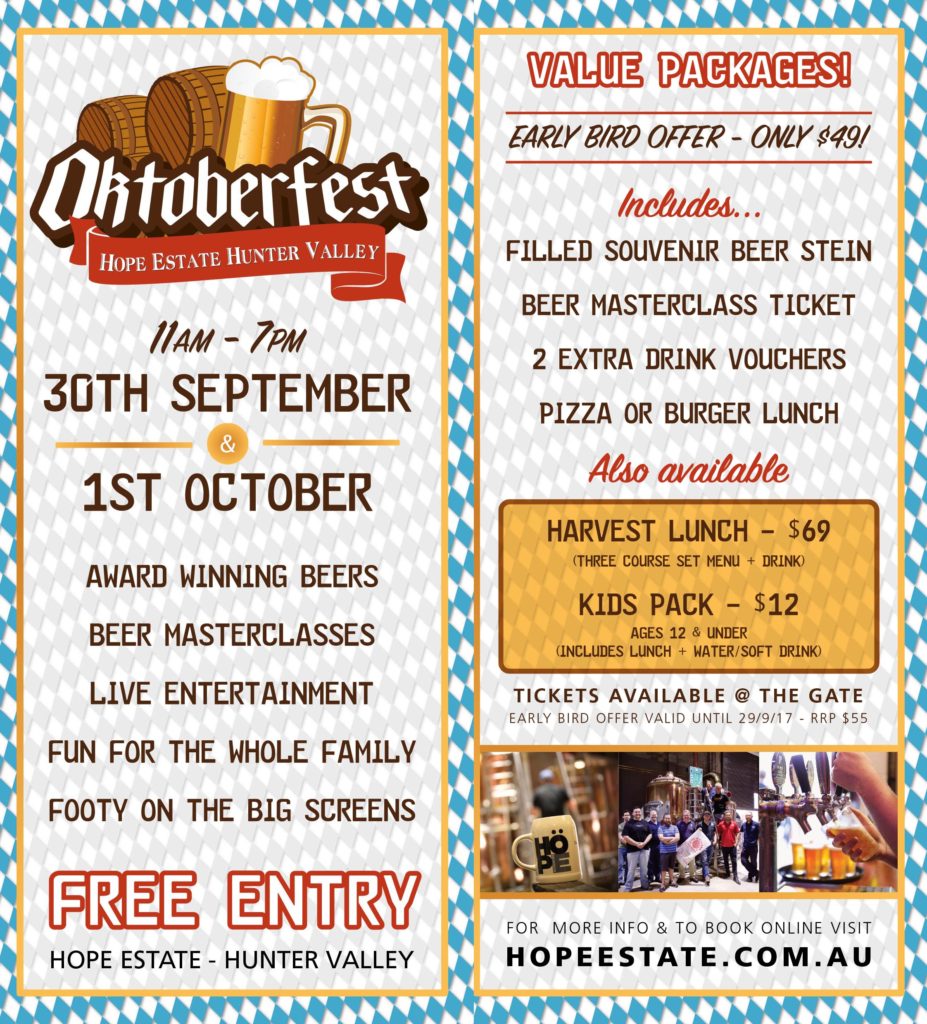 The festivities will also include beer master classes, quality food, live entertainment, a family-friendly environment and of course, steins filled with their award-winning range of beers. At the cellar door, you can take your pick of eleven fresh brews on tap and one crisp apple cider, all produced right there in the hunter. And their range of beer is pretty impressive I must say! Lets take a sneak peek what they are pouring right now:
Style: Lager
ABV: 3.5% |IBU: 12
Tasting Notes: Easy drinking Euro style Lager | fresh, clean flavour | dry crisp style, pale in colour.
Style: Helles Lager
ABV: 4.5% |IBU: 12
Tasting Notes: Mild, malty German Helles Lager | Pristine pale colour | Light, malty flavours and aromas | mild, balanced bitterness | Easy drinking, refreshing.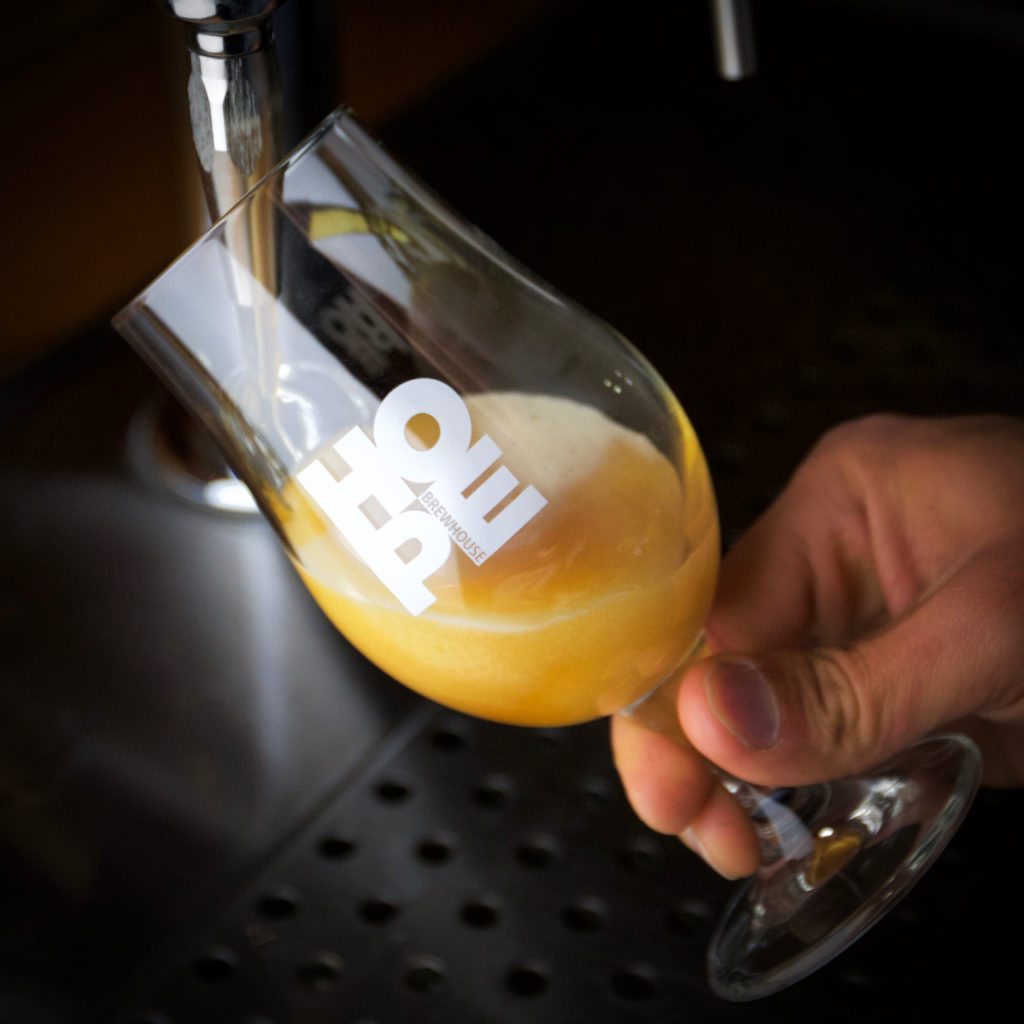 Style: Pilsner
ABV: 4.5% |IBU: 20
Tasting Notes: Light and aromatic new world Pilsner | Crisp refreshing full strength Gluten-free beer | produced from rice and sorghum | mild, balanced bitterness with fruity zing.
Style: Pale Ale
ABV: 4.5% |IBU: 20
Tasting Notes: Light and fruity new world Pale Ale | pale colour | fruit-driven flavours and aromas | mild balanced bitterness | crisp and refreshing.
Style: India Pale Ale
ABV: 6% |IBU: 50
Tasting Notes: Assertive American style IPA | Big flavours of citrus, pine and tropical fruit | solid malt backbone provides good structure | strong and satisfying bitterness on the finish.
Style: Extra Pale Ale
ABV: 4.7% |IBU: 25
Tasting Notes: Bold, aromatic and fruity American style Pale Ale | notes of tropical fruit, citrus, toffee and malt | pours a rich colour accompanied by dominant aromas | solid bitterness that is faithful to the style.
Style: Double IPA
ABV: 9% |IBU: 80
Tasting Notes: A big, bold, Amercan-style Double IPA | big flavours of citrus, pine, resin and tropical fruits | brewed to showcase hops | Light malt characters with a strong, satisfying bitterness.
Style: Brown Porter
ABV: 5% |IBU: 35
Tasting Notes: A sweet and rich Brown Porter with a twist | infused with lactose and cocoa for a sweeter finish | Authentic chocolate and caramel flavours add a moreish edge | full strength dark ale with tempered bitterness.
Style: Stout
ABV: 6.2%
Tasting Notes: Steeped in our winemaking heritage, hints of chocolate, caramel and vanilla.
Style: Porter
ABV: 4.8%
Tasting Notes: Aromas of espresso, cocoa, dried fruits with a subtle smokiness
Style: Cider
ABV: 5%
Tasting Notes: Refreshing and slightly sweet natural apple cider, aged in chardonnay barrels.
Sitting alongside this rotating core range, you can also expect to find a constant flow of exciting fresh seasonal beers as well. They are currently pouring their popular seasonal American Amber Ale:
Style: Amber Ale
ABV: 4.8%
Tasting Notes: This malty American style ale features tropical, citrus and pine notes balanced against hints of toffee and chocolate.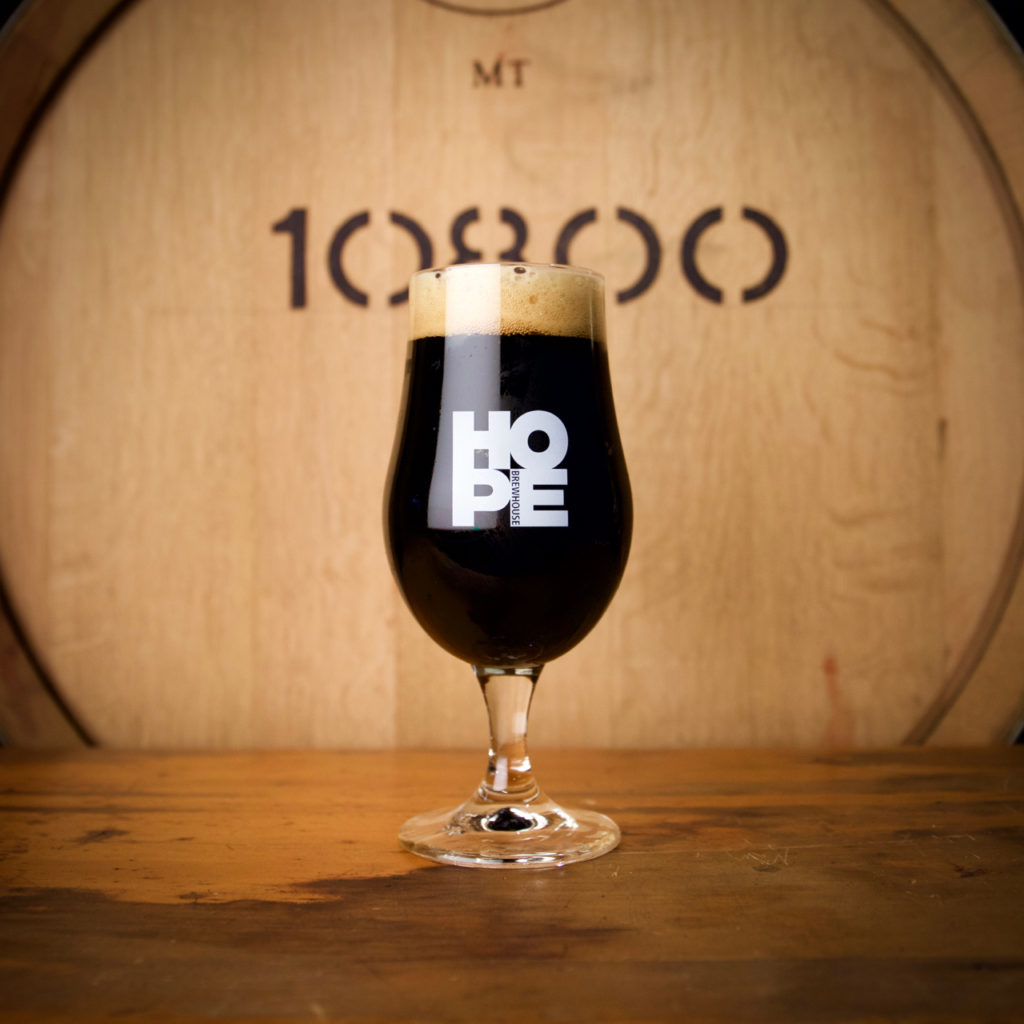 Hope Estate's beer-mantra is all about fresh, natural beer with no chemical filtration and no preservatives, you know you'll be drinking the good stuff here! So get on down to Hope Estate on the 30th September and 1st October for their Oktoberfest celebrations, you won't be disappointed!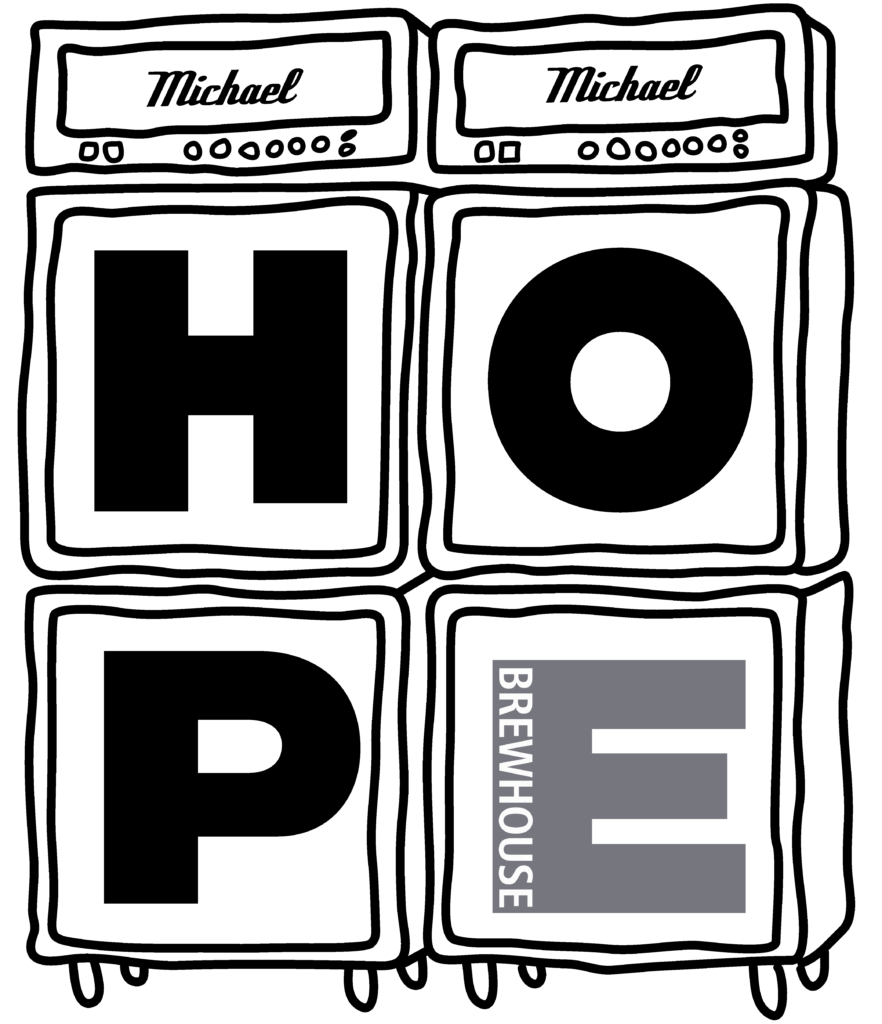 Article written by The Beer Pilgrim, sponsored by Hope Brewhouse / Imagery supplied by Hope Brewhouse