Words, Photography & Film by: Tim Charody on August 15 2016
"Now.. you can't film, or take photos. We have to meet our escort and discuss how we will document this, but really the monks are very secretive. I can't even believe we have been allowed in!".
We are standing at a huge iron gate outside 'Westmalle' Monastery in an attractive rural region of Northern Belgium and my guide seems like he is so nervous and excited that he might explode at any minute. I didn't really understand why – we head inside, film the monks brewing, drink some epic beer and head off for munchies right?? Wrong. I guess this wasn't business as usual.

Could there be a better setting for a self-proclaimed Beer Pilgrim than the lands of the Holy Ale? This is a region where monks brew beer in centuries-old monasteries according to a holy decree and where the ritual of beer-drinking is seen by many as a religious experience of it's own. A region where thousands of devout beer-lovers flock from around the world on their own beer pilgrimages to sample what is often considered to be the finest beers on planet earth. 
While planning a recent beer pilgrimage through Europe it was preordained that the Trappist lands of Belgium would feature as the pinnacle of my journey. As a beer lover, I am well versed in the ritual of paying extortionate amounts of money for tiny bottles of Belgian beer and carefully dissecting each and every tasting note amongst my beer-geek buddies back at home, so I guess more than anything I was keen to get to the source, where these magnificent beers are the norm (and cost about the same price as a VB back at home!).

Facts:
·      To be registered as 'Trappist', a brewery must operate within a monastery in control of Trappist-Cistercian Monks.
·      There are currently 10 Trappist Monasteries that produce beer, 6 of which are in Belgium.
·      The 6 Belgian Trappist Breweries are: Westmalle, Achel, Rochefort, Westvleteren, Orval and Chimay.
Back at the Westmalle entrance, our conversation was cut short as the huge iron gates gave a deep 'clang' and slowly opened prompting us to sheepishly wander inside. Still completely naïve to the fact so few people have ever actually been allowed in to this holy monastery (let alone filmed it), I wandered in expecting to go straight to the bar. Well this wasn't exactly the case.
Our escort, who was a very charming fella and obviously well versed in the delicate politics that stand between the devout Church-going monks and the thirsty, beer-loving consumers who can't get enough of these extremely limited brews, took us for a carefully planned walk around the grounds.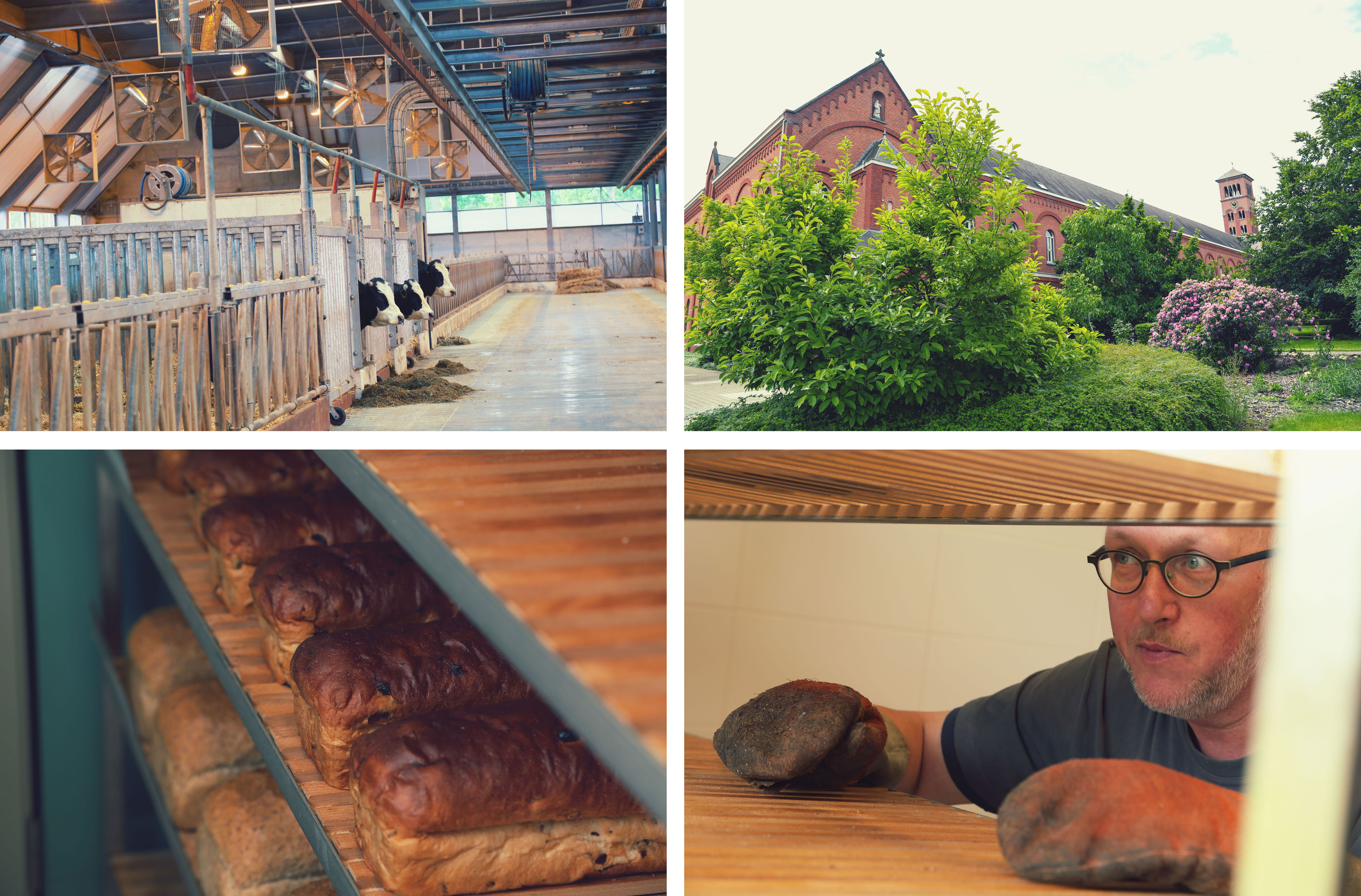 We saw the monastery's cows, their sheep, their goats, where the cheese is made and where the bread is made. We saw the chapel, we even got to join the monks praying in one of their six church services of the day! We saw the monastery's chickens and their veggie patch, we saw a baking monk, a praying monk, a walking monk, a sitting monk, but after an hour we were yet to see a single brewing monk, let alone drink one of these famous beers!
"I guess as the Beer Pilgrim, you probably want to see the brewery right?" our escort threw in over my shoulder as I had just finished setting up a fantastic shot of a pea plant. Maybe they just don't like my name? "ahhh, yep! That would be grand!" I replied, quickly packing up the camera before getting my shot of the pea plant (I already had three different angles). And so we wondered off to the brewery (via the goat paddock, the library and the offices).

It was quite a large brewery and decked out with those big old-fashioned copper kettles you would expect to find in a holy Trappist brewery, but other than that, it didn't seem too dissimilar to any other large modern brewery I had come across in Europe. Wandering down to the huge, shiny stainless steel fermenting tanks, our escort produced two Westmalle goblets out of nowhere and wandered over to one of the tanks. After fiddling around for a minute or two with a tiny little curly tube sticking out of the side of the tank, he spun around with a knowing glint in his eye holding a full glass of their signature Tripel fresh from the tank. The sun shone through the tiny brewery window catching the cloudy, golden beer in the glass, lighting it up like some sort of holy relic… now this is what I came here for! I took a small sip of the silky smooth nectar and let it wash over my tongue and down my throat. It was lovely – smooth, full-bodied, deliciously spicy with a wafting fruit aroma and a pleasant alcohol warmth on the end heralding a generous 9.5% ABV. While this brew brought a smile to my dial, the next taste-tester was a big surprise!
 While I was mentally drifting off in a some sort of beer-geek trance to the notes of the delicious beer in my hand, our guide had also wandered off, physically however, and returned with another full goblet, this time filled with an obscure frothy, white substance which I was informed as being Westmalle's precious signature yeast.
"Go on..", I was told. "Go on what?" I didn't know what he meant by "go on..". Was I supposed to take it home? "Drink it!" Our escort said.
If it wasn't the hallowed yeast of Westmalle I probably would have declined, but who declines holy yeast? I took a gulp of the funky, sour substance and while I can't say it was as delicious as the beer, it felt good to know I had just consumed billions of one of the brewing world's most coveted yeast cells.

At the end of our tour of Westmalle I came to a realization; the entire experience including the hour of wandering around looking at livestock, visiting the baker, going to church, checking out the pea plants, it was all specially orchestrated to give me a real perspective of what it means to be a Trappist Monk and thus what it means to brew Trappist beer. While the outside world looks in and imagines an abbey full of jolly, beer-swilling, Friar Tuck-like monks crafting holy ales in antique copper kettles using ages old secret recipes, the reality is a lot more modest than that. Beer is just one small part of daily life for these monks and not even an important one at that. For them, their entire purpose of their life is to praise their god and to live as a modest, humble servant to their community and religion.
I found out later that monks don't even brew here anymore since brewing was starting to take up too much of their time and was (in their mind), generating too much profit and commercializing what really should be a lifestyle of utter devotion to the divine.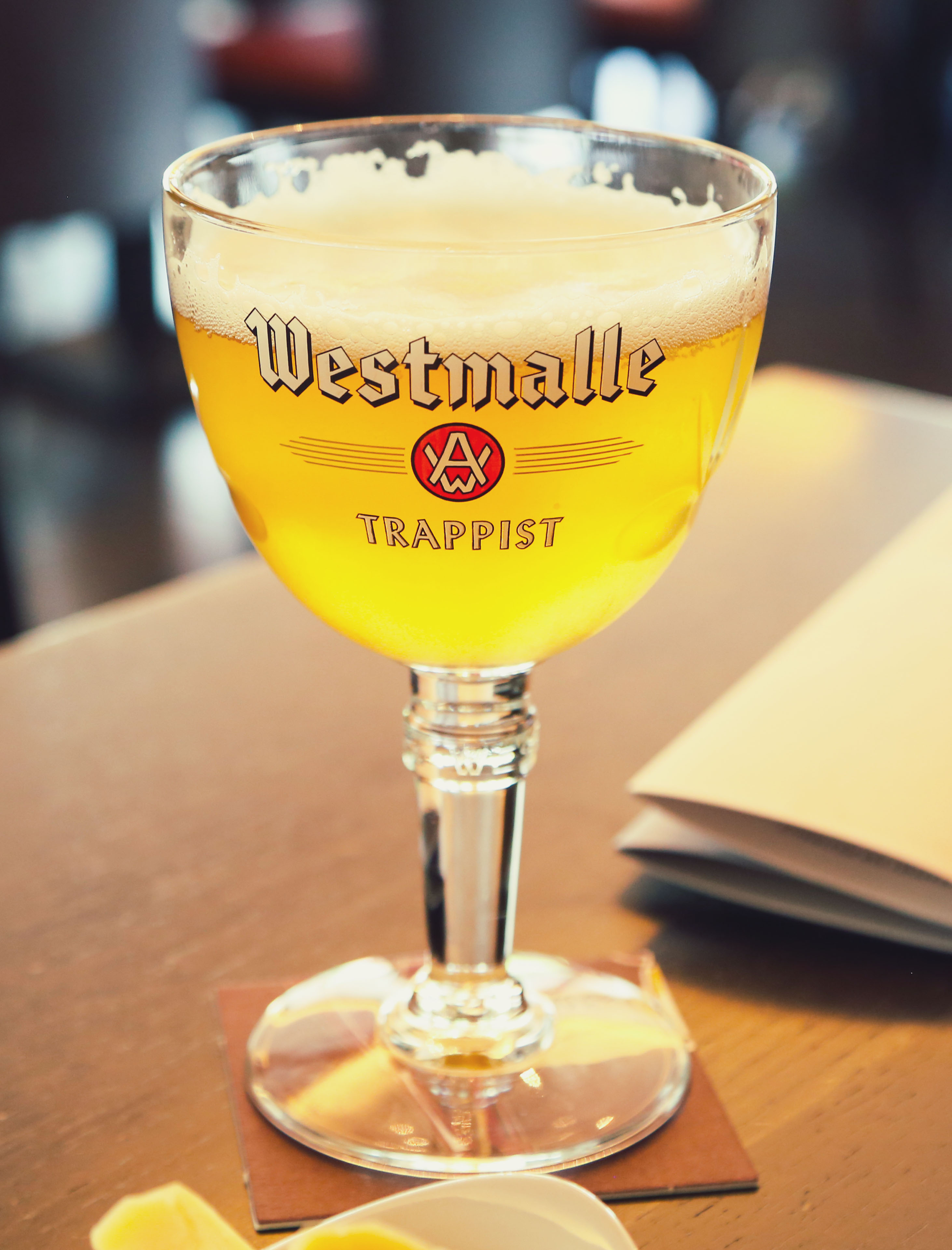 Though the recipe and virtues remain the same, nowadays the monks of Westmalle leave the brewing to others while keeping some very strict restrictions on their onsite brewery to keep it from consuming too much time and attention. Instead the monks prefer to tend to the chickens, bake bread, grow vegetables in their garden and attend church no less than six times a day… However apparently amongst their meager daily rations, the monks are still allotted a single glass of the dry-hopped Westmalle 'Extra' 4.8% Abbey beer.. Some things never change!
 

Getting There

Swiss Airlines fly return from all major Australian cities to Brussels from $1,790.
Getting to the Monasteries
The European rail network is punctual, easy, cheap and it goes just about everywhere, your best way to get around Belgium on your beer tour is to let the European rail network be your designated driver: www.raileurope.com.au