Words, Photography & Film by: Tim Charody on March 18 2016
When most look at a map of Europe they see ancient history, incredible food, culture, architecture, art and a hip and happening fashion scene. I see beer.
I see a kaleidoscope of beer varieties that date back centuries. I see beer cultures that influenced the rest of the world and a contemporary craft beer scene that is pushing the envelope of modern day brewing. When I look at a map of Europe, I see the ultimate beer pilgrimage. And what kind of a beer pilgrim would I be if I didn't take a holy journey to the birthplace of just about every beer style on planet earth? Admittedly, a very bad one, so I figured it was about time I put my drinking hat on and paid the old world a little visit.

BAVARIA, Germany.
Bavaria is a living beer museum. It is the kind of place where you can find yourself sitting in a 600 year old brew-pub drinking beer out of a one litre ceramic stein that was served to you out of a wooden barrel by a burly Bavarian dude in lederhosen. Chances are you will accompany it with a prehistoric-sized chunk of pork swimming in an ocean of sauerkraut. And the best part about it all is that it is not just for show, this is genuinely how Bavaria is today and how it has been for centuries.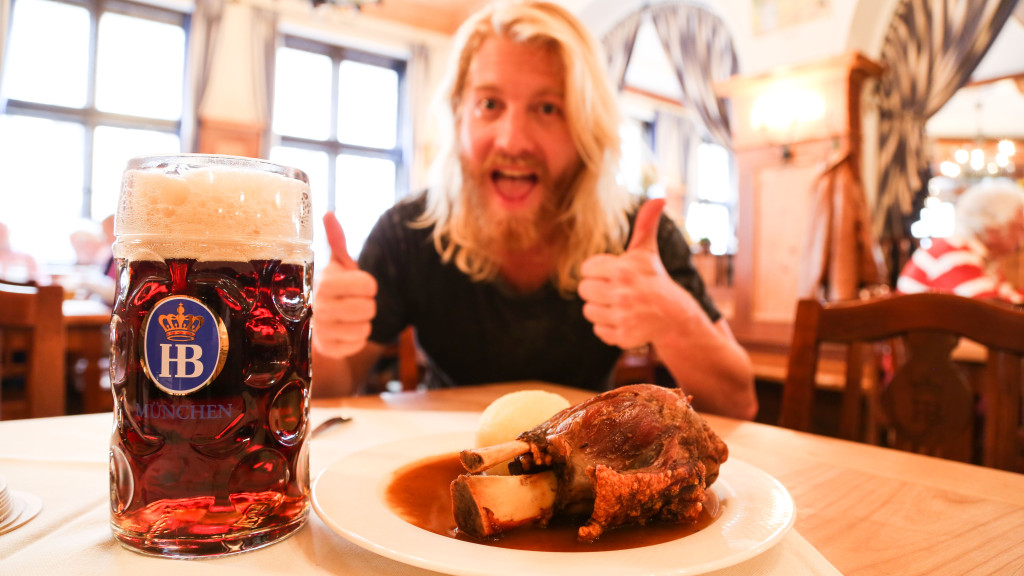 As a beer-lover, just the word 'Bavaria' alone sends a tingle down my spine. It is probably the most famous beer region on earth and would unquestioningly become the first beer region I will explore on my epic month-long European Beer Tour.
Local beer styles: 

There are over 4,000 different beers that call Bavaria home (including all the various brands and variations), so you definitely have your work cut out for you here. Meanwhile, most Bavarian brewers still brew beer according to the Beer Purity Law of 1516 (The Reinheitsgebot) which states that beer can only contain 4 ingredients; water, hops, malt and yeast (Yeast being a later addition once discovered by Louis Pasteur in 1857), so you know you're getting the good stuff here!
The most popular styles to be found in this region are:
Helles Lager: Most popular beer of Bavaria, this is a bright, blonde lager typified by a soft malty accent and a restrained (but obvious), spicy-herbal hop note.
Bockbier: A stronger lager style that has a sweet malt flavour and low hop bitterness. Also includes 'Doppelbocks' that are even stronger/heavier and 'Weizenbocks' which are brewed using wheat malts.
Märzen/Oktoberfest: These copper-amber coloured Autumn beers are generally full bodied and characterized by the rich, toasty flavours of Vienna and Munich malts.
Dunkel: A darker style of lager, which mixes the crisp lager character with notes of chocolate, caramel and roast that come from using darker malts.
Weißbier/Hefeweizen: The beer style synonymous with Bavaria. Brewed using wheat malts, weißbiers are cloudy, unfiltered and tend to have noticeable banana-clove flavour notes generated by their distinctive yeast strains. 
Rauchbier (smoked beer): Brewed using smoked malts, this dark beer is typified by a strong smoky, 'meaty' flavour.
Pils: A light, bright refreshing lager with a dry, floral-spicy hop finish.
MUNICH

Home of the world-famous Oktoberfest, the ancient city of Munich lights up for 16 days each year (19th September – 4th October, 2015 dates) to become the epicenter of German beer culture. Over six million revelers flock in to Munich for the festival, making it the world's largest beer festival. It's a marathon of an event and not one for the faint-hearted, but definitely a bucket-list item for any beer-lover. Oktoberfest aside, Munich still has a lot to offer a thirsty traveller. 

My tips for Munich are:
1. Wash down a monstrous pork-knuckle with a Stein of the HB Dunkel at the Hobräuhaus. Having been built by Duke Wilhelm V in the year 1589, the beautifully ornate Hofbraühaus is a true München icon. The locals at this pub are so loyal, they even lock their personal beer steins up in the pub itself inside specially designed beer stein lockers awaiting their next session.
2. Have a traditional 'Bavarian Breakfast', which consists of Weißbier and Weißwürst. That whole 'after midday' thing doesn't really exist here and some of the more traditional restaurants will only serve this meal before 12pm. 
 3. Visit Weihenstephan Brewery in the town of Freising (40 minutes by train from Munich). This brewery has been operating on this exact same site for nearly 1,000 years and still today produces some of the planets finest wheat beer. Drinking a Weihenstephaner 'Vitus' Weizenbock fresh out of the brewery is an experience I will never forget.
4. Have an Augustiner Helles at the Augustiner Keller. A favourite amongst Munich locals, this beer garden can seat up to 5,000 people on it's busiest days and the vast majority will be drinking their popular Helles Lager. You'll have to find out why for yourself!

5. If you are a bit of a craft beer nut like me, you really should drop in to 'Brauerei im Eiswerk', next to the huge Paulaner Brewery. Head brewer Martin Zuber takes the beer purity law to places you could hardly imagine! Their Comet Ale and their Weizenbock Mandarin are truly magnificent beers, trust me!
6. Check out the River Surfers in action. Watch the world's most land-locked surf community rip it up on the Isar River, then stroll up to the Chinese Gardens for a Beer and a bite to eat at sunset.
If you want to check out this region for yourself (and I suggest you do), then this is how: 
GETTING AROUND:

I didn't need Nostradamus to tell me I wasn't going to be spending too much time behind the wheel on this journey, so I decided to let the magnificent European rail network be my designated driver. If you're anything like me and you hate keeping plans or booking ahead, a Eurail Global Pass will give you complete freedom to jump on and off trains at your own leisure, let the spontaneous good times roll!
GETTING THERE:

SWISS International Airlines fly return from Sydney-Munich from $1,790
Stay tuned because next instalment, I am going to take you through the rest of Beer-drenched Bavaria and to the planets oldest beer festival!