Words, Photography & Film by: Tim Charody on July 29 2014
From loud Italian seafood barbecues to candlelit Spanish Tapas restaurants, to Russian Masonic centres draped in red fabric, to Chinese karaoke bars and Japanese sushi joints, the vast and various cultural groups of Australia are all doing the same thing but in vastly different ways – drinking beer.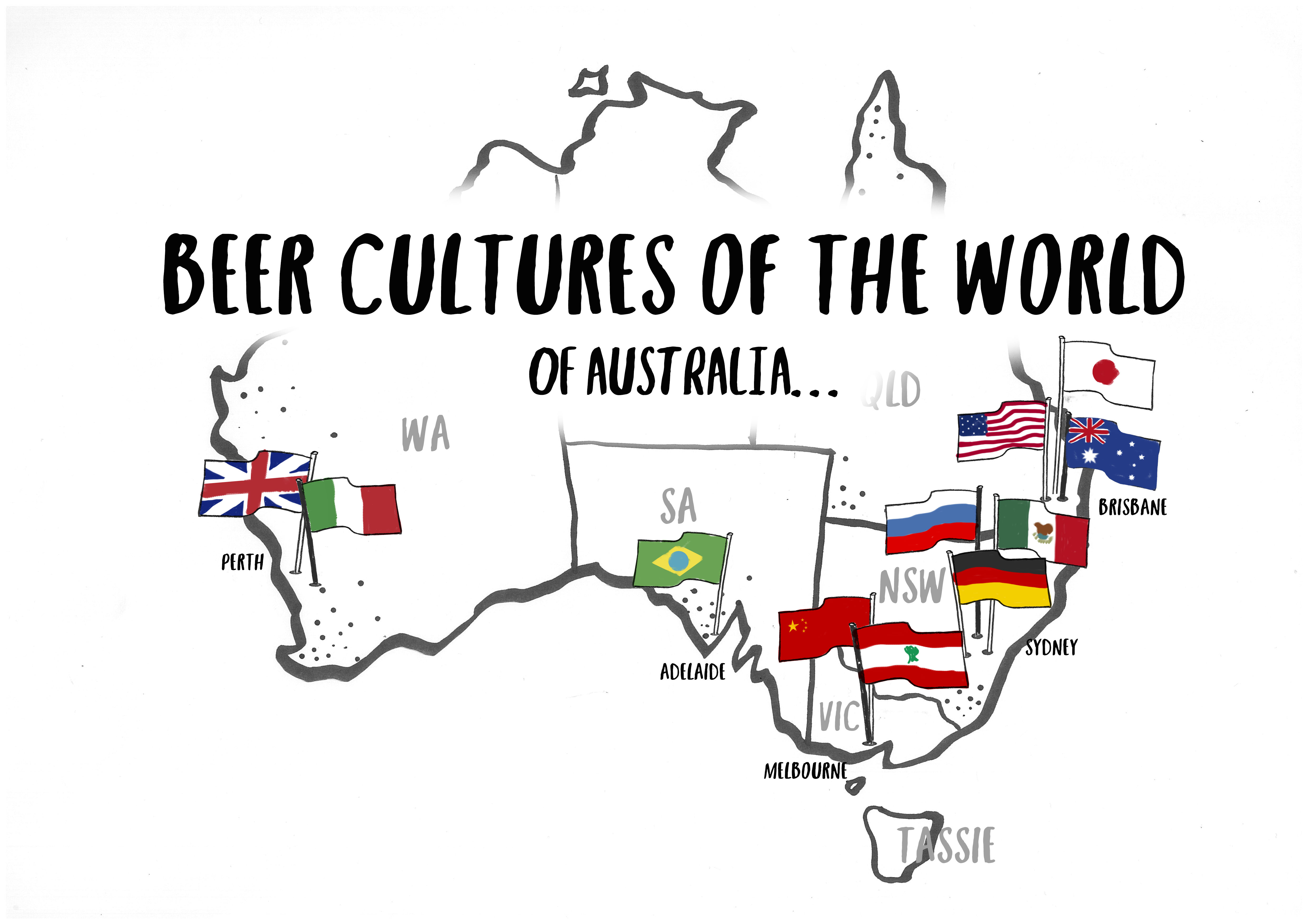 Let's take a quick tour around Australia's cultural groups and see how they like to drink beer!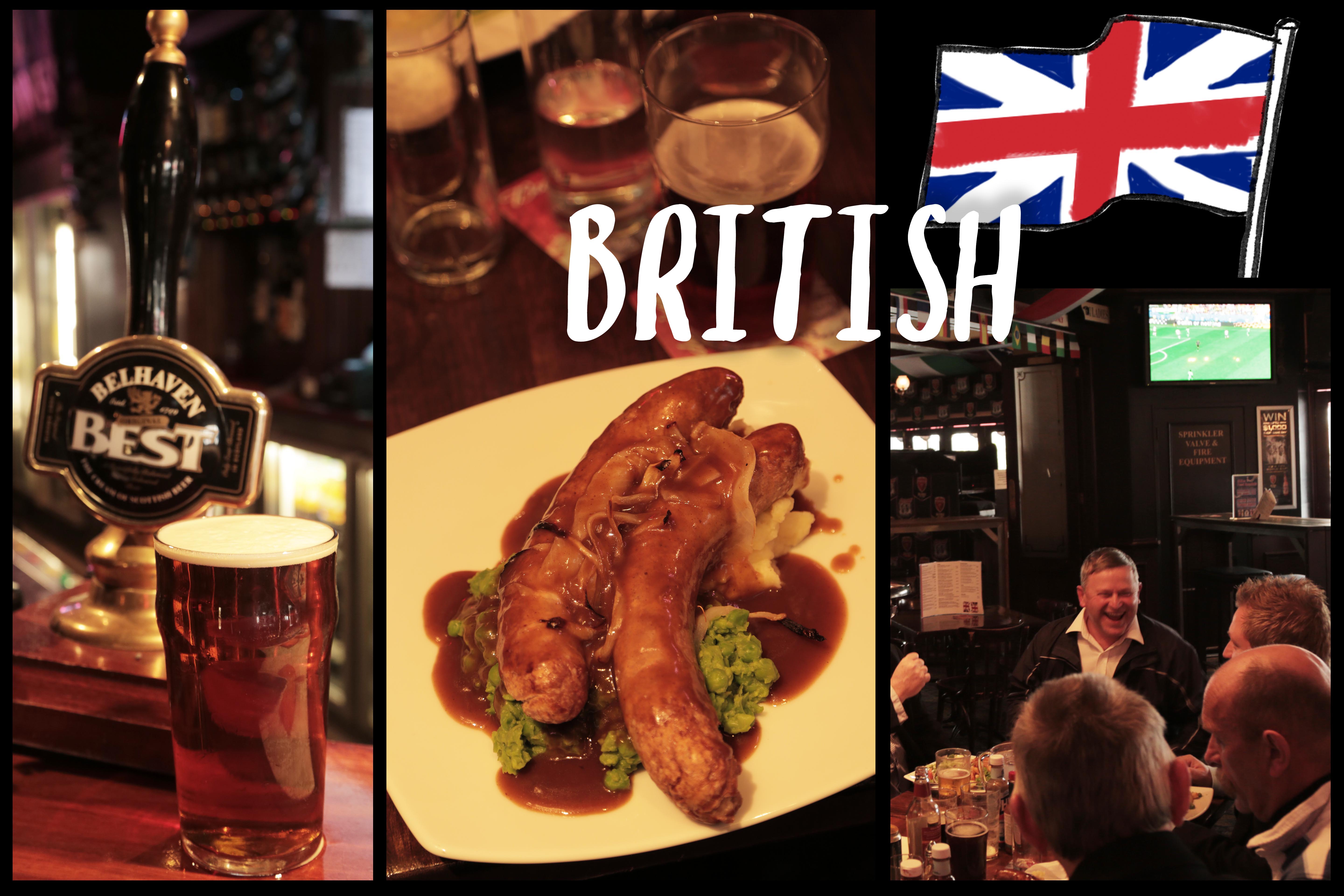 Beer Styles: Bitter, Mild, Brown Ale, Amber Ale, Pale Ale, India Pale Ale, Porter, Baltic Porter, Stout, Oatmeal Stout, Imperial Stout, Russian Imperial Stout, Irish Stout, Oyster Stout, Milk Stout, Irish Red Ale, Old Ale, Barleywine, Scotch Ale, Strong Ale.
Accompanying Cuisine: While traditional English fare such as 'bangers n mash', 'toad in the hole', 'bubble n squeak' or steak and kidney pie can be seen alongside some more international dishes (in particular, Indian curries) on British pub menus these days, I'll throw a good old British Classic at you.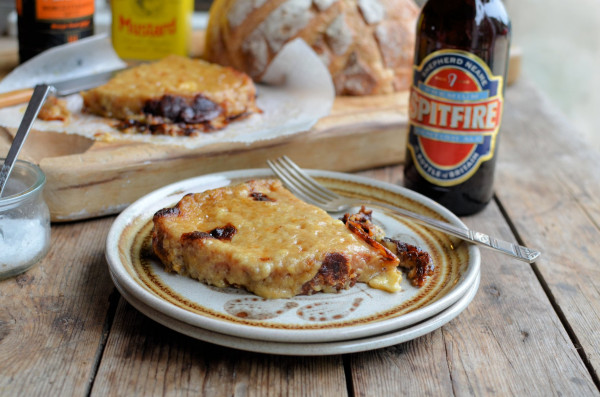 Image: http://bit.ly/1nFh5NF
Welsh rarebit (Cheddar-based) with a Kentish Ale.
Cultural Beer Traditions:
Sunday Pub Roast – This is as the name suggests, heading to the local pub on a Sunday for a meal of Roast lamb, chicken or beef, matched with a beer of course.
'Real' Cask Ale – It's this British beer style that has led to the vicious rumour floating around that the English like their beer "warm and flat"… which isn't entirely true! The only carbonation in a 'real ale' is what occurs naturally during its cask fermentation, resulting in less bubbles than we're used to and is traditionally served at cellar temperature (12-14 degrees Celsius). So not entirely warm and not entirely flat… but close!
Something cool: Due to a resurgence in interest in traditional English Ales, there are now over 2,000 different varieties of Real Ale being produced by British brewers!
How to say Cheers: Cheers!
Glass of Choice: Pint Glass.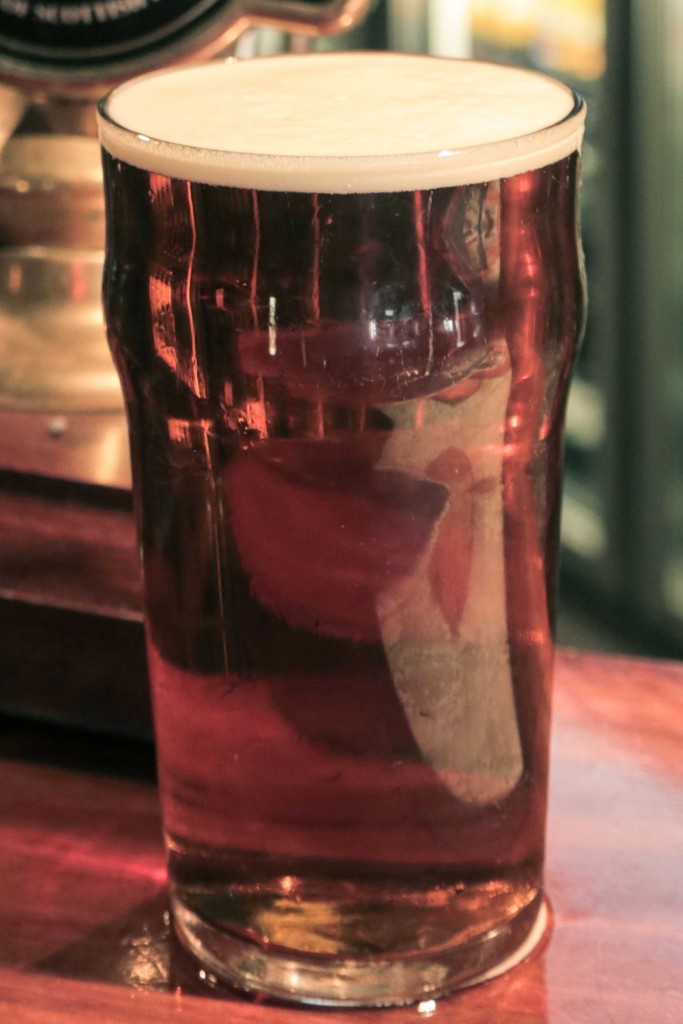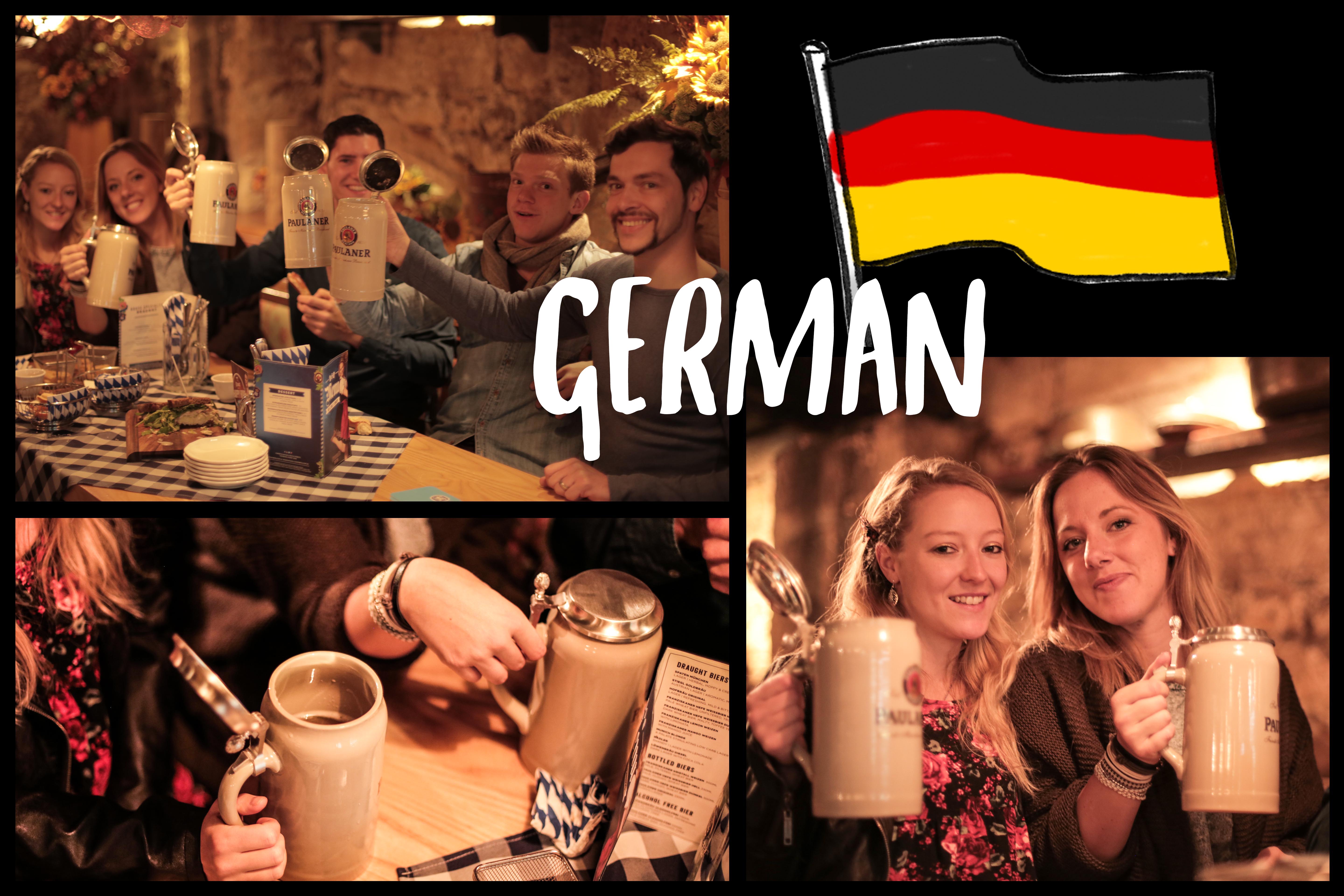 Beer Styles: Where do I start? There are over 60 different beer styles that come from Germany. Being the homeland of lager and wheat beer styles, many of the world's most popular beer styles have their roots in Germany.
Bock, Doppelbock, Dortmunder, Munich Dunkel, Dunkelweizen, Weizenbock, Helles, Weissbier, Rauchbier, Kristalweizen, German Pilsener, Eisbock, Hefeweizen, Kölsch, Märzen Octoberfest, Vienna, Schwarzbier.. I could go on for pages.
Accompanying Cuisine: Like every group, this depends largely on the region of Germany you are from. But here is a favourite Bavarian beer-food match.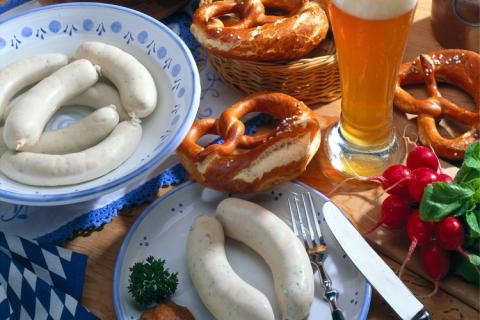 Image: http://bit.ly/1ukEW98
Beer For Brunch!
Weissbier and Weisswurst: This popular Bavarian combination is often eaten around mid-morning as a part of 'Brotzeit' (Bread time) – a kind of traditional Bavarian brunch.
Cultural Beer Traditions: Beer is a major part of German culture and makes its ways into most German traditional activities, events and rituals – there are few German cultural events that don't include beer in some degree.
Efficiency: Ordering beer in Germany is all about efficiency – simply make eye contact with waiter or waitress and hold up your fingers to indicate how many beers you require and they will be at your table post-haste (this is especially true at events such as Oktoberfest).
Beer Purity Law: Until the late 1980's, brewers in Germany had to abide by a 500 year old German Beer Purity Law called 'Reinheitsgebot' (and it is still today a part of the nation's Tax Code). This law states that unless a beer contains only the four main ingredients – water, malt, hops and yeast, it cannot be labeled and sold as 'beer' (yeast was a late edition to the law once discovered). Most German brewers still claim allegiance to this law today and older drinkers will show respect if you choose a traditional beer as your tipple of choice.
Something cool: The lid on the German Stein (which in Germany is actually known as a Maß – pronounced 'maas') has its origins dating back to the 1400's when the Bubonic Plague was spreading around Europe. The Lid was an attempt to protect the precious beer from spreading the disease.
How to say Cheers: Prost!
Glass of Choice: Stein (Maß)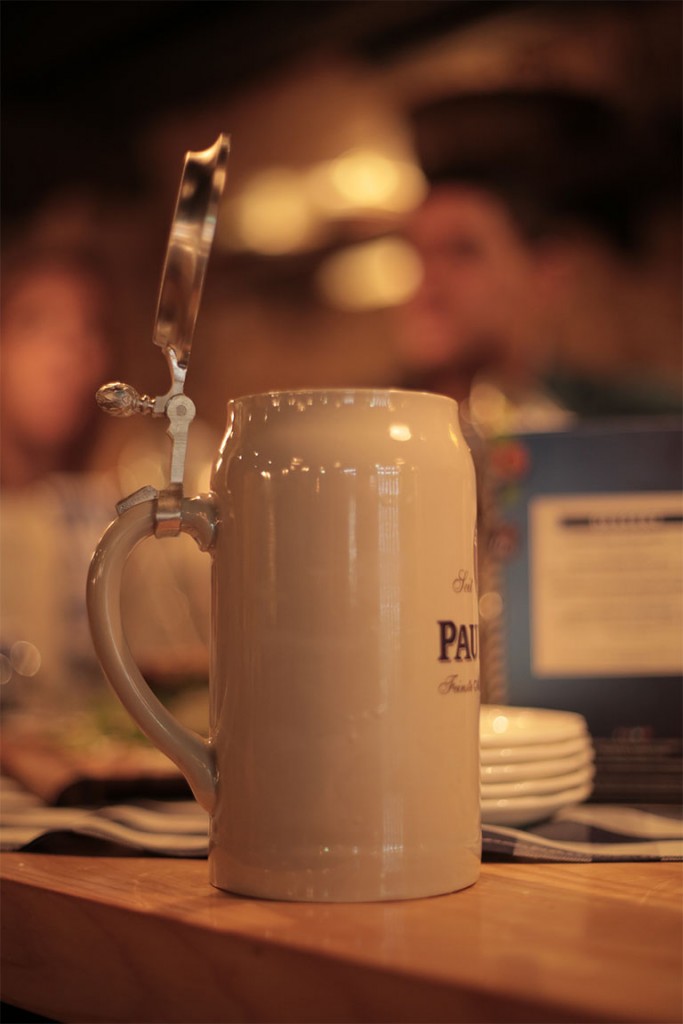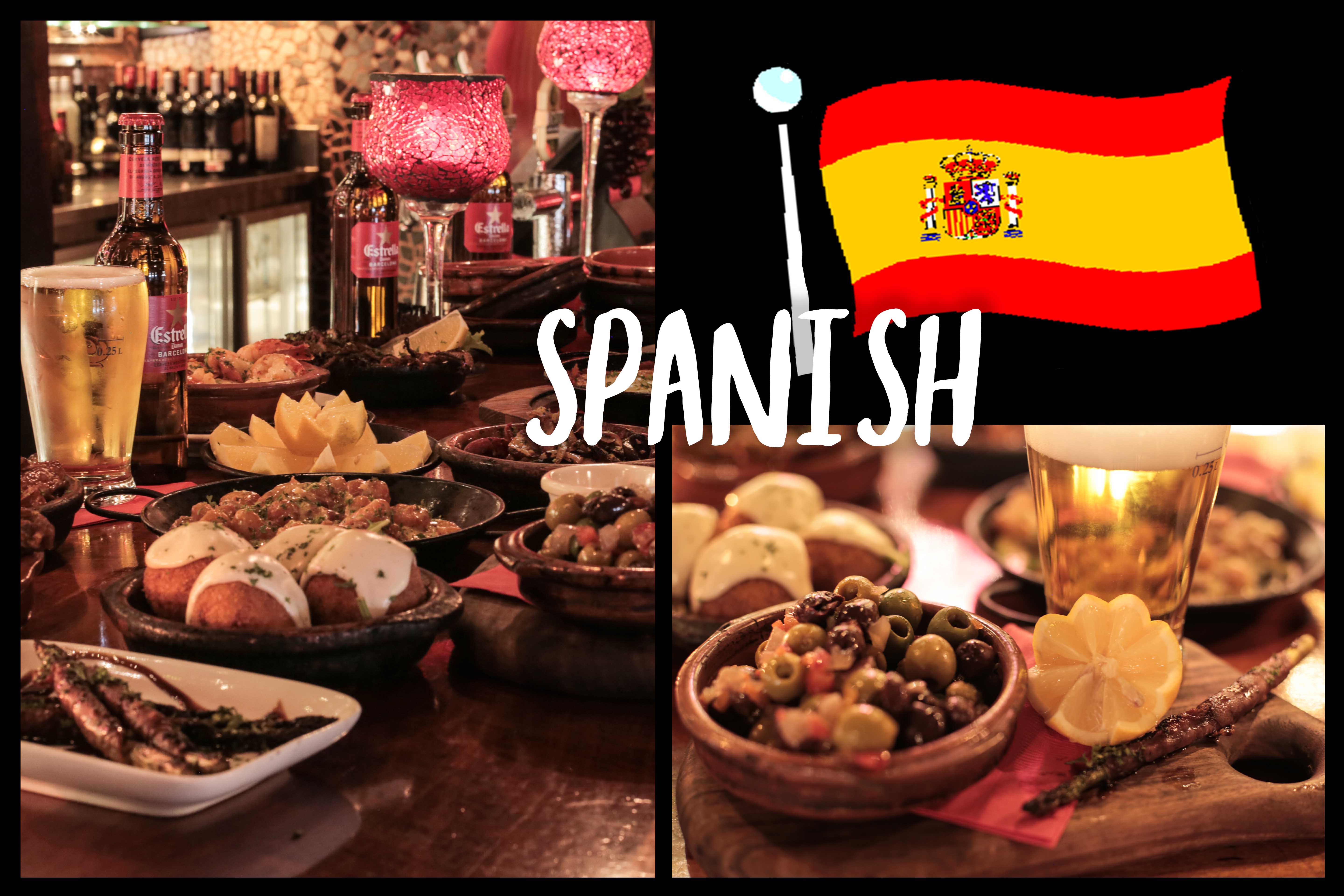 Beer Styles: Cerveza Clásica (Pils style), Cerveza Especial, Cerveza Negra (darker, maltier), Cerveza Extra (strong pale lager style).
Accompanying Cuisine: Spain's beer drinking culture is largely based on their custom of 'Tapas' (an accompanying meal of small traditional dishes that are served – often free of charge – with the beer purchased at the bar).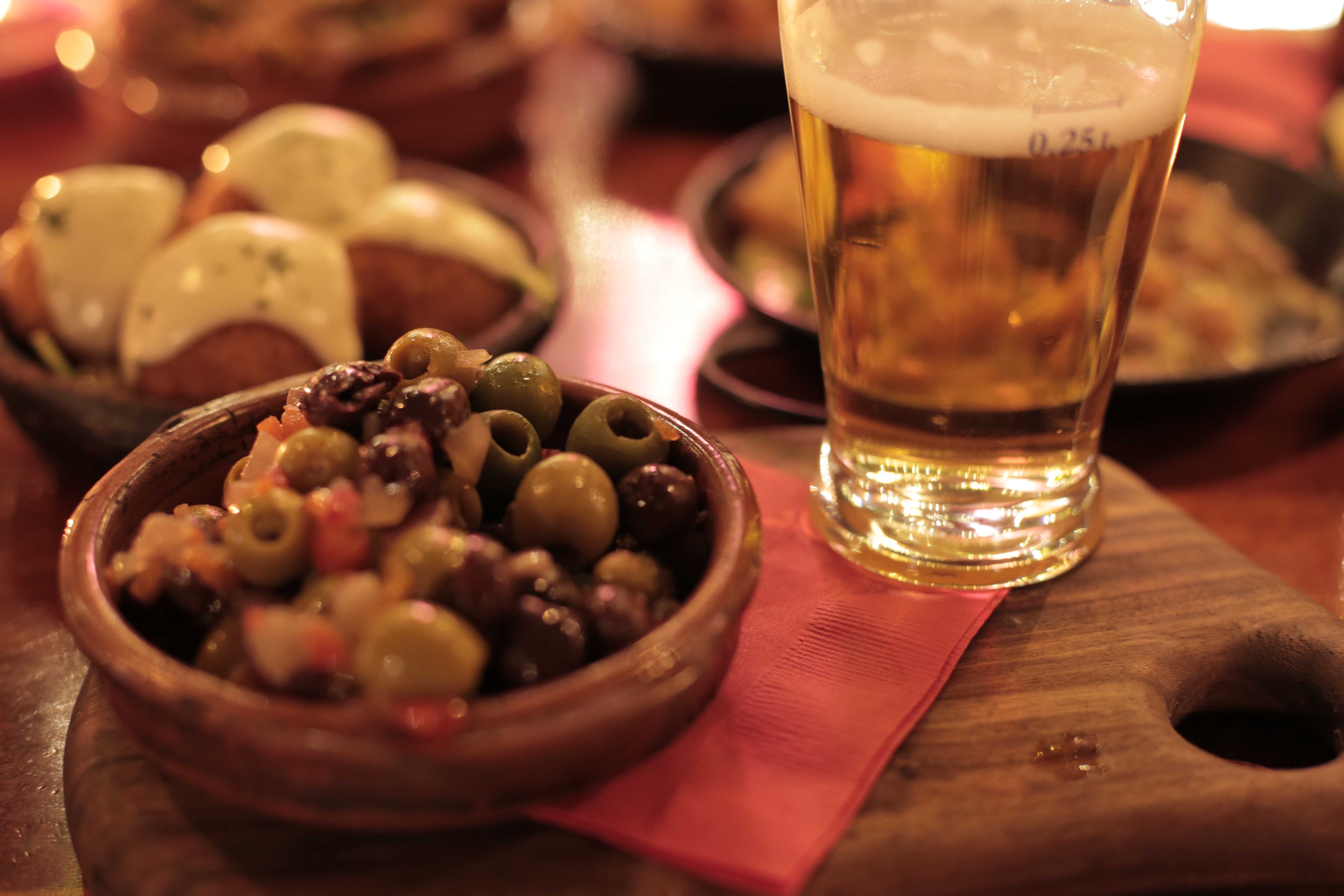 A common Spanish combination might be an 'Estrella Damm' Pilsner-style lager with a small dish of olives, bread, Serrano ham or tortillas.
Cultural Beer Traditions: When your drinking beer in Spain and you give a 'cheers' to someone, you must look at them in the eye otherwise superstition says you will suffer anywhere from one night to seven years of bad sex!
Something cool: The Spanish word 'Tapas' translates to the English word 'lid'. The history of Tapas is that beer or wine would traditionally be served with a piece of bread, ham or tortilla on top of it to encourage patrons to eat while they drank.
How to say Cheers: Salud!
Glass of Choice: caña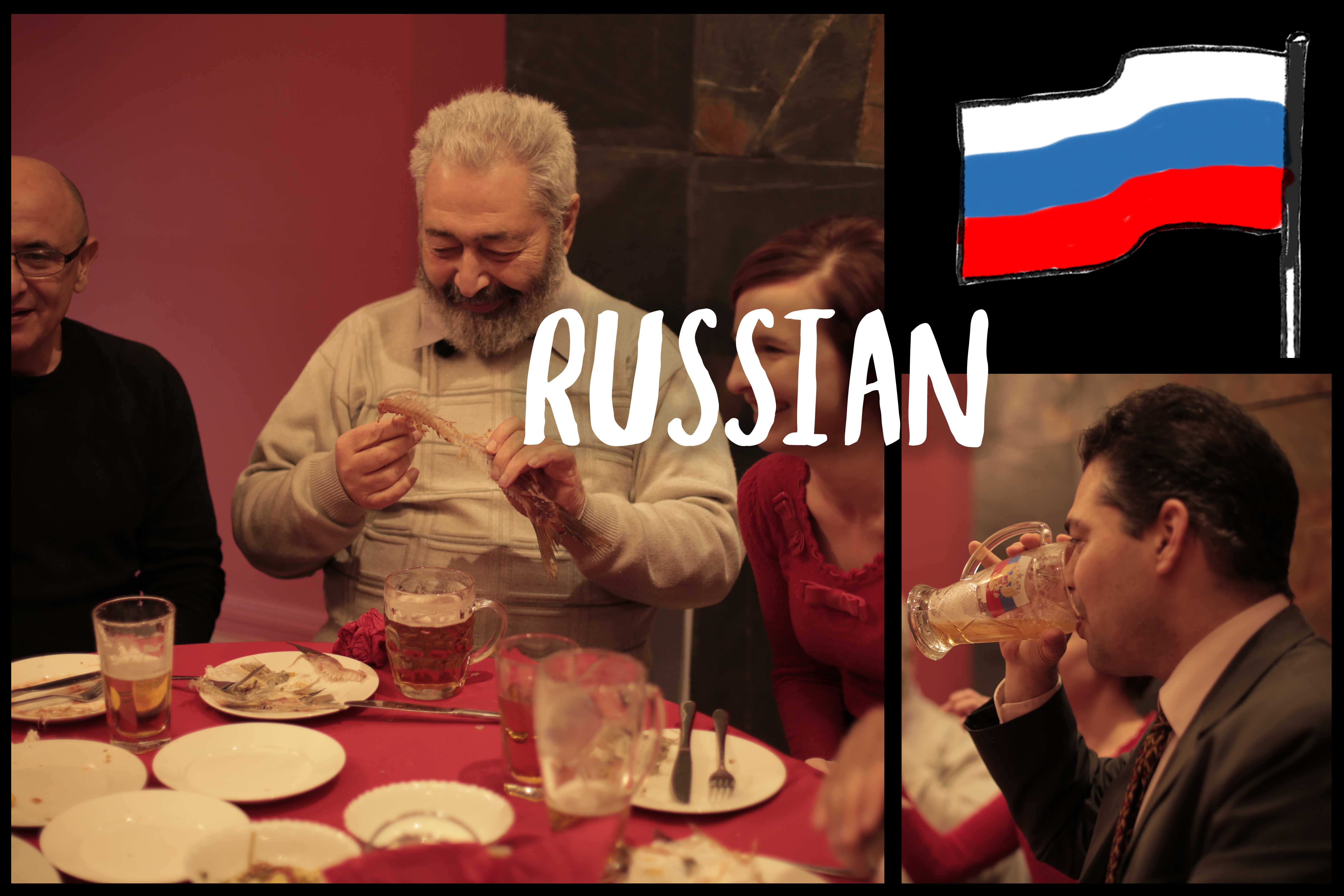 Beer Styles: Though the most popular style of beer in Russia is Pilsner and pale styled lagers, darker varieties such as Porter, Baltic Porter, and Russian Imperial Stouts are also quite commonplace.
Accompanying Cuisine: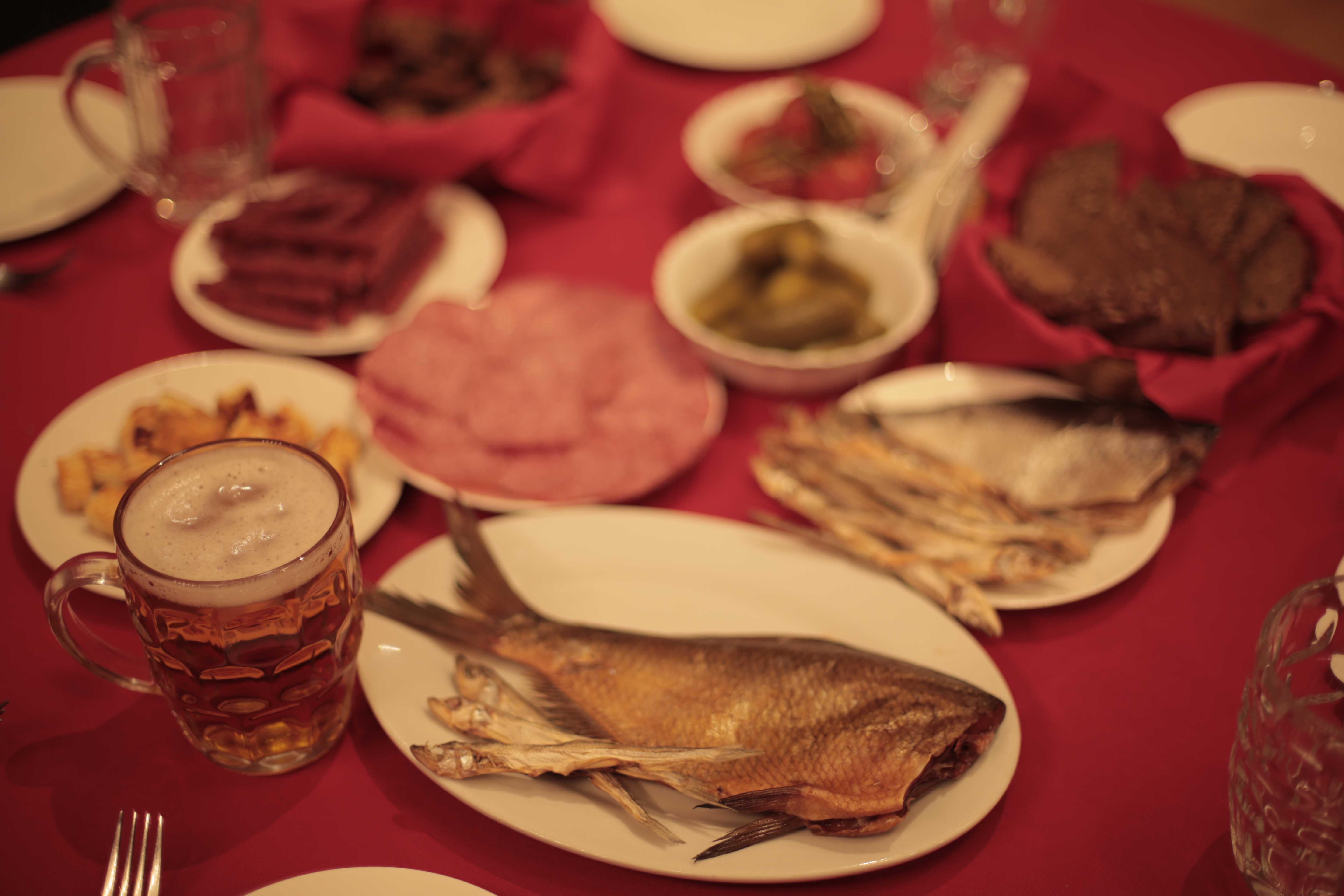 A typical 'beer meal' in Russia: Pale Lager with dried, smoked fish, salami, pickled tomatoes and salty rye bread.
Cultural Beer Traditions: It is customary while drinking beer in Russia to make a toast before you begin each drink and then to eat between every beer you have.
Something cool: On a tour of England in 1698, Peter the Great fell in love with the dark Porter style of beer that was popular in England at the time and asked to have some sent back to his homeland in Czarist Russia. After the first delivery spoiled, the English brewers, keen to impress, raised the alcohol and hop levels to allow for the long, cold journey from England to Russia by sea and so the 'Russian Imperial Stout' style was born!
Later on, Catherine the Great became a huge fan of the Russian Imperial Stout, personally setting up breweries to create this particular style of beer at home in Russia. She was proud to claim that she could drink as much of it as any Englishman!
How to say Cheers: Na'zdrovje!
Glass of Choice: Handled Mug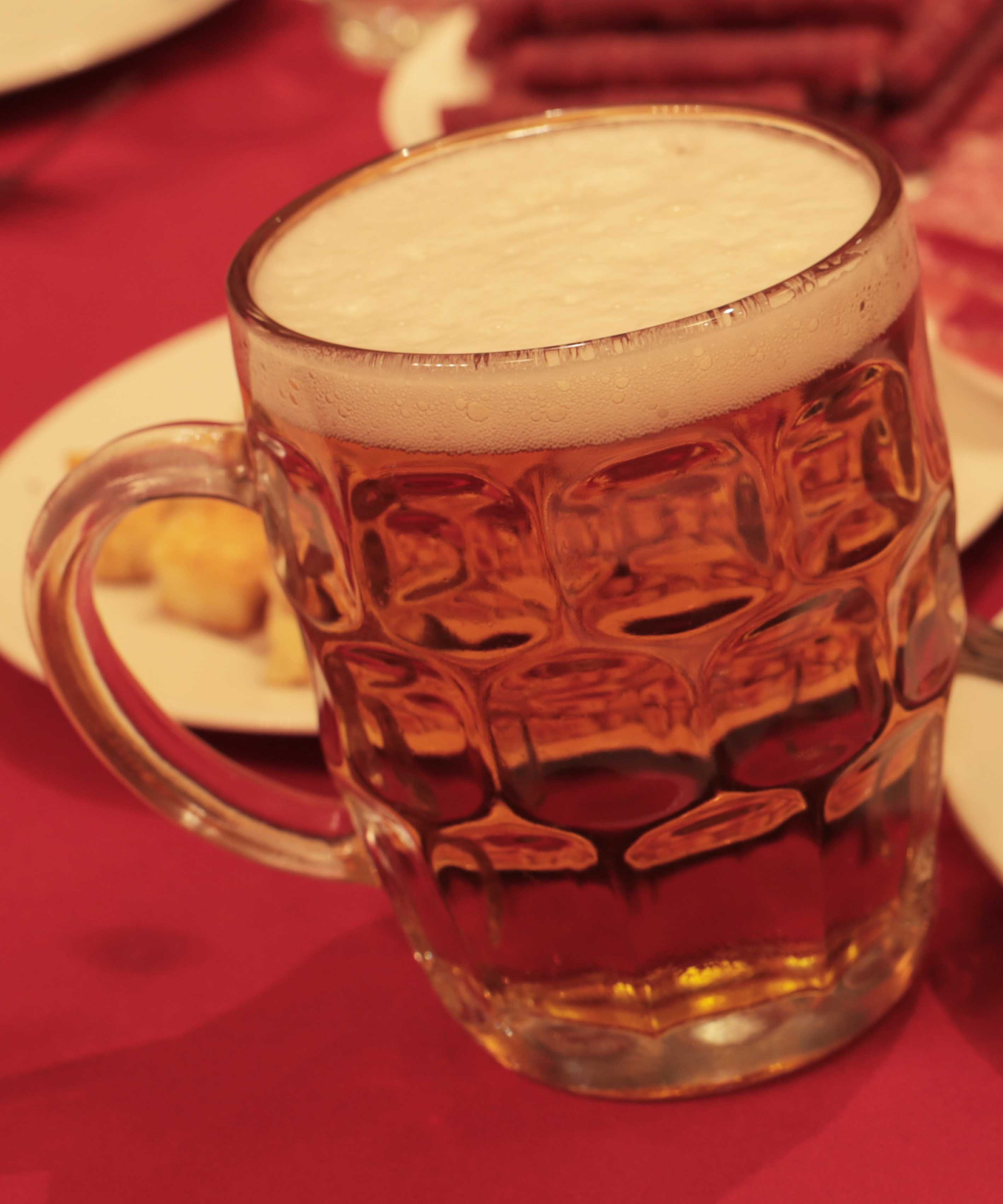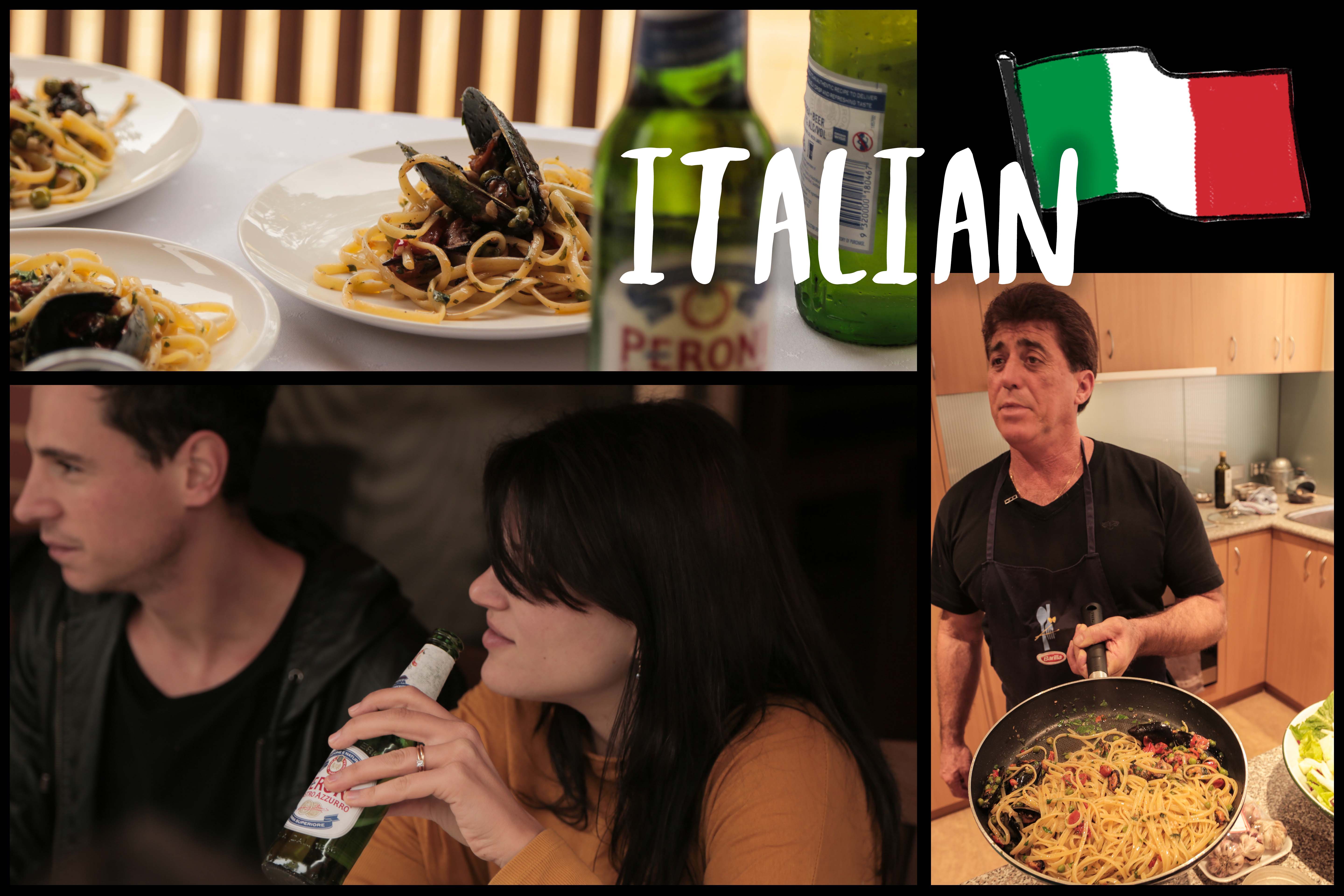 Beer Styles: Italy is largely dominated by Light, pilsner-styled, pale lagers, though there is a popular market for red ales ("Rossa"), bocks and other darker beers with more malt character. Italy also boasts a fast-growing craft beer sector creating everything from pale lagers down to stouts, amber ales and IPAs.
Accompanying Cuisine: I think we are all familiar with popular Italian cuisine – pasta, pizza, risotto, osso-bucco, tiramisu… however, I'm particularly fond of the Italian way of cooking seafood. It's simple – fresh seafood cooked with olive oil, salt, lemon, sometimes chili and oregano. And you don't want a beer that will overpower it, so the Italians often match this cuisine with a light lager.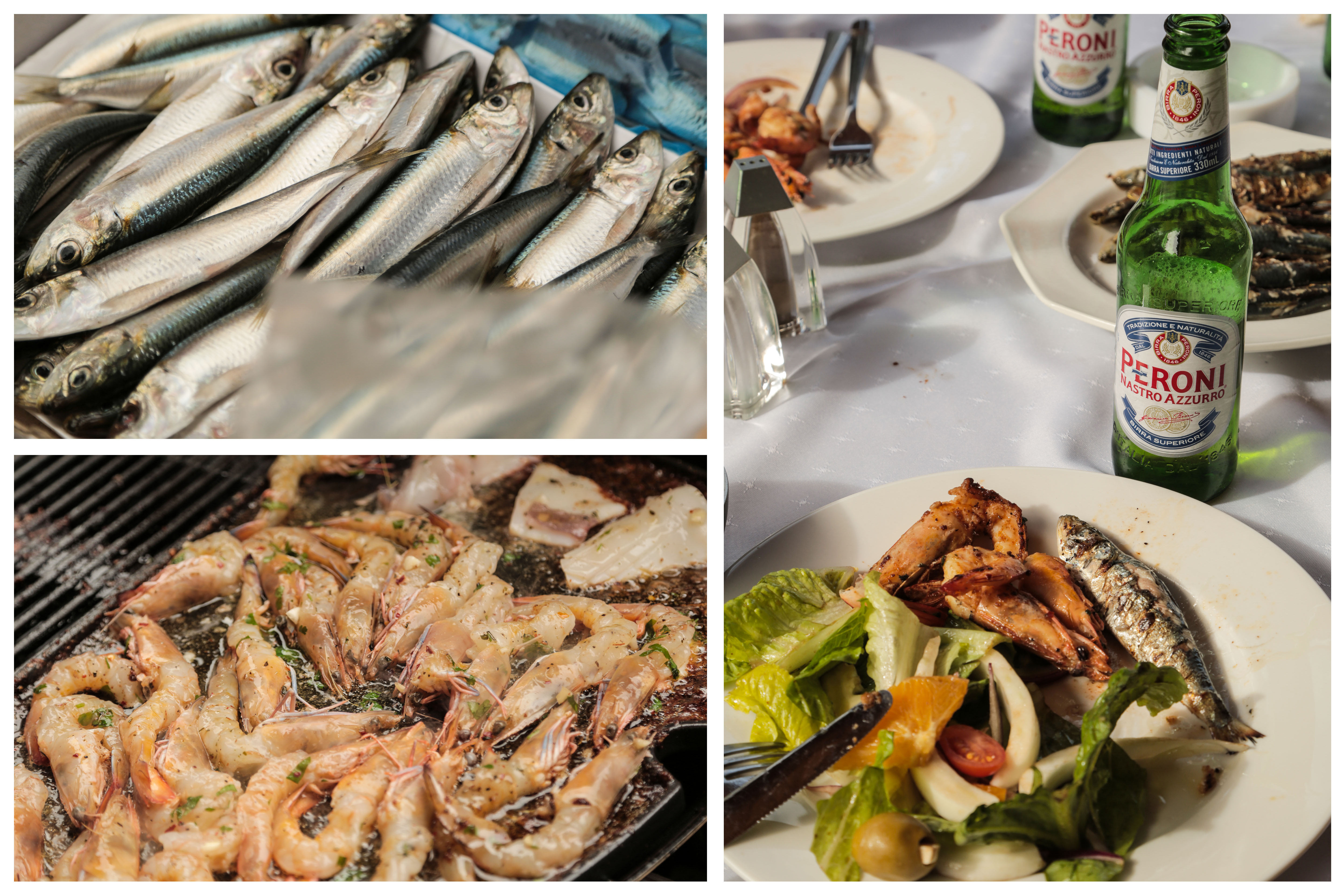 Grilled sardines, prawns, squid and salad with Peroni – an Italian summertime classic. Often accompanied with Sicilian mussel pasta as well.
Cultural Beer Traditions: Beer is usually drunk as an 'aperitivo' before dinner. Like the Spanish Tapas, it is usually accompanied by a light meal or snack and rarely involves more than one or two beers. The Italians are regular drinkers but not over-indulgers.
Something cool: Teo Musso of Piozzo, Italy is sometimes described as the Jim Morrison of brewing. A little bit eccentric in his ways, Teo is known to play specially commissioned music to his fermenting beer!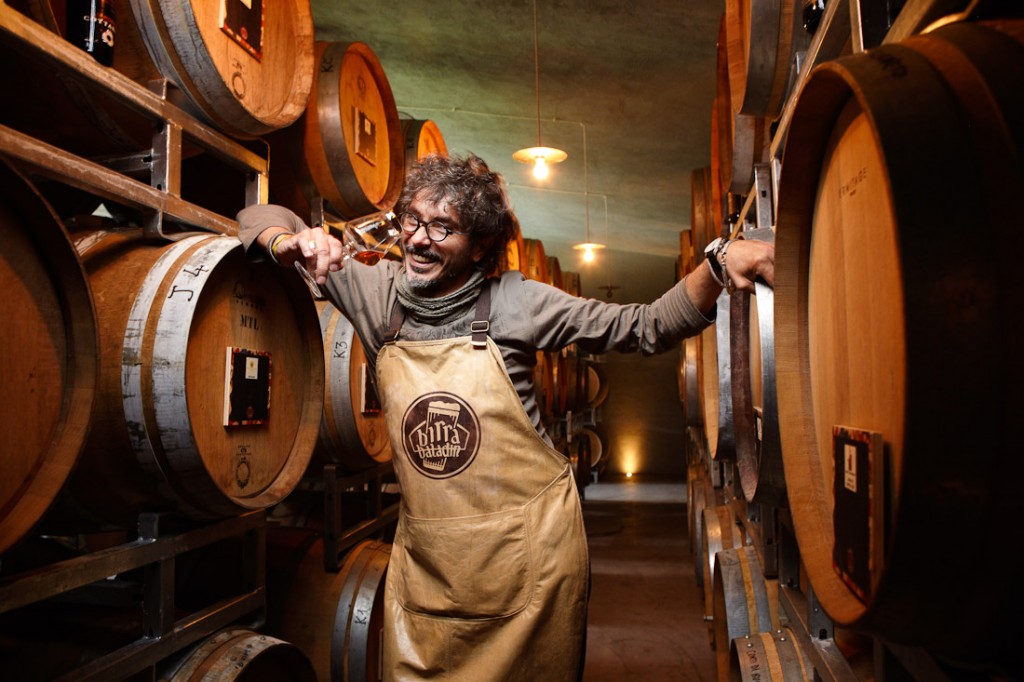 Image: http://bit.ly/1mL9Hdu
How to say Cheers: Salute! /or Chin-chin!
Glass of Choice: Aperitivo (small) beer glass.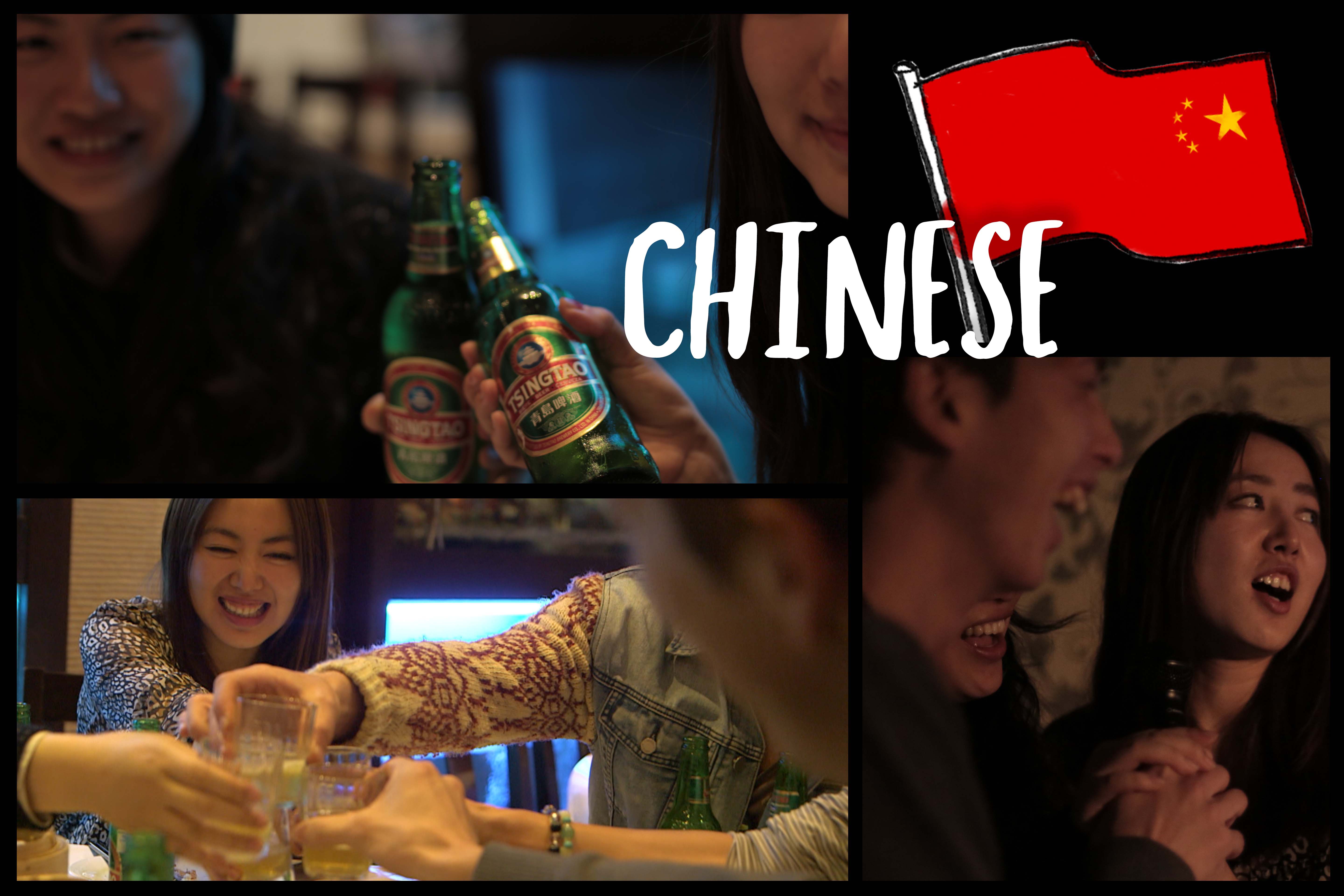 Beer Styles: Pale, light lager dominates the Chinese beer market, but in the cities there is a growing market for international beers, in particular the German styles.
Accompanying Cuisine: Beer is usually shared over a large meal, so often there are many dishes on the table. Roast duck, fried rice, noodles and dumplings are a common food to match with beer in China.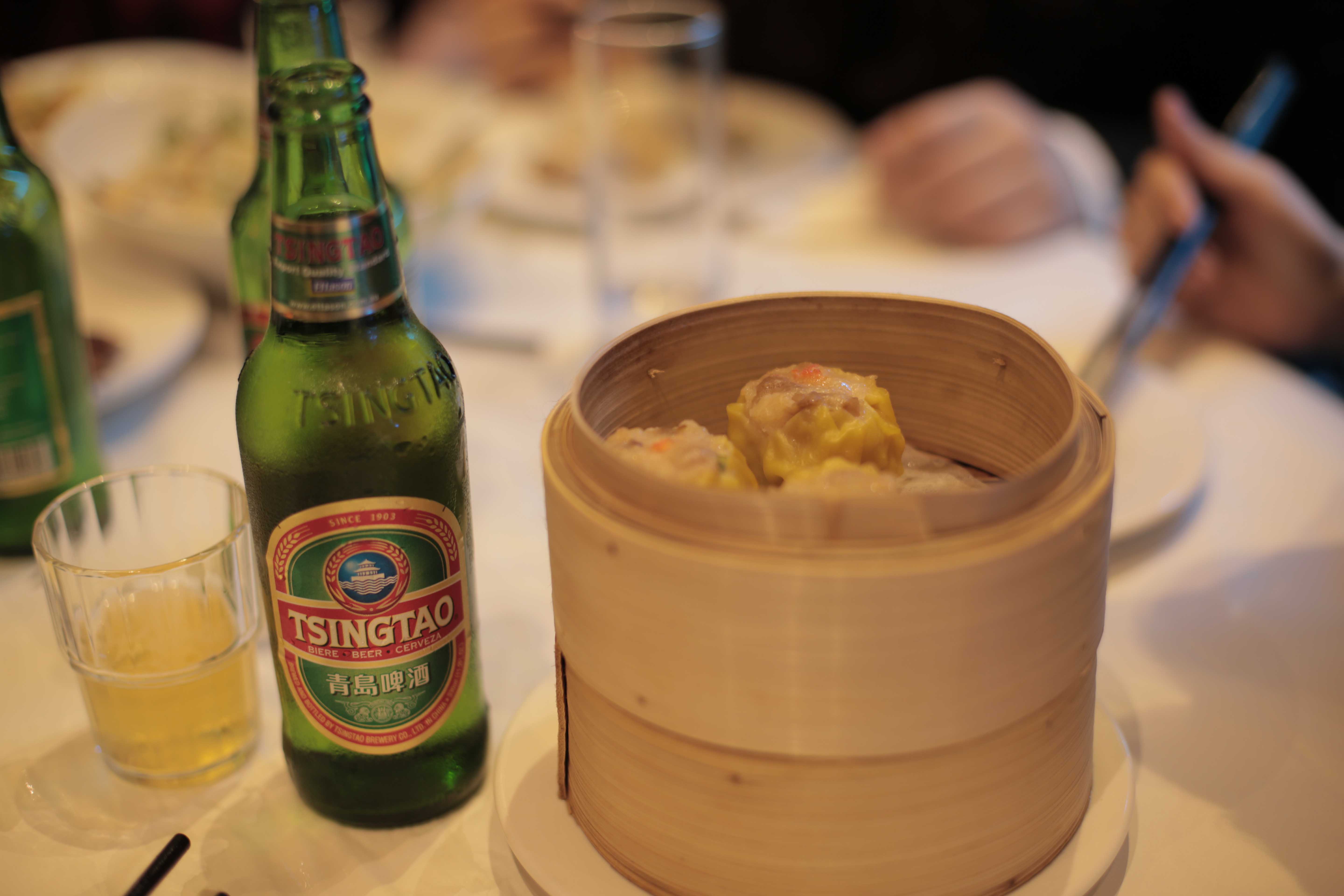 A common sight: pork dumplings and Tsingtao.
Cultural Beer Traditions: Beer is as much about relationships as anything else in China. Beer is seen as a way to form bonds over dinner and Chinese beer drinking etiquette follows a long list of rules:
1. Never drink on your own – each sip must be accompanied by others, usually after a toast and usually a small cup all in one go.
2. Usually the host of the dinner pours beer for all the guests.
3. If someone is considered superior to you (in age, business position etc) and you go to clink glasses together, it is polite to have your glass meet his/hers with the rim of your glass lower than their glass.
4. Always maintain eye contact with the person you are toasting to/being toasted by.
5. At least once during a meal, you should toast to the host or whoever is paying as well as the elder people at the table.
6. After you have finished your cup, many will turn their empty glass upside down to show that there is no beer left.
7. The end of the bottle is considered good luck so try to give it to someone special.
8. Singling someone out and drinking more toasts with them shows that you particularly like that person.
9. If you want to stop drinking, just excuse yourself, you don't have to try to keep up.
Something cool: Cheap Beer: Beer is extremely cheap in China – a bottle can set you back as little as 25 cents! However Chinese beer is usually lower in alcohol to fit with their culture of drinking together (to avoid getting drunk).
Biggest beer market in world: China is the biggest beer market in the world… by a long way – it is double the size of the second biggest market, which is the USA!
How to say Cheers: Gan-bei! (Mandarin)
Glass of Choice: Small cup or bottle.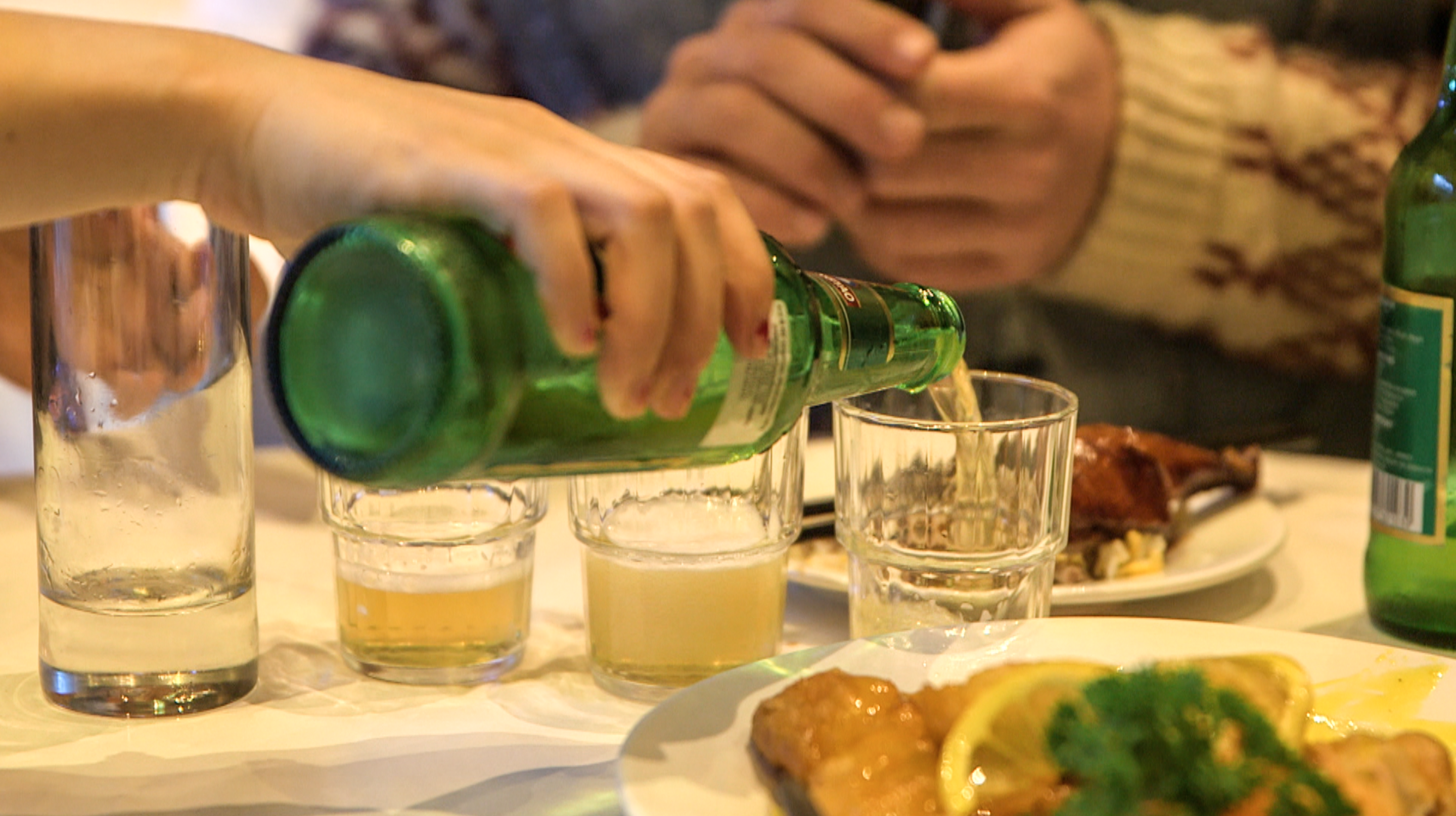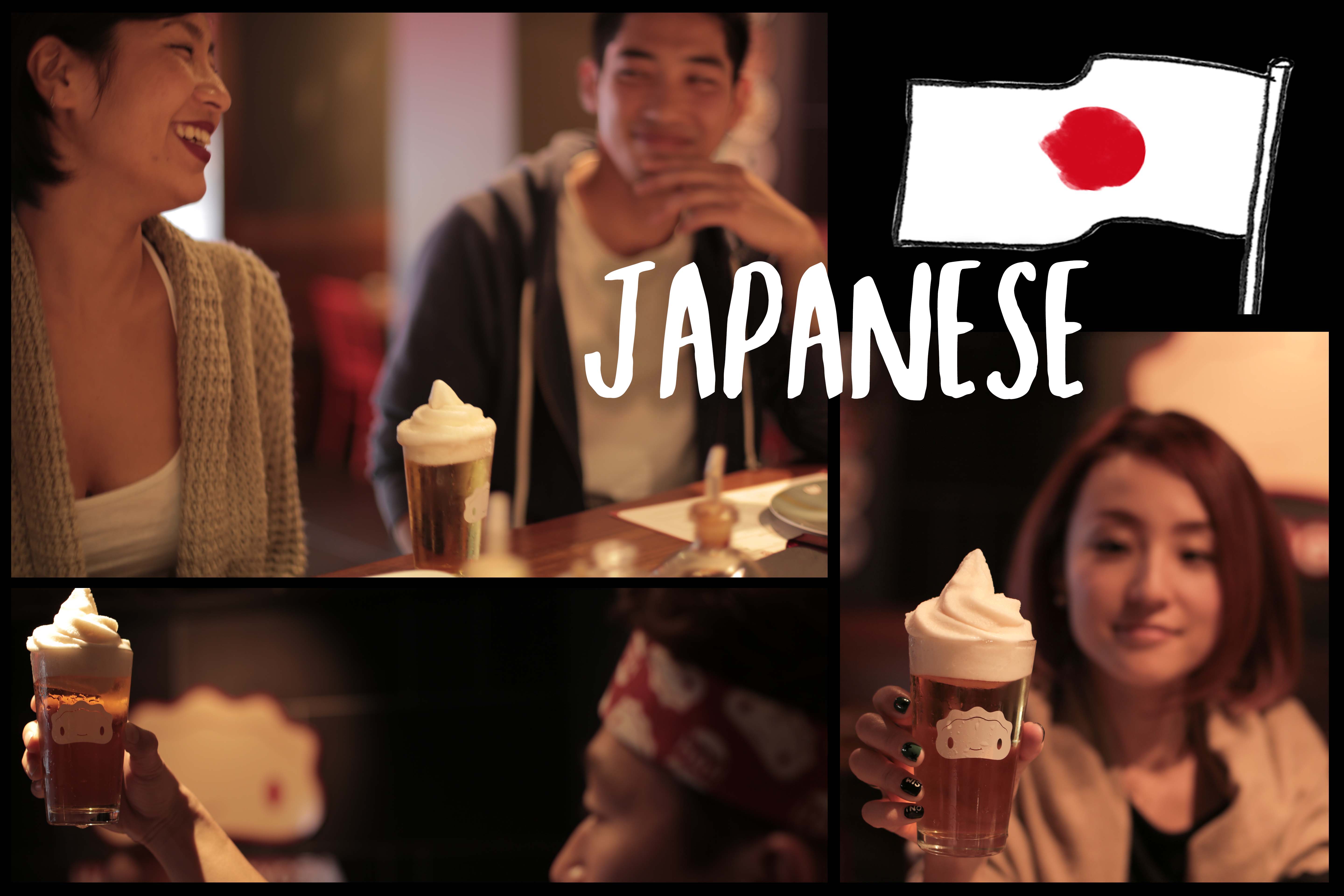 Beer Styles: Rice Lager, Happoshu (and a fast growing craft beer scene!)
Accompanying Cuisine: Gyoza, tempura vegetables or prawns, chicken karaage (fried chicken), edamame (soy) beans are common bar food in Japan.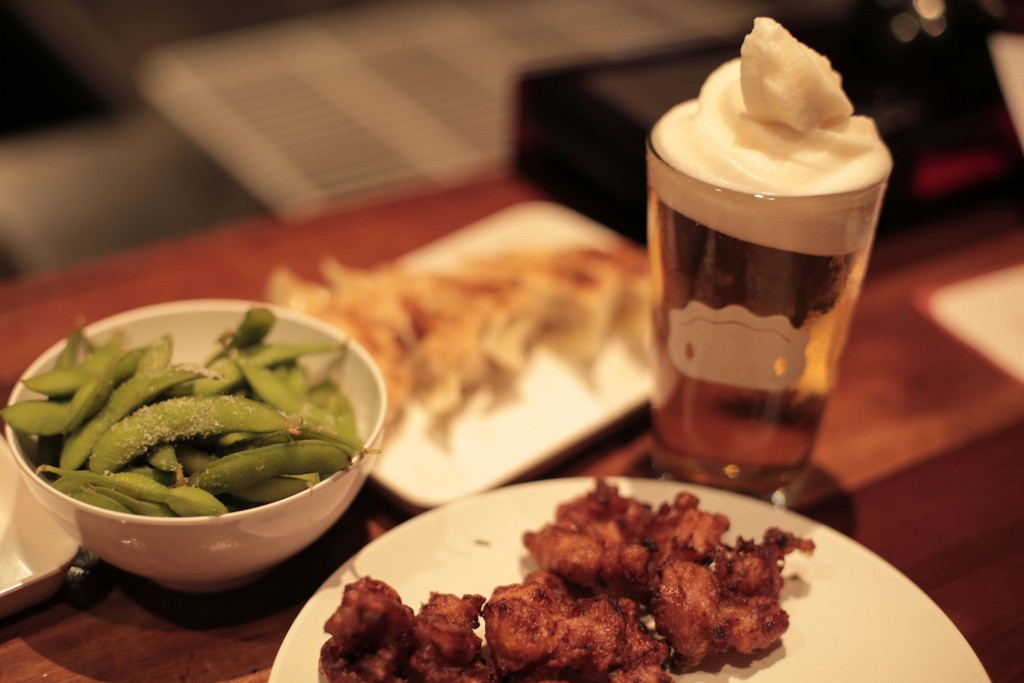 This matching is a bit different! A Kirin beer with a frozen 'slushy' foam to wash down a bowl of edamame beans, gyoza and chicken karaage (and maybe top it off with an ice cream-headache!)
Cultural Beer Traditions:
Never pour your own drink: In Japan it is seen as rude to pour your own drink, so usually it is a case of 'if you pour mine, I'll pour yours' (or one person will pour for the whole group)
Use both hands: It is also considered polite to use two hands when pouring and receiving your glass of beer (and paying the bill at the end).
Something cool: Always masters of innovation and at the forefront of anything weird and bizarre, the Japanese have come up with an incredible way of keeping their beer cold and adding an interesting twist to the standard glass of beer. They have created the world's first 'Beer Slushy'! They actually freeze beer and serve it from a soft-serve machine on top of a glass of regular liquid beer to give it a frozen 'foam' top!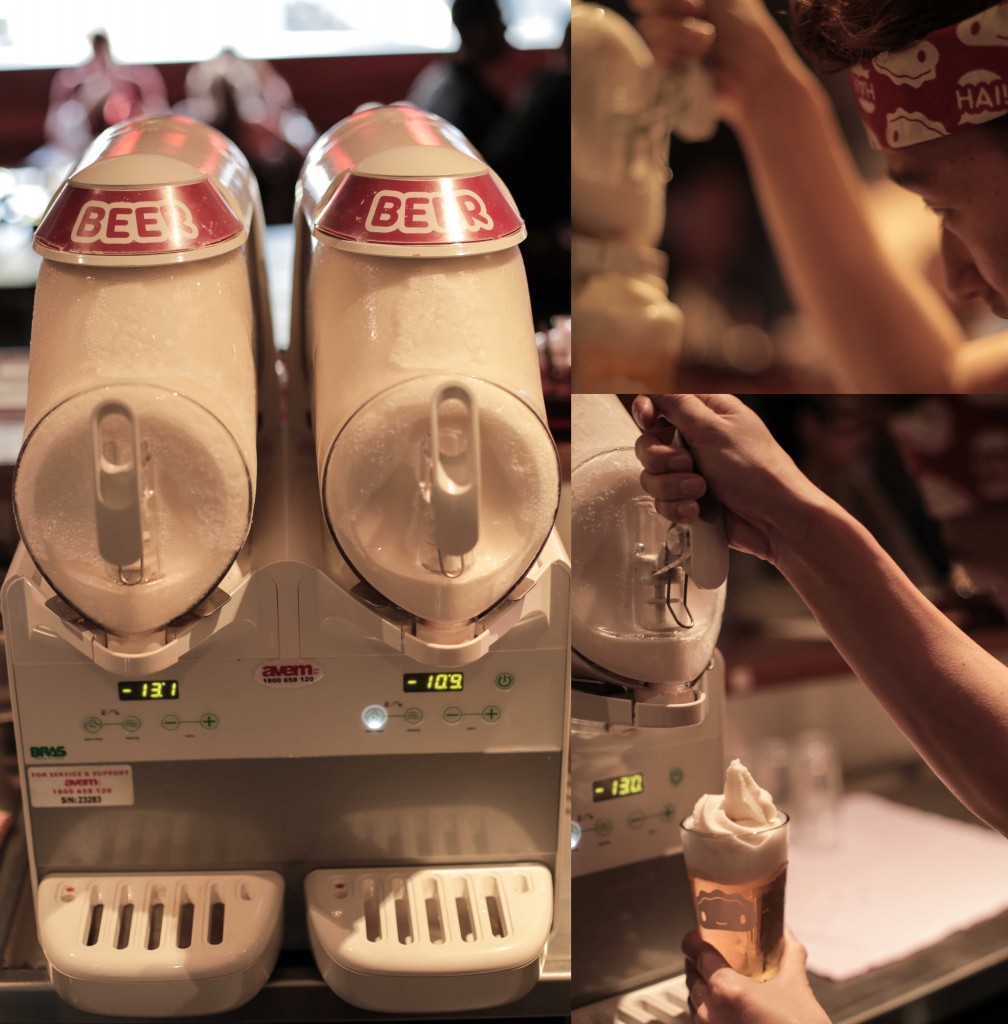 How to say Cheers: Kanpai!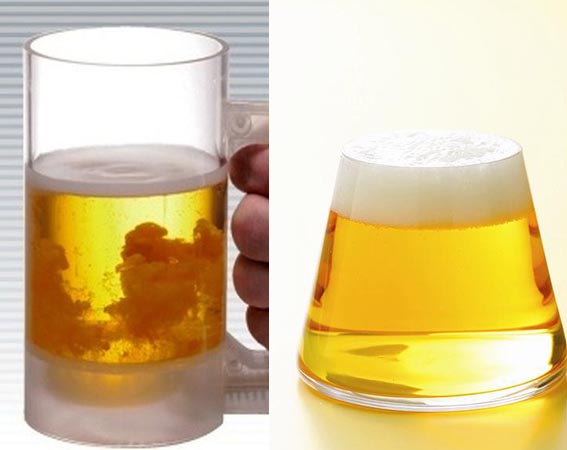 Glass of Choice:There really is no limit in Japan, it's all about innovation at 'kawaii' (cuteness) – how about this self-foaming beer mug or the Mt Fuji shaped glass!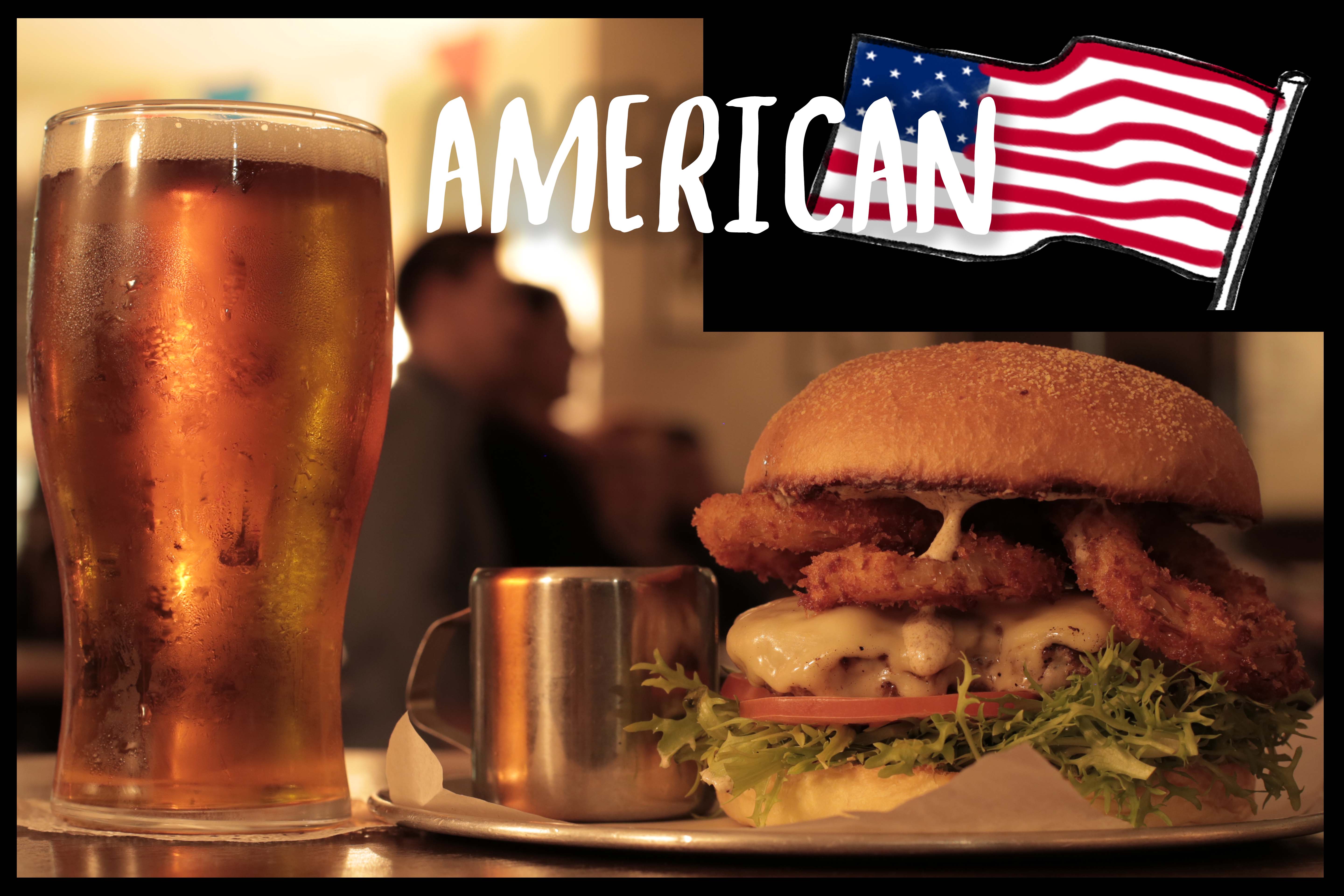 Beer Styles: Traditionally dominated by American-style/Adjunct Lagers, the US beer scene is now huge and diverse. American brewers have even started producing their own takes on well-established beer styles such as the IPA (known as the American IPA). But it hasn't stopped there. Pick any style you can think of and there is now a new distinct American version of it; American Pale Ale, American Amber Ales, American Black Ales, American Brown Ales, American Blonde Ales, American Porter, American Stout, American Pale Wheat Beer, American Strong Ale, American Double/Imperial Stout, American Double/Imperial IPA, American Imperial Pilsners, and the list goes on!
Other popular American styles are Rye Beers, Pumpkin Ale, California Common/Steam Beer and American Malt Liquor.
Accompanying Cuisine: Common fare at the bar in the USA would be buffalo wings, pork ribs, pizza, shrimp (prawns), mozzarella sticks, burgers, sliders and/or chili fries.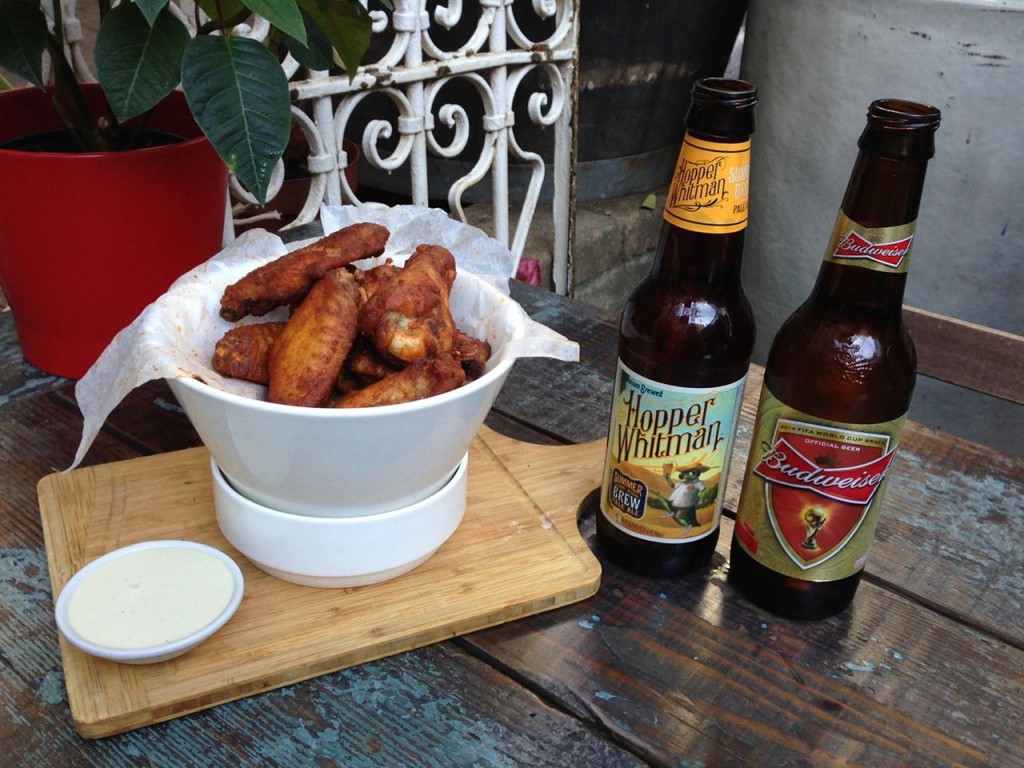 Beer and buffalo wings – a great American combination that has taken over menus all across Australia.
Something cool: Well not "cool" at all, but quite interesting – the years between 1919 and 1933 were known as the 'Prohibition Era', a time when the production, sale and transportation of beer (and alcoholic drinks in general) was completely outlawed by the United States government!
How to say Cheers: Cheers!
Glass of Choice: The American Pint (also known as a 'shaker').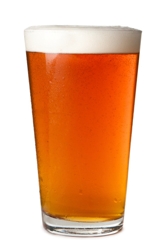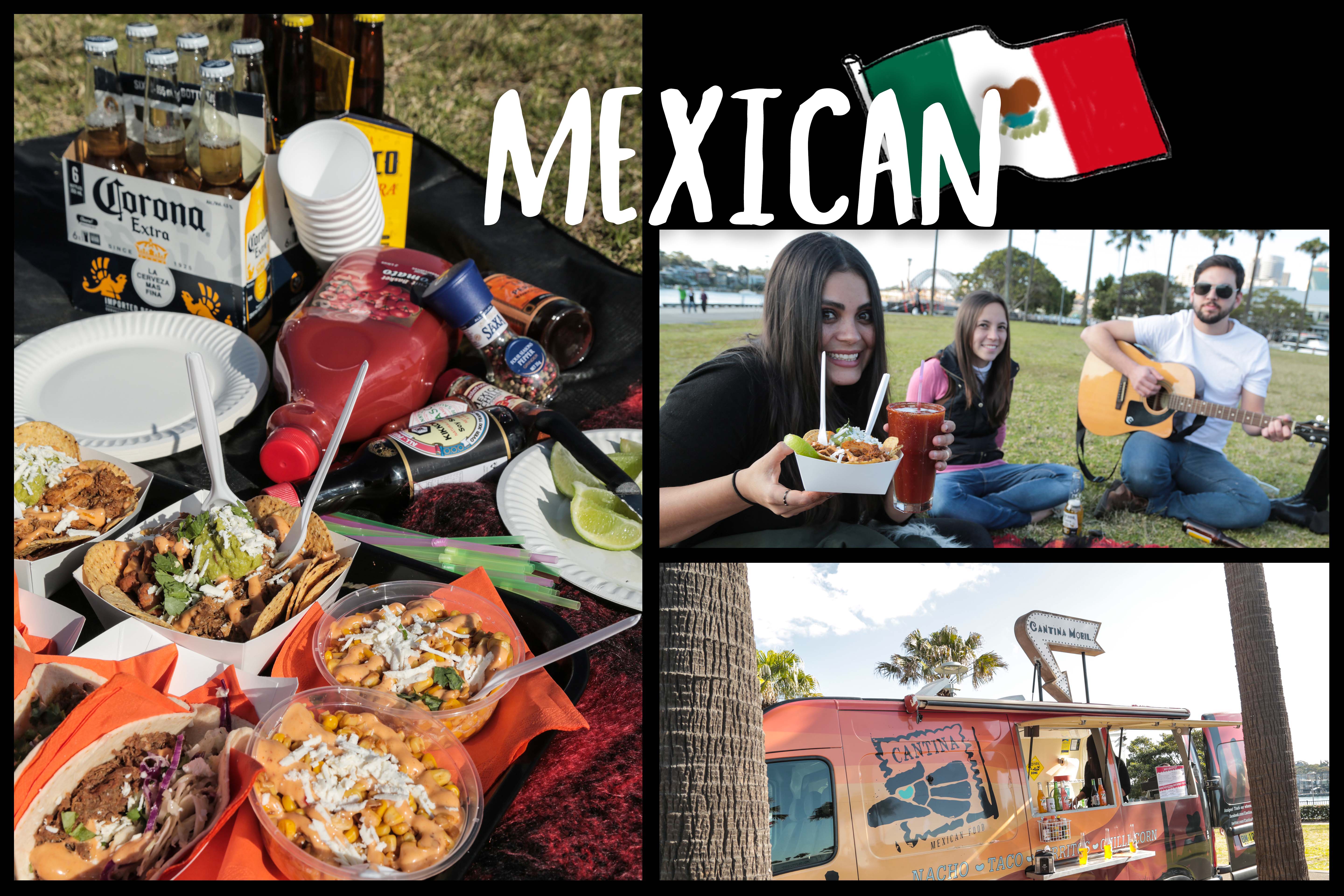 Beer Styles: American-style Lagers (often containing corn) are the dominant style of beer coming out of Mexico, however darker styles are also quite popular, the most common darker style being Vienna Lagers ('Negra Modelo' for example).
Accompanying Cuisine: Elote (seasoned corn on the cob), tacos/carnitas, burritos, nachos, tortillas, barbacoa de cabeza (slow cooked cows head – actually delicious!) are all common dishes to accompany a beer in Mexico.
.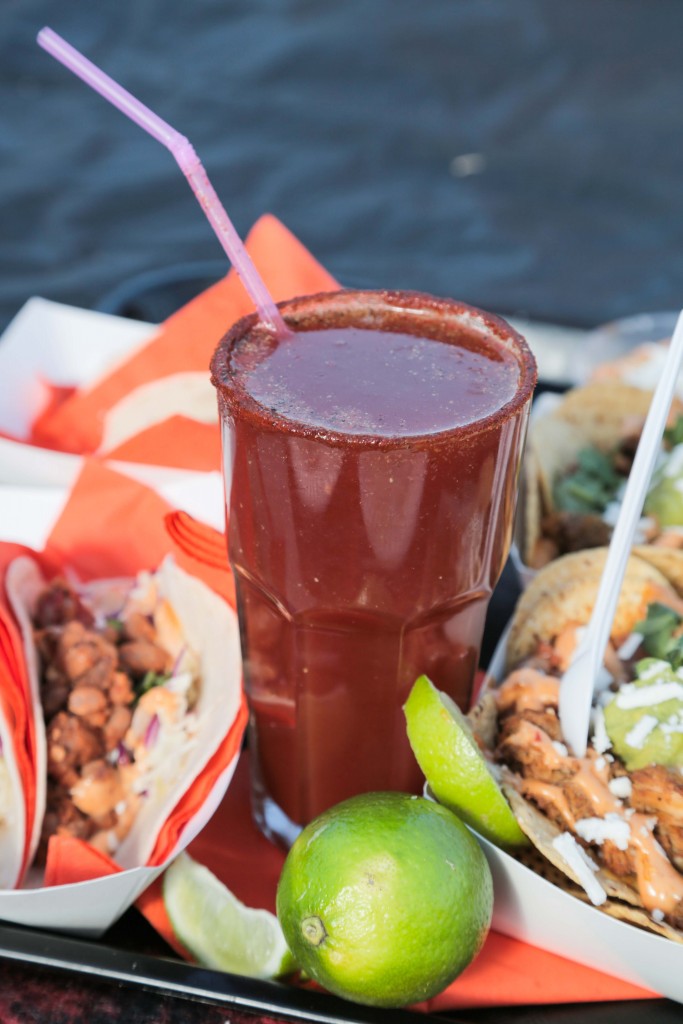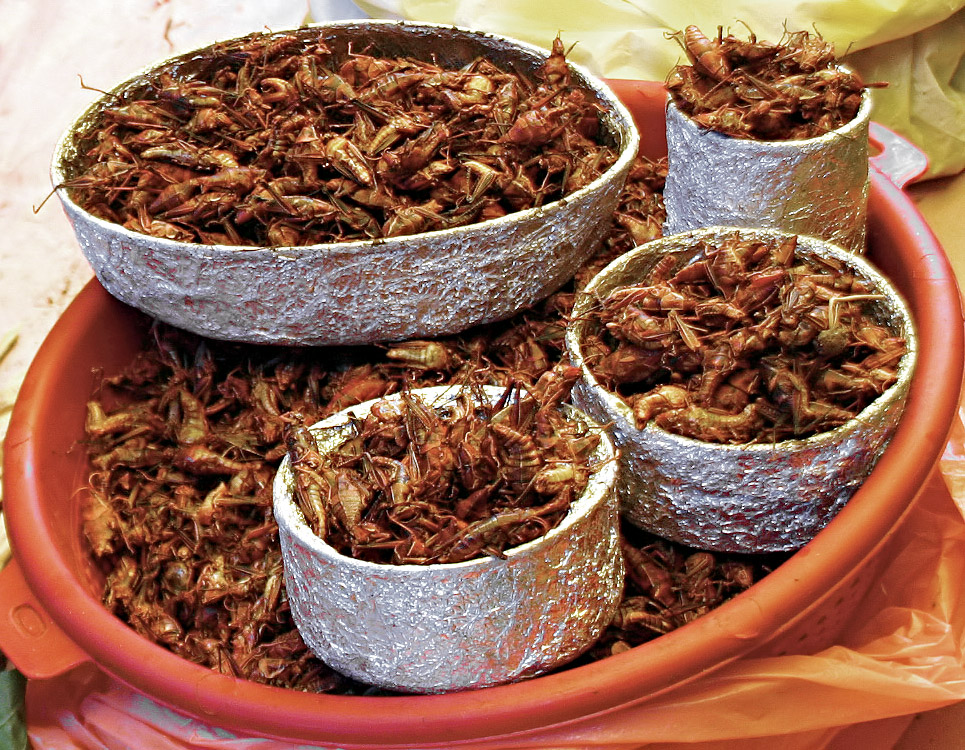 This is a combo I had recently – carnitas (little meat tacos), nachos and a 'michelada' (spicy Mexican beer cocktail)
A common beer snack that can be found in rural areas of Mexico are Chapulines (deep fried grasshoppers) in chili powder! Yum?
Cultural Beer Traditions: Forms of beer have been produced by native Mexicans for thousands of years, long before the Spanish arrival and European influences took hold. For this reason, Mexican beer drinking culture and rituals sometimes have their roots steeped deep in an ancient time.
Beer is sometimes used as an offering to indigenous gods in Mexico and on Dia Del Muerto (Day Of The Dead), altars and shrines made for deceased family and friends will often be adorned with the deceased's favourite beer.
Something cool: There are three things Mexicans cannot live without – lime, salt and chili. These three ingredients seem to make it into just about anything that touches a Mexican's lips, so it's no surprise they also like to use these ingredients in their beer as well.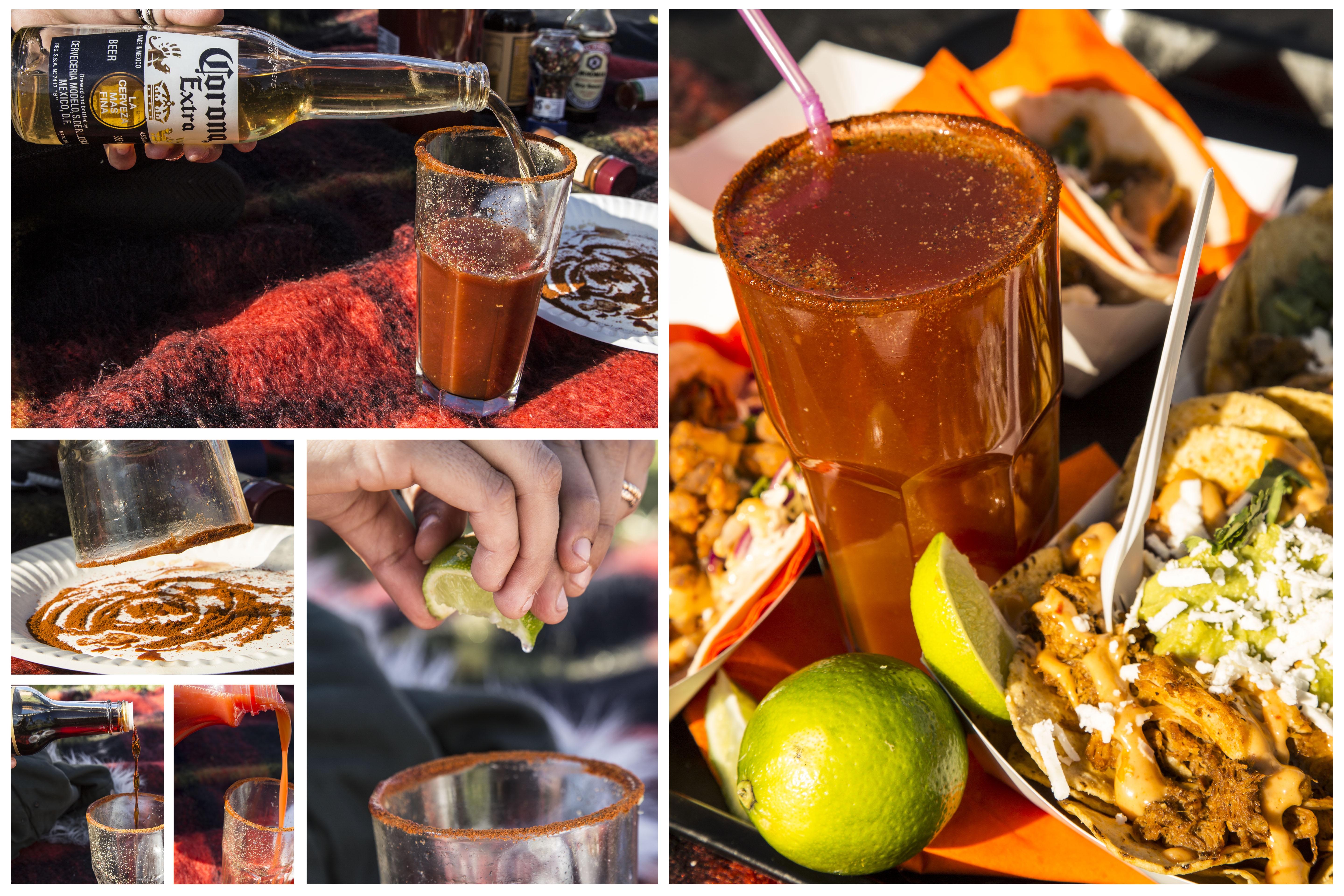 If a Corona and a Bloody Mary created a love child, it would surely be this bizarre Mexican beer cocktail – a Michelada! Basically, it is beer, salt, lime, Worcestershire sauce, soy sauce, pepper, chilli, Tobasco sauce, tomato juice or clamato juice (clam/tomato juice… what the?)… and in some cases, even garnished with prawns!
How to say Cheers: Salud!
Glass of Choice: Bottles are commonly drunk out of in Mexcico but sometimes they will serve 'Micheladas' in styrofoam cups or American shakers. Beer is also sometimes drunk out of smaller cups (like the Spanish 'caña' size).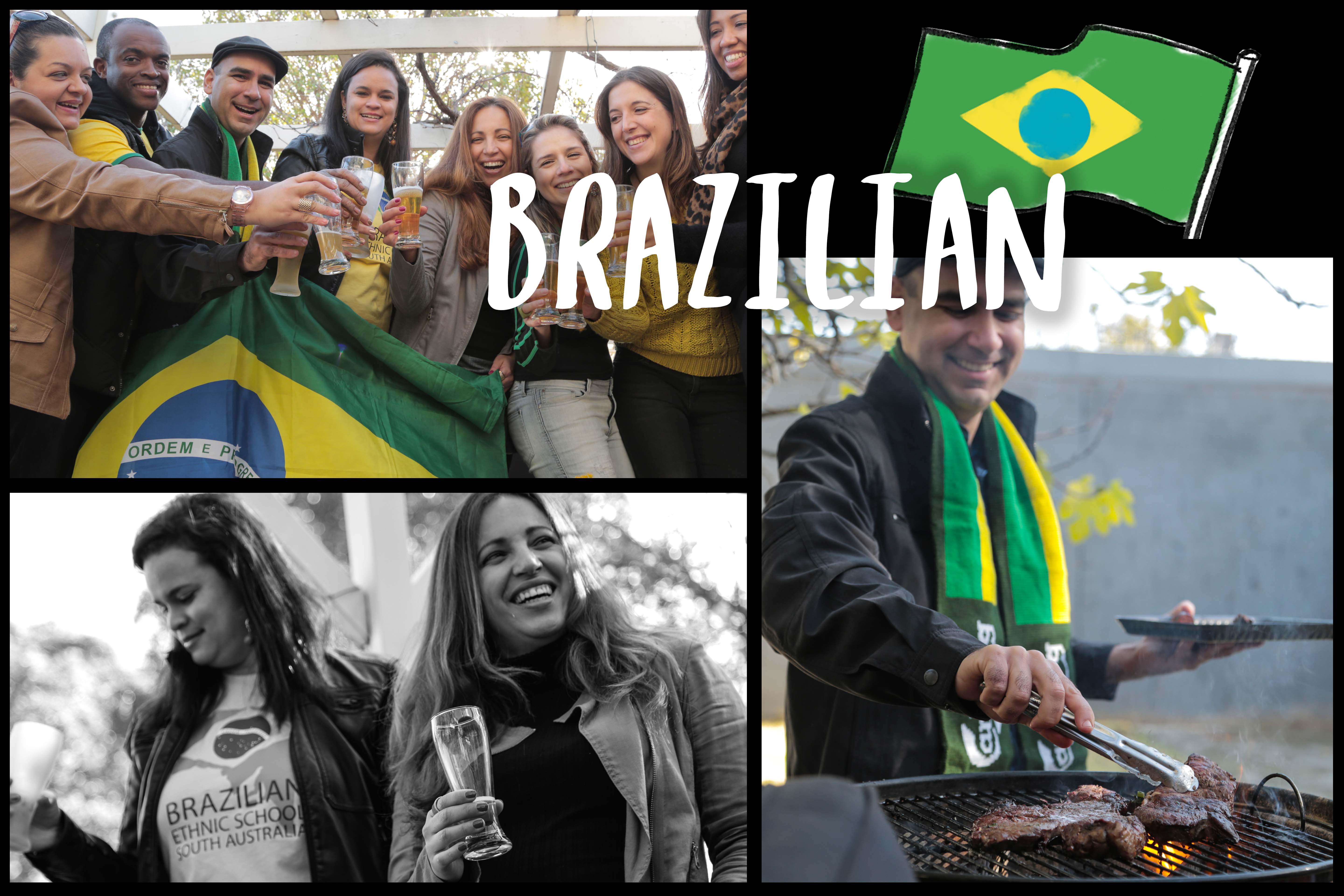 Beer Styles: Blonde, pale lagers, Pilsner-styled lagers. You will have an option of bottles/cans or 'Chope' (pronounced 'chop-ie') which is the Draft version (usually served in a small glass (and extremely cold).
Accompanying Cuisine: Feijoada is a popular Brazilian meal of black beans, pork and rice. Brazilians are also big fans of meat and are proud of the way they do barbecues (and if they ask; "yes, Brazilians do barbecues MUCH better than the Argentinians" is the correct response – and vice versa if you find yourself in Argentina).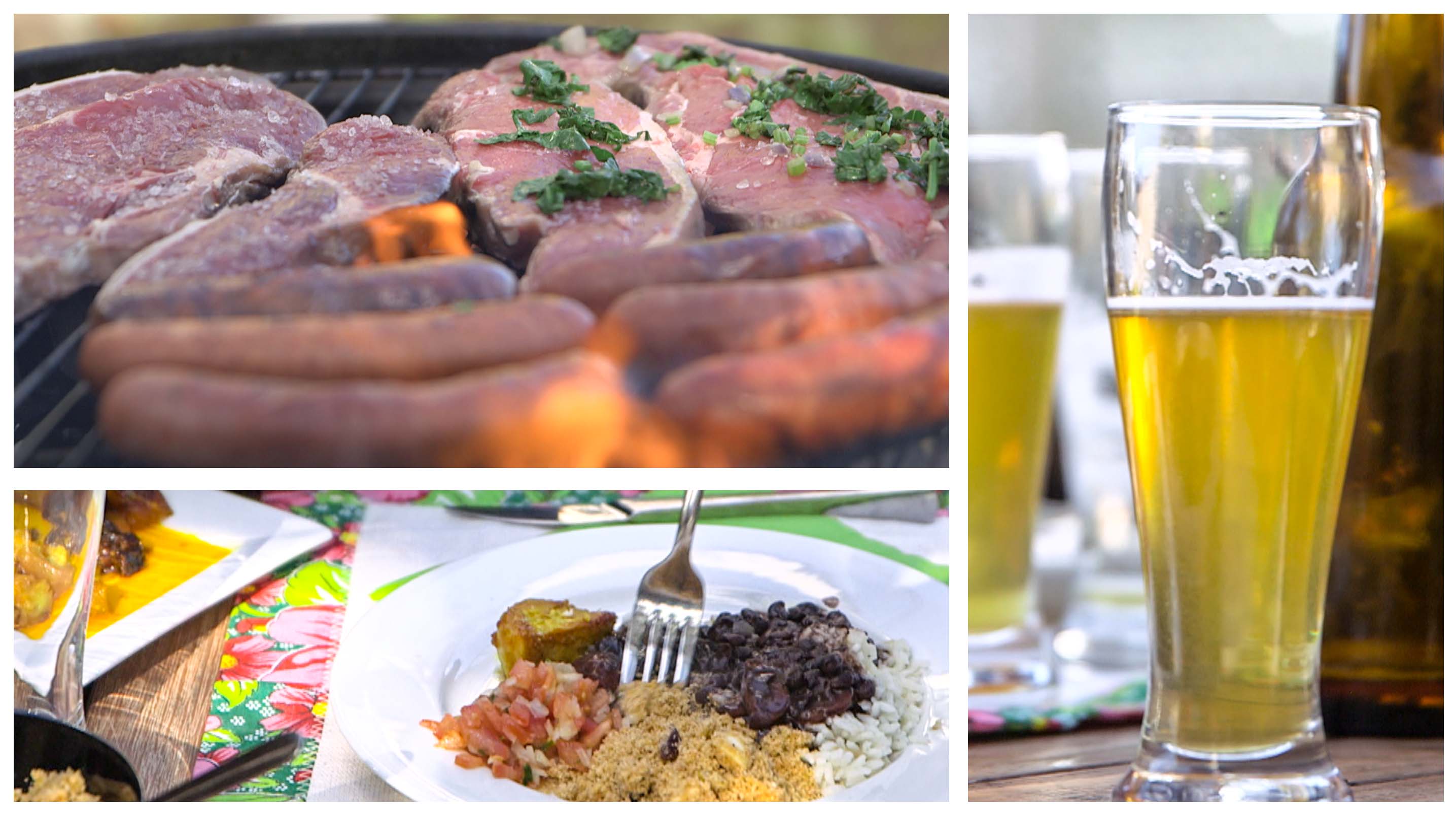 A common Brazilian meal would be Feijoada, farofa (toasted manioc flour), kale, salad, beans, rice, barbecued steak ('picana' is a favourite cut) and always washed down with a cold beer (usually a light, blonde, 'pilsner'-styled beer).
Cultural Beer Traditions:
Don't over-drink: Brazilians are party animals and they love to drink beer at any occasion, whether it's on the beach, at a music festival or at a backyard barbecue. Having said that, they aren't big drinkers and will rarely drink more than 2 or 3 small 'copos' (cups – usually around 200ml) of beer in a row. Brazilians rarely, if ever get drunk. If you sit back and have more than 3 full-sized beers in a row, you might get some strange looks.
Always serve your beer as cold as possible. Like it or not, I have never met a Brazilian who doesn't like their beer temperature hovering somewhere around (or below) freezing point. In some places, patrons will turn a beer back if it doesn't actually have ice forming on the glass, or even inside the beer itself!
Always share: Brazilians are extremely social and that includes their ways of drinking beer. Usually a group will buy a tall bottle of beer for the table and pour small glasses of beer for each person. Brazilians never drink alone and it is mandatory to offer beer and food to anyone who arrives at the party. Sharing is a big part of Brazilian culture, so always offer what you have to others – what goes around comes around!
Something cool: Brazil is the world's third biggest consumer of beer by country, but per capita, sits way down at 24th place. This means that while a huge portion of their large population drink beer, they don't drink much of it per person – a good reflection of their moderate beer drinking culture.
How to say Cheers: Saude! (pronounced: sa-oo-gey) or 'Chin-chin'.
Glass of Choice: Copo Americano (around 200mL)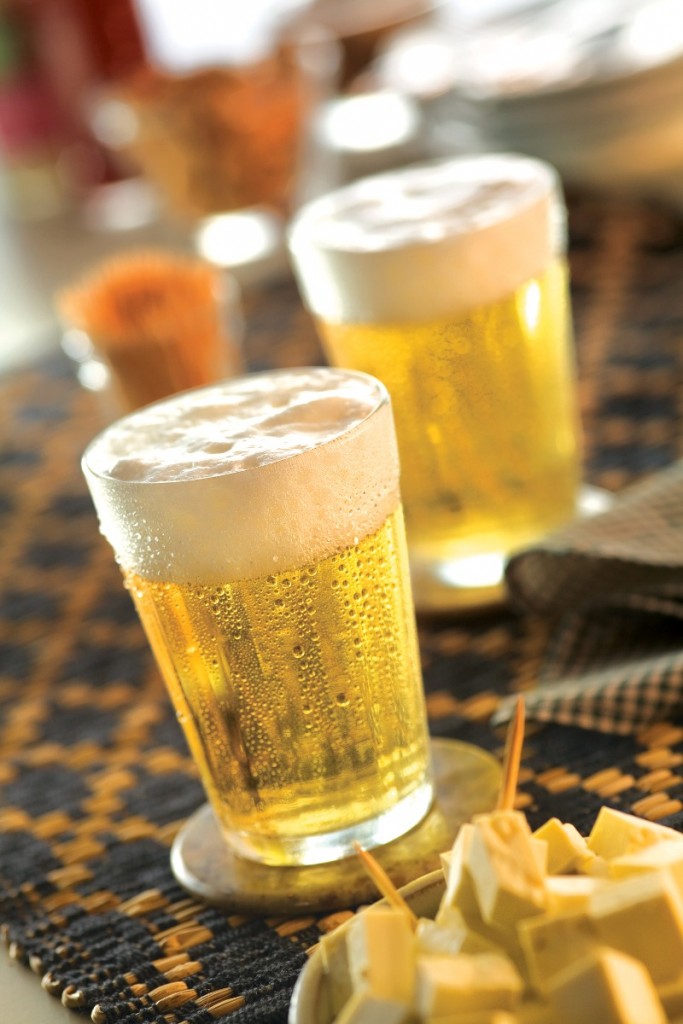 Image: http://bit.ly/1jYrZNI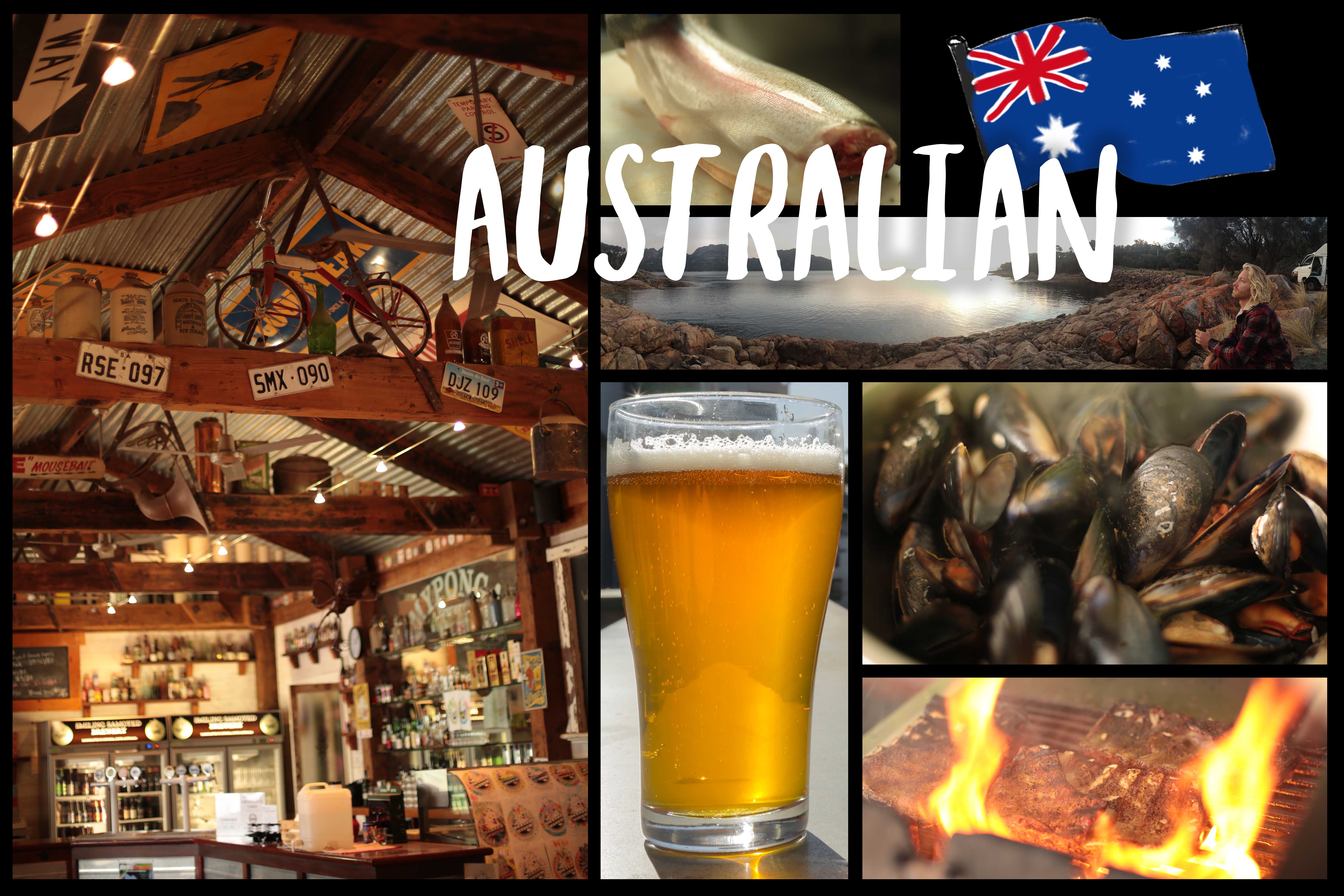 Beer Styles: Up until recently, Australia's beer scene was dominated by lagers, however recently Australia has seen the introduction of many new beer varieties and the revival of older styles such as Stouts and Porters. The most common style is still by far Lager, followed by Pale Ales, though more and more Stouts, Porters, IPAs, Amber Ales, German wheat beer styles, Red Ales, Dark Ales, Saisons, Imperial Russian Stouts, and just about any beer variety you can think of are being produced and consumed in the land down under.
Accompanying Cuisine: Australian beer drinking is synonymous with a backyard barbecue, so many will consider a steak, chips and salad as a perfect Australian meal to be eaten with beer. Australians are also seafood fanatics, and a common sight in beachside pubs and RSLs around the country would be a bowl of prawns eaten with schooners, middies, pots or pints of beer.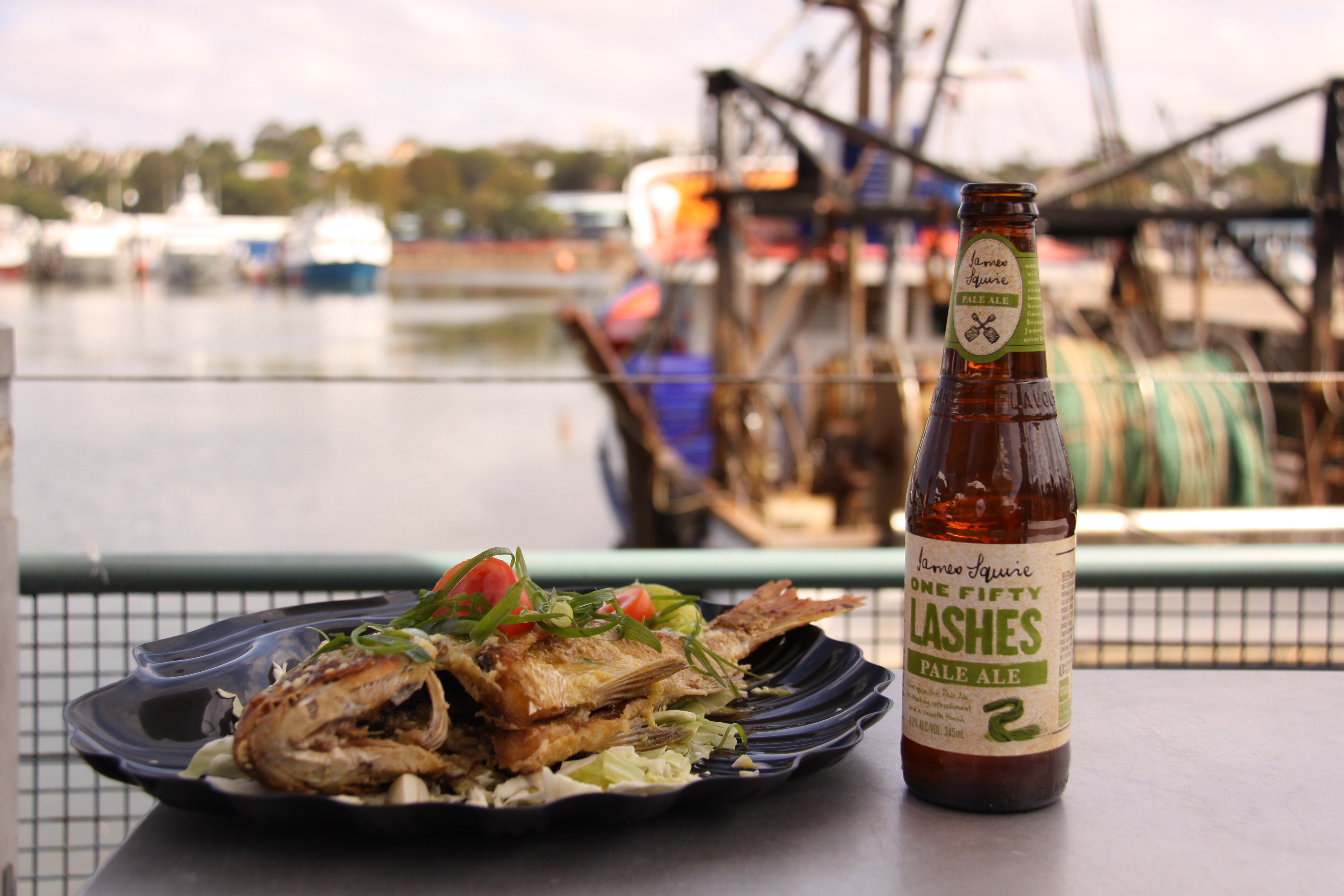 Here is a favourite of mine! Grilled snapper with the James Squire '150 Lashes' Pale Ale.
Cultural Beer Traditions:
'Shouting a round' is an activity so heavily ingrained in Aussie beer drinking culture that most don't even think while doing it. Basically, it is when you go to the pub with a group of friends, one person will buy everyone in the group a round of beers. It is expected that everyone in the group involved in the shout will take their turn to buy a round for the group. Missing out on your round or leaving before it's your turn to pay is a serious social crime and won't earn you any new friends amongst the Australians!
Something cool: During the early days of Australia's European settlement, rum had taken a strong hold in the local culture (and was often used as currency itself!). This led to an outbreak of public disorder and a solution was needed to curb the problem – the answer was beer!
"The introduction of beer into general use among the inhabitants would certainly lessen the consumption of spirituous liquors. I have therefore in conformity with your suggestion taken measures for furnishing the colony with a supply of ten tons of Porter, six bags of hops, and two complete sets of brewing materials."
— Lord Hobart in a letter to Governor Phillip King on 29 August 1802
How to say Cheers: Cheers!
Glass of Choice: Schooner, pint, half-pint, schmiddy, middy, pony, handle, seven, eight, ten, jug, pot, butcher, shetland, can or even a stubbie!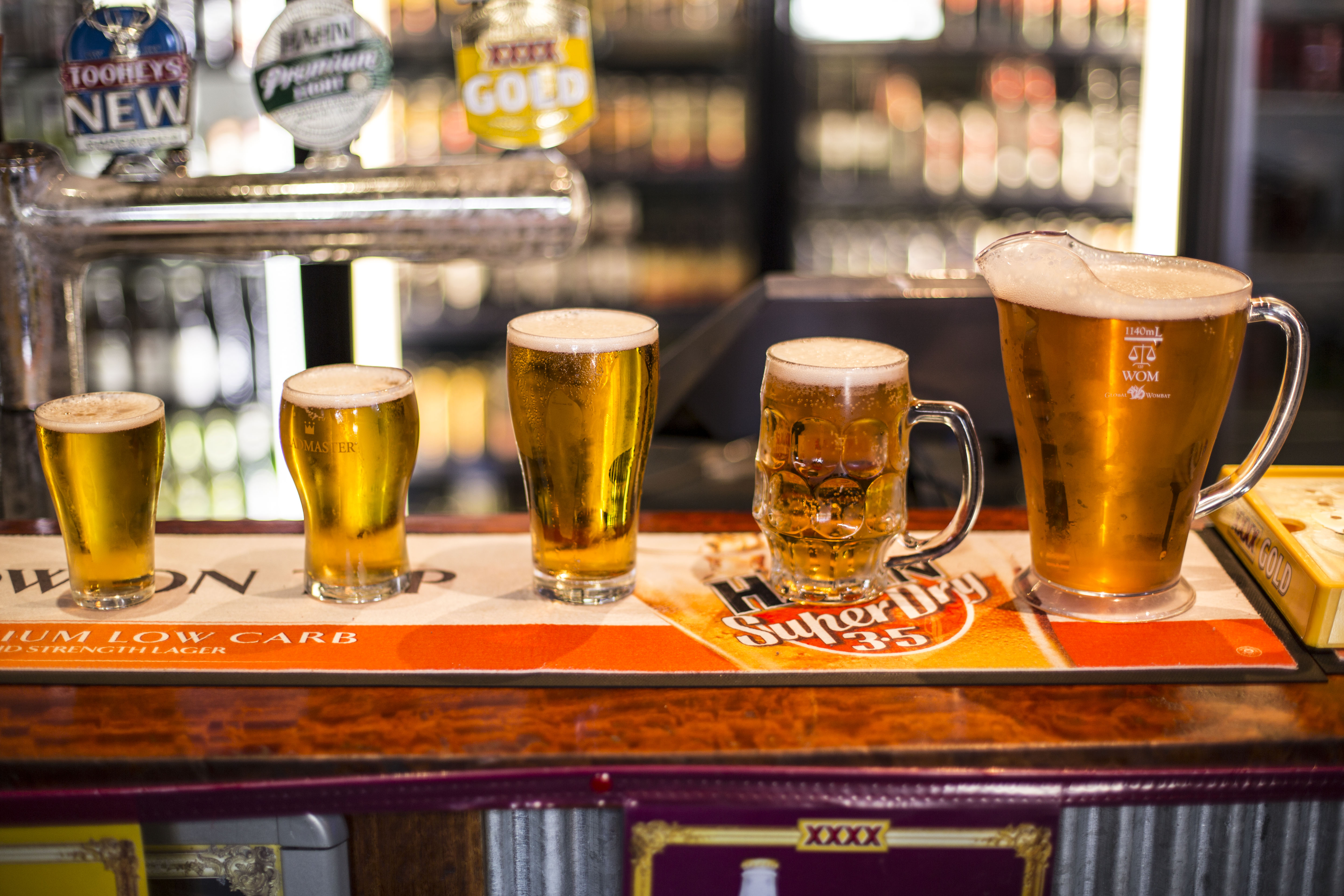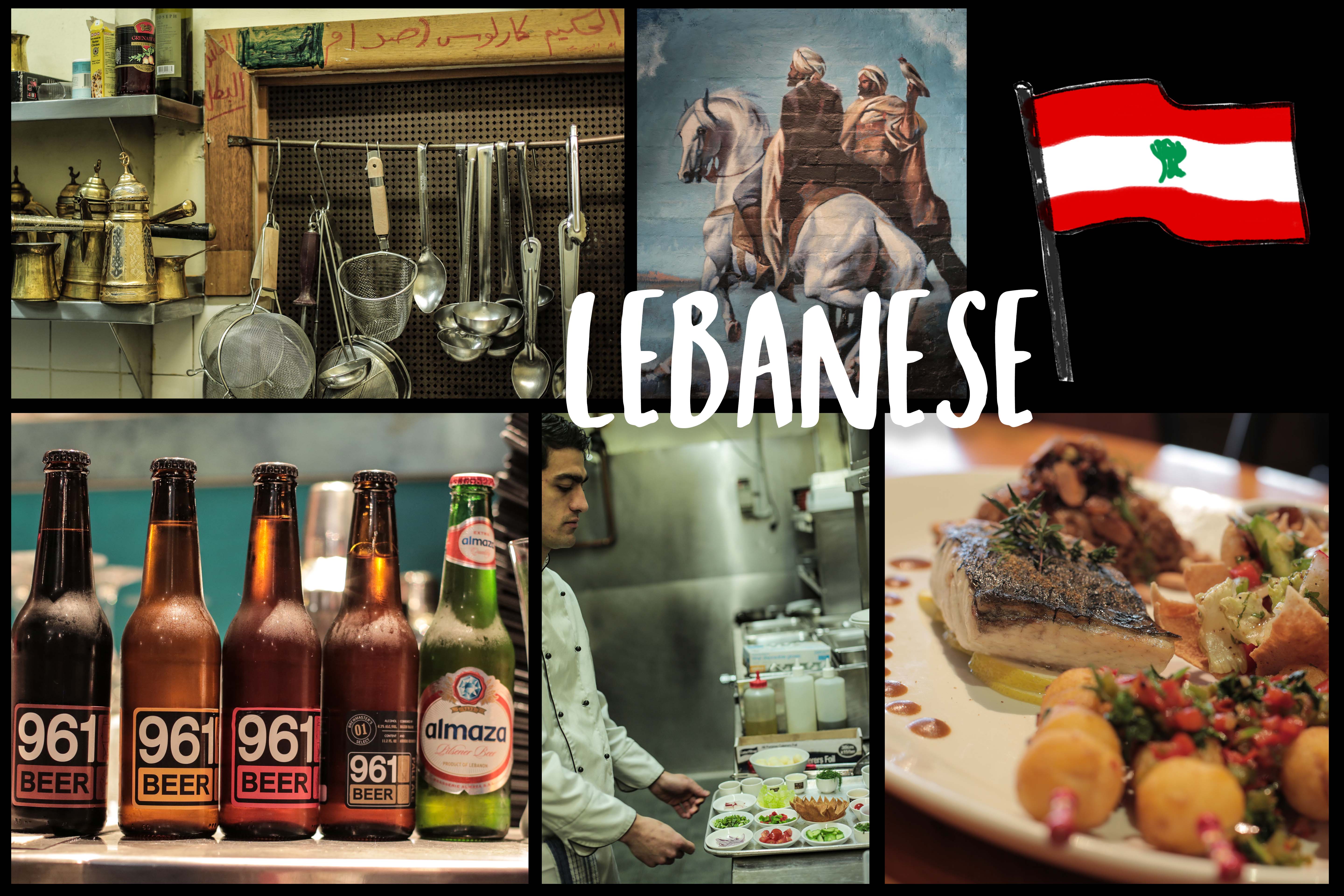 Beer Styles: Up until very recently, the beer brand 'Almaza' (a pilsner style lager) had a monopoly over the Lebanese beer market. And they still have an overwhelming majority of the market, but there is a new craft brand that had shown its head called '961' (the telephone code for Lebanon). 961 have a 'Lebanese Pale Ale' (herbed/spiced beer), a red ale, whitbier, porter and a lager.
Non-alcoholic beer is also quite popular in Lebanon (especially amongst the Islamic community).
Accompanying cuisine: The colourful, aromatic, fresh and zesty Lebanese 'Mezze' food is a great match for beer.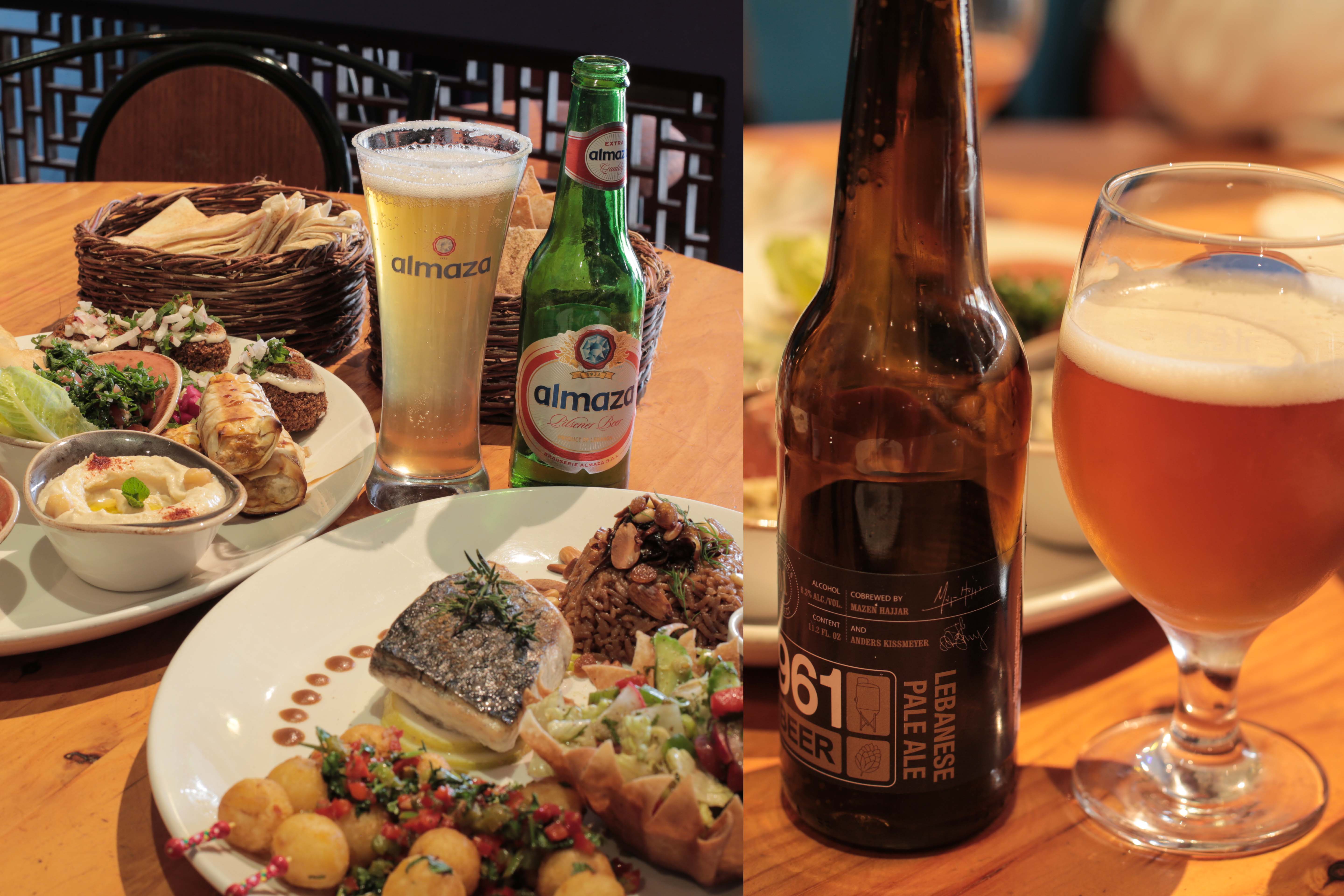 The Light pilsner-styled Almaza (which is often served with lime juice and salt) is a refreshing contrast to the extremely flavoursome Lebanese food while the 961 'Lebanese Pale Ale' tends to compliment the dishes with similar flavours and spices (the Lebanese Pale Ale is actually brewed with Lebanese herbs, such as za'atar (wild thyme), sumac, chamomile, sage, anise and mint!!)
Cultural Beer Traditions: Lebanon doesn't have a very strong beer culture, however the same forms of politeness apply: 'cheers' before you drink ('kesak' in Lebanese) and offering drinks to others before you drink, for example.
Drinking beer is still seen as a predominantly male pastime and women will usually choose another drink (though these traditions are changing).
Something cool: The first people on planet earth to drink beer did so in the Middle East (around 9,000 years ago)! Though this was found to be in Mesopotamia (Modern day Iraq, Iran and Syria), Lebanese beer drinkers are still proud to claim the Middle Eastern connection!
How to say Cheers: Kesak!
Glass of Choice: Pilsner glass