Words, Photography & Film by: Tim Charody on June 04 2014
Ok, so I couldn't stop at 10. In fact, I found it very difficult to cap it at 12, and still know I missed out heaps of Melbourne gems, so I'm relying on you to finish off this list for me!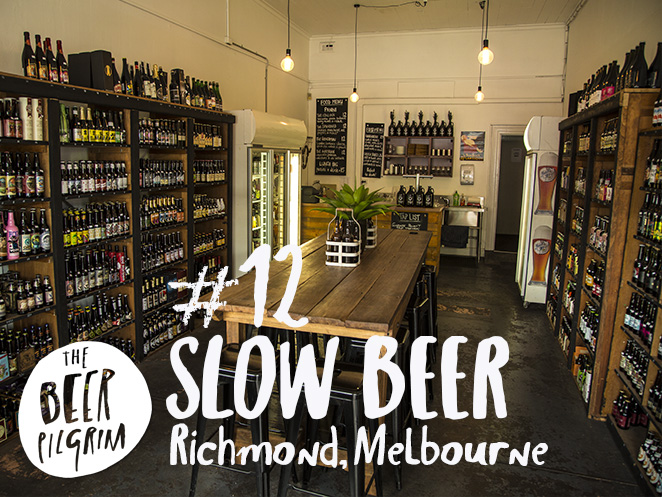 Slow Beer claims to be the country's first 100% dedicated craft beer store. Not only this, but a browse through their beer list might take you awhile because they have over 1,000 beers to choose from. Cough… whaaat? 1000 beers? Yes, you heard me right – over 1,000 different varieties of beer… in the same shop. Utopia.
Beer: Choose from over 1,000 craft beers from around the world.
Food: In their Beer Café, try a 'Spanish' panini with dry-aged chorizo, Manchego cheese, piquillo peppers and rocket. Or grab a cheese or cured meat board to share.
Address:  468 Bridge Rd, Richmond VIC 3121
Opening Times: Open 7 days- Monday to Wednesday 2-8pm  | Thursday to Saturday 12-9pm | Sunday 12-8pm
Website: http://www.slowbeer.com.au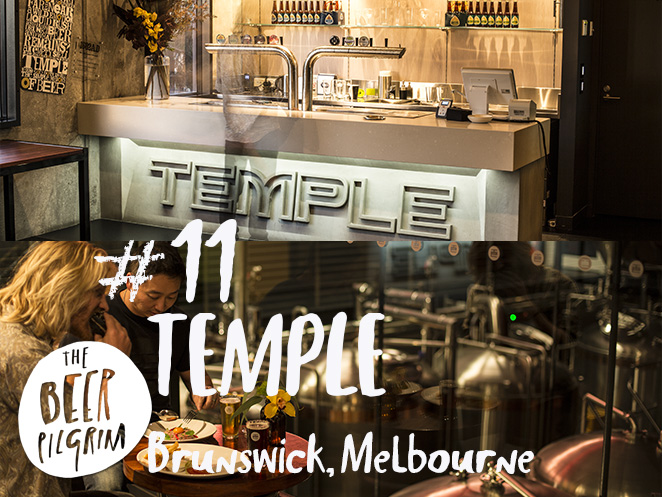 Temple is a slick joint that has some magnificent food and a great selection of beers that come fresh from the tanks onsite. And if you like to see exactly where your beer comes from, you can sit in their top level bar and chow-down on a pitch-black 'midnight' burger and sip on a Rye IPA looking down into the exact brewery where this fine drop was lovingly crafted!
Beer: From the onsite 'Temple' Brewery – 'Bicycle' Beer (light, crisp and tart), Rye IPA, 'Monsoon' mid-strength Ginger Beer, New World American Stout, 'Anytime' IPA, 'Resurrection' Pils.
Food: Fried chicken, Pork ribs, Steak tartare or their famous 'Midnight' Wagyu beef burger on a charcoal brioche bun.
Address: 122 Weston St, Brunswick EastVIC 3057
Opening Times: Thursday 5–11pm | Friday 5–11pm | Saturday 12– 11pm | Sunday 12–9pm (closed Monday to Wednesday and all public holidays)
Website: http://templebrewing.com.au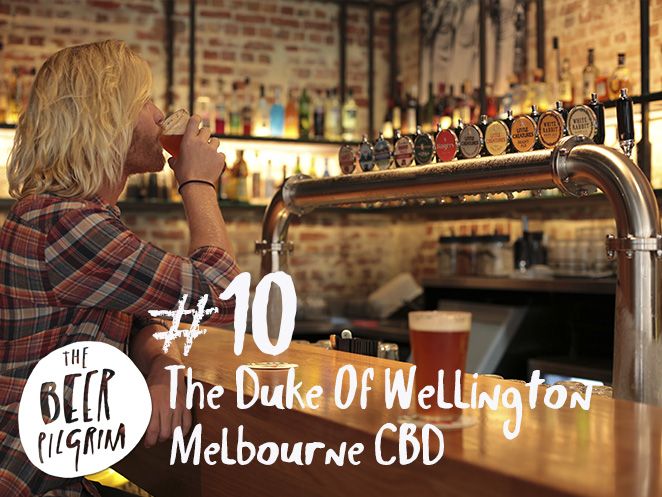 Said to be the oldest licensed pub in Melbourne (since 1853) and being located just down the road from Federation Square, 'The Duke', as its known by the locals can easily be slipped into your sight-seeing itinerary ("But it's a historical icon!"). Their beer menu isn't to be sneezed at either and is sure to keep you entertained well into the evening!
Beer: Huge range of tap beers from Little Creatures, White Rabbit, James Squire, Hoegaarden, Guinness, Super Dry, Asahi, Stella, etc. As well as Hawthorn, Two-birds, Knappstein, 4-Pines, Mountain Goat, Leffe, Corona etc in bottle.
Food: Roast of the Day served on a bed of vegetables, 12-hour Lamb shoulder with braised lentils, Chilli crab and herb linguini.
Address: 146 Flinders St, Melbourne VIC 3000
Opening Times: Open 7 days Monday to Friday 7am-1am | Saturday 9am-1am | Sunday 9am–11pm
Website: http://dukeofwellington.com.au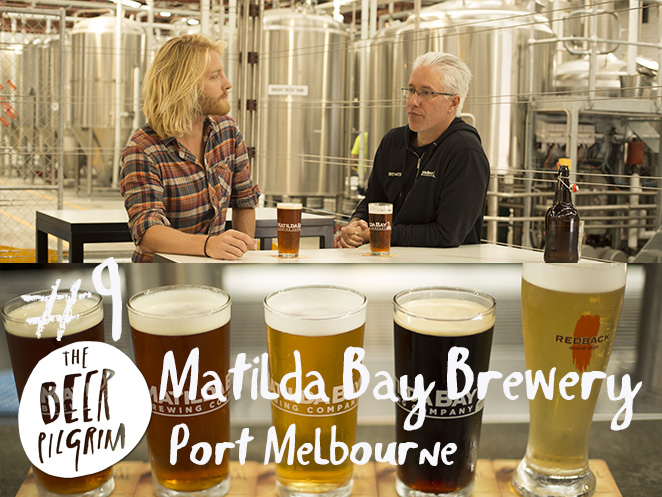 What I love about this experience isn't just the delicious range of Matilda Bay brews that you can sample fresh from the tanks, but the environment in which you can drink them. You are literally right there inside the working brewery, complete with fork-lifts, bottling machines and busy brewers bustling around this exciting place. Nothing hidden, exactly how it is, all around you.
Beer: The Matilda Bay range – Fat Yak, Redback, Beez Neez, IGP, Bohemian Pilsner, Helga, Minimum Chips, Dogbolter, Alpha, Ruby Tuesday.
Food: Pulled pork burger, Veal schnitzel, Seafood chowder.
 Address: 89 Bertie St, Port Melbourne VIC 3207
Opening Times: Tuesday to Thursday 11.30am – 9.00pm | Friday to Saturday 11.30am – 11:00pm Sunday Closed
Website: https://www.matildabay.com.au
Melbournites are proud of their Mountain Goat! And with good reason – their beer range has taken the Aussie beer world by storm. And though you can grab a bottle (or can) of Mountain Goat from bottle shops just about anywhere in Melbourne, nothing quite compares to sipping one shadowed by the very tanks it was produced in! (they make some killer pizzas to go with them as well!)
Beer: From the Mountain Goat Brewery – Fancy Pants Amber Ale, Steam Ale, IPA, Summer Ale, Hightail Ale, one-off batches.
Food: Goats cheese & prosciutto pizza, Hot salami and olive pizza, haloumi and lemon pizza..
Address: 80 North Street, Richmond VIC 3121
Opening Times: Wednesday and Friday 5-11PM
Website: http://www.goatbeer.com.au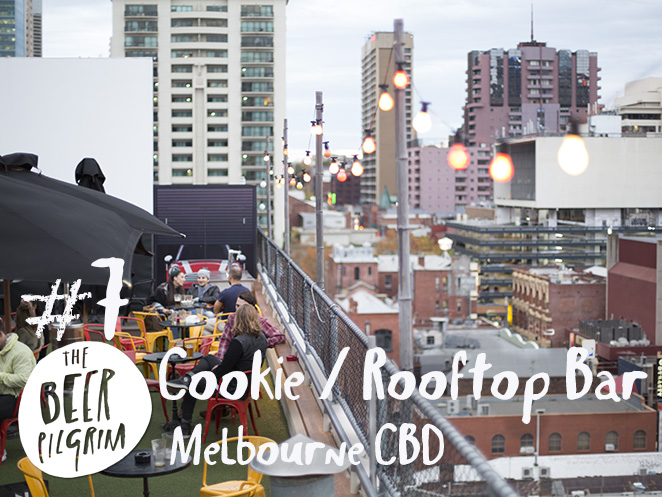 While the elevator-ride to the top floor is an adrenaline experience of it's own, the ride is definitely worth it. When you do pop out on the rooftop bar above Cookie you will feel like you have stumbled across Tarzan's bachelor-pad nestled high in the trees of the concrete jungle – complete with Astroturf, burger-shack, movie screen and deck chairs. However, if it's amazing food and a 200-plus beer list from around the planet you are after, then you need not go past Cookie on level 1 of the same building. Or maybe start on the roof top for sunset, then mosey on down to Cookie for a bite and a brew?
COOKIE
Beer: With over 200 beers to choose from, you would have to be a pretty difficult customer if you don't find your beer of choice here!
Food: Award-winning Thai cuisine: Stir fried pork belly with red curry paste, Green peppercorns & kaffir lime, Crispy fish salad with green papaya & pickled crab.
Address: First Floor/252 Swanston Street, Melbourne VIC 3000
Opening Times: 12pm – 1am Sun-Thu | 12pm – 3am Fri-Sat
Website: http://cookie.net.au
ROOFTOP (Above Cookie)
Beer: A far more simple beer menu than Cookie on Level 1 (they are on a rooftop remember!) however you will still find some great options up here.
Food: Cheeseburger and fries (from their 'All Day Burger Shack).
Address: right above cookie (walk up 7 flights of stairs or go to the top floor in the elevator and keep heading up the stairs till you hit the roof!)
Opening Times:  Tuesday to Sunday 11AM-1AM
Rooftop Cinema runs 5 nights a week from December through to March.
Website for cinema: http://rooftopcinema.com.au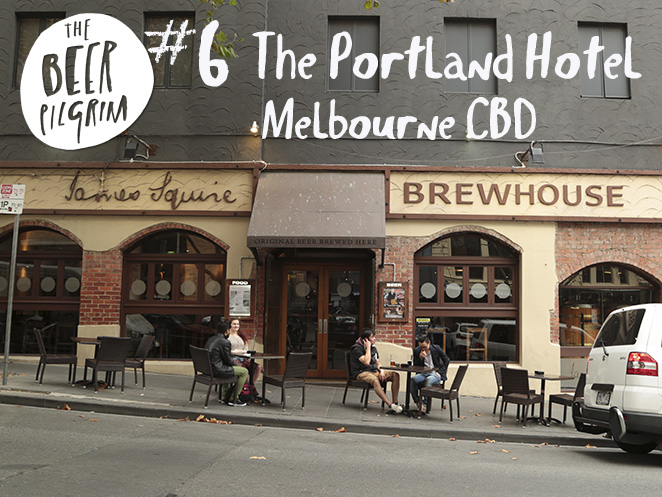 Located on Russell Street in the CBD, The Portland Hotel is your one-stop shop for any beers from the James Squire Range as well as some small-batch beers brewed onsite in their own fully-functioning micro-brewery. The food is affordable and fantastic, much of the menu incorporates beer in the recipe as well as a range of unique dishes using native Australian ingredients such as Kangaroo, Crocodile and Emu!
Beer: The entire James Squire Range and small-batch beers brewed at onsite microbrewery.
Food: Sweet and sour crocodile and pork spring rolls, pan-fried emu dumplings, James Squire 'Constable' braised ox-tail and wild mushroom Wellington croquette.
Address: 115-127 Russell St, Melbourne VIC 3000
Opening Times: Open 7 days- Monday to Thursday 11 am-12 am | Friday and Saturday 11am-3am | Sunday 11am-12am
Website: http://portlandhotel.com.au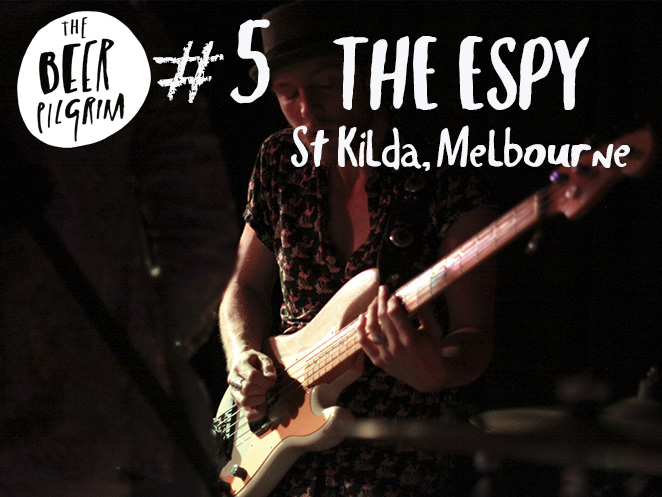 There are few places in the world with a more vibrant live music scene than Melbourne, it's a proud part of the local culture and an integral part of any visit to the city. With such a vibrant music scene, so have arisen some legendary live music venues and there really is no venue more legendary than The Esplanade Hotel in St Kilda. It is loud, it gets crowded, it smells like sweaty rock-stars and on a big night you can expect to wear more beer than drink it…. And it's freakin' amazing! If you value your precious ear-drums, bring ear-plugs!
Beer: All your popular mainstay beers as well as a growing collection of micro-brews.
Food: Habanero Burger with beef, citrus coleslaw, roquette and hot Habanero sauce, 400g Rib-Eye steak.
Address: 11 The Esplanade, St Kilda.
Opening Times: Monday – Wednesday: Noon – 1.00am  | Thursday: Noon – 3.00am | Friday-Saturday: Noon-3.00am
Website: www.espy.com.au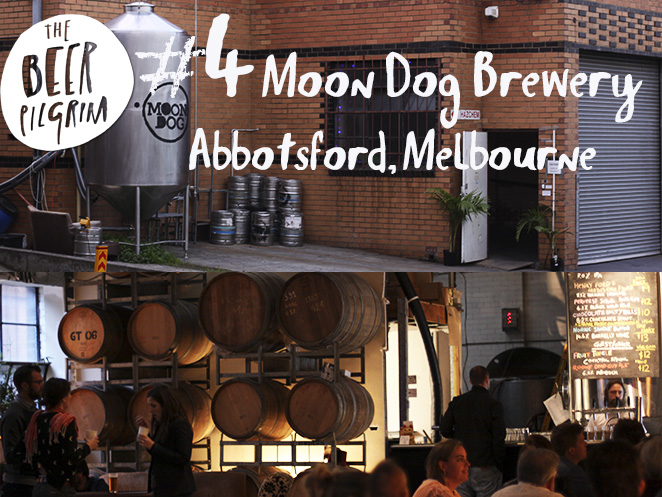 Moon Dog is a tiny cult-like brewery hidden in the backstreets of industrial Abbotsford that churns out brews with names like 'Chocolate-salty Balls', 'Perverse Sexual Amalgam' and 'Henry Ford's Girthsome Fjord'. And while MoonDog's beers are named with all the attitude of a washed-up rock-star, their taste won't let you down either. Beers like the 'Love Tap' Lager are a bit more easy-going, but if you want to take your tastebuds for a ride to the moon and back, then you have come to the right place.
Beer: From the Moon-Dog range brewed onsite – Love Tap Lager, Jukebox Hero IPA, Toffee Apple Amber Ale, Henry Ford's Girthsome Fjord (Belgian-American India Brown Ale….a whaaat?), Perverse Sexual Amalgam (Wild Ale – tart and unexpected… and curiously sexy), Nordic Saddle Buffer (Barley Wine). Basically, strap yourself in for a hell of a ride.
Food: Comes in on wheels – some days they will have a Wurst-van selling German hotdogs, other days a Kombi making you pizzas!
Address: 17 Duke Street, Abbotsford VIC 3067
Opening Times: Thursday and Friday 4-11pm | Saturday:12-11pm
Website: http://moondogbrewing.com.au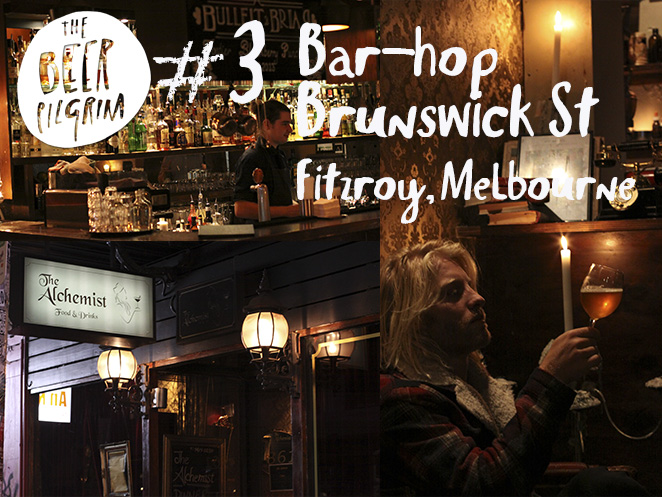 If I was going to name every great bar or pub on Brunswick Street in Fitzroy, I would probably be here all day and night, so I'm just going to give you two – The Alchemist and The Black Pearl.
Brunswick Street is buzzing with excitement and bursting at the seams with cool places to drink. The only think that comes close to outnumbering the amount of bars here are vintage clothing stores and doo-wop tracks on every bartender's iPod, which kind of sums this place up. Expect bearded bartenders with bryll-cream-parted hair and girls in floral vintage dresses… and good beer-lists!
The Alchemist
Beer: A nice selection including Australian beers such as Stone and Wood, White Rabbit and Imported beers such as the Czech Trumer Pils and the German Franziskaner Wheat Beer.
Food: Pan-fried Haloumi with capers, parsley & orange, Spiced lamb Burgers with sweet chilli jam, melted camembert and rocket.
Address: 361 Brunswick Street, Fitzroy
Opening Times:  Open 7 days. Sunday to Thursday 5-11pm  | Friday 5pm -1am | Saturday 3pm – 1am
Website:http://www.thealchemistbar.com.au
The Black Pearl
Beer: About 20 Craft beers on offer (I nestled in with a 'Hop Hog').
Food: Bar snacks (apparently the sausage rolls are incredible)
Address: 304 Brunswick Street, Fitzroy VIC 3065
Opening Times:  Monday to Sunday 5pm-3am
Website: http://www.blackpearlbar.com.au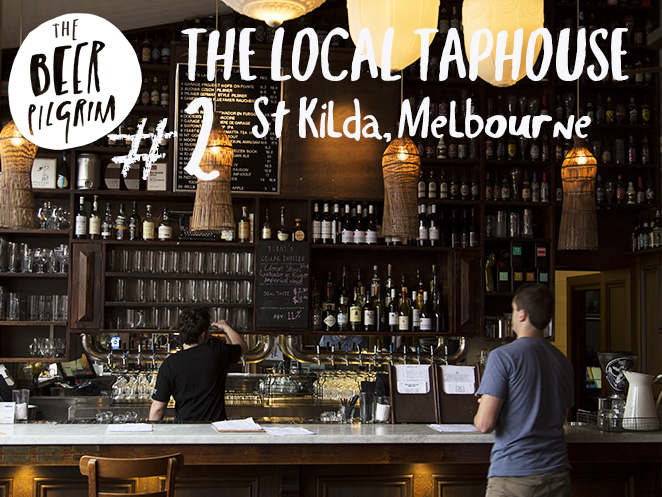 This bar is the perfect place to leave your comfort zone and leap out into the wide world of beer. It is often referred to as the best beer café in the country with hundreds of beers constantly alternating through their long line of taps. Keep your eyes on the ever-changing beer menu because chances are, it will be completely different the next time you drop in.
Beer: You name it, they have it (or can get it) – over 200 beer varieties alternating throughout the year ranging from the well known down to the most obscure beers on the planet.
Food: Deep-fried whitebait with cajun fries with aioli, Tennessee pork-belly sandwich with fennel and apple slaw.
Address: 184 Carlisle St, St. Kilda East, VIC 3183
Opening Times: Monday to Sunday 12pm-1am
Website: http://thelocal.com.au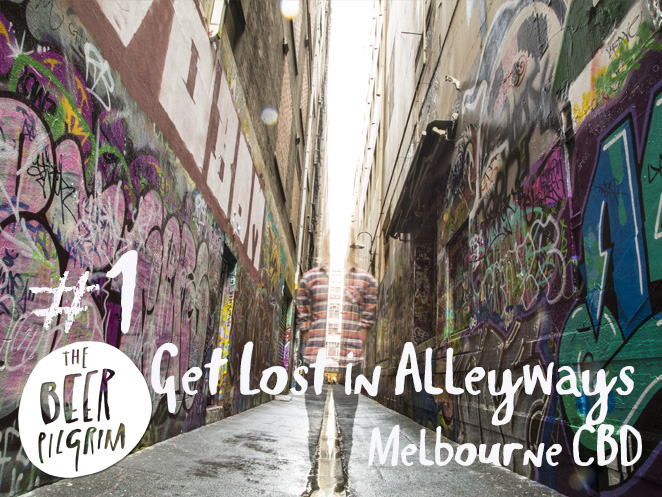 My favourite thing to do in Melbourne is to switch off my phone, take a wrong-turn and get completely lost in the maze of smelly alleyways that sprawl around the city, linking everything up like little graffiti-filled capillaries. It's in these alleyways that you will find Melbourne's true gems. Mention the name St Jeromes and Melbourne hipsters will trail off with a glazed look in their eyes as though remembering the golden era of cool (this famous alleyway bar is now a big ugly car-park, however it's legacy lives on in annual festivals all around the country). But when one great alleyway bar is eaten up by an expanding shopping mall, another alleyway bar pops up (or remains unscathed).
Two suggestions for you to start your alleyway bar-hop from me will be
1. The super-weird 'Croft Institute' down Croft alley off Little Bourke Street. www.thecroftinstitute.com/
2. 'Sister Bella' in Sniders lane (this is said to be the hipster-sister of the late St Jeromes). www.sisterbella.com
The rest you will have to find yourself!
And don't forget to write down your Melbourne suggestions, no doubt there are plenty more out there!