Words, Photography & Film by: Tim Charody on May 14 2014
Whether you are a complete wax-head, surfer-nut, a beginner or just like to sit back and watch people get smashed by huge waves, I think you will agree that there is nothing quite like having an after surf beer. Some of my best memories are kicking back with my mates and a few brews after an incredible surf session.
And I know what it's like to come out of the water completely exhausted, starving and in need of food and drink. Let this Top 10 list help you find your post surf beer and feed post haste!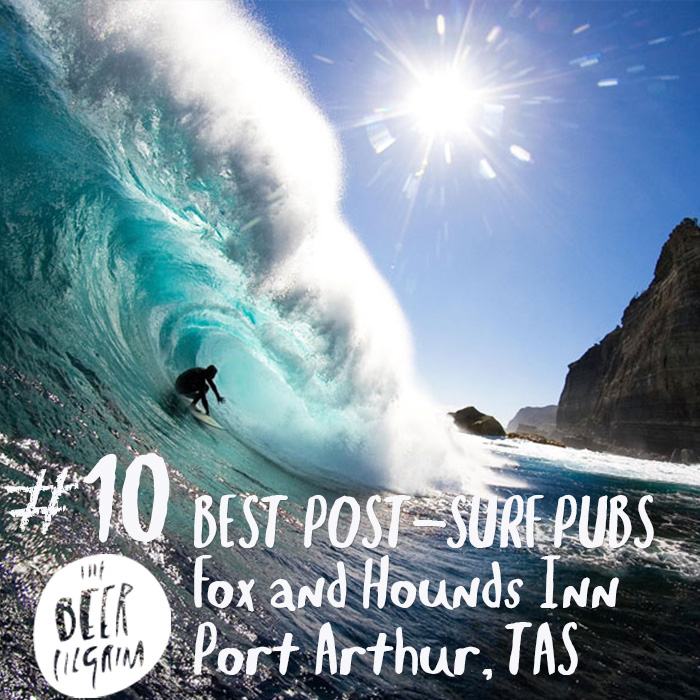 The name 'Shipsterns Bluff' strikes fear into the hearts of all surfers. It is considered to be one of the planet's heaviest waves and the very thought of talking off on one of these gnarly, frothy monsters will make your heart jump around like a jackhammer on the loose. But even if you aren't amongst the surfing elite who will actually surf this wave when it's big, you can still go and watch gob-smacked from the cliff side. Just be prepared for a 2 hour return hike out of Port Arthur near Hobart.
Anyone who has the coconuts to surf this creature of a wave deserves a beer, and the closest place to sit down with a cold one is the 'Fox and Hounds Inn' in Port Arthur, a quaint English-style pub that couldn't be further removed from what you just experienced at 'Shippies'.
Close Surf Breaks: Shipsterns Bluff, Safety Cove Reef (two mind-bogglingly different waves)
Popular Food: Rannoch Farm smoked quail salad, steak and kidney pie, sesame seed crusted Salmon served on a bed of baby spinach.
Beer: Tassie classics (Cascade / James Boags ranges)
Opening Times: 12pm- 8:30pm / 7 days.
Website: http://www.foxandhounds.com.au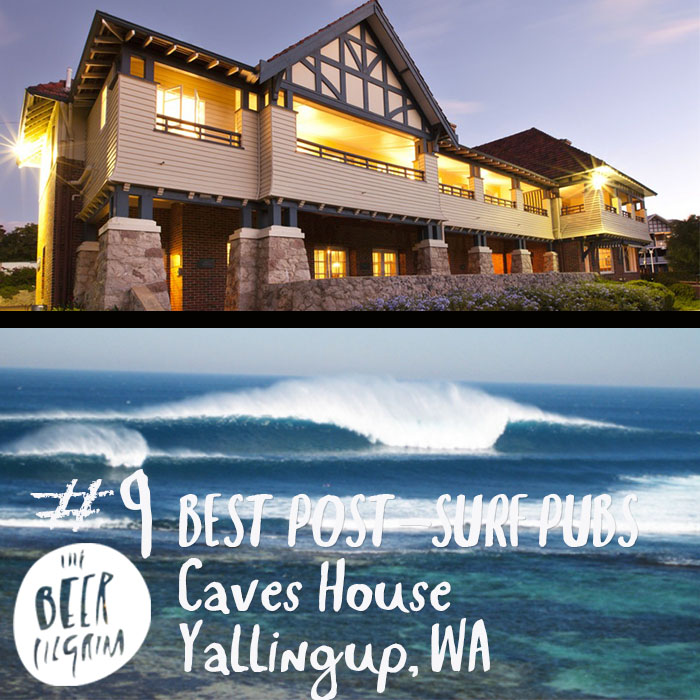 Yallingup is home to some pretty serious West Oz breaks and if the recent media frenzy and hysteria around sharks hasn't scared you away from the ocean, you can have some incredible surf sessions in and around this picturesque little coastal town. A session at Yallingup Point in perfect 6 foot offshore waves wouldn't be complete without a beer with your surf buddies at 'Caves House' in Yallingup afterwards to discuss who had the heaviest wipeout! You might even spot local Taj Burrow kicking around!
Close Surf Breaks: Yallingup (point / shorebreak), Supertubes, Smiths Reef, Injidup Point, North Point, Rabbits.
Popular Food: Wagyu Beef Burger, Fish n' Chips, Chicken Parmigiana.
Beer: Great choice of Aussie beers including Little Creatures and James Squire range on tap.
Opening Times: 7:30am- 10/11pm (depending on crowd) / 7 days.
Website: http://www.caveshousehotelyallingup.com.au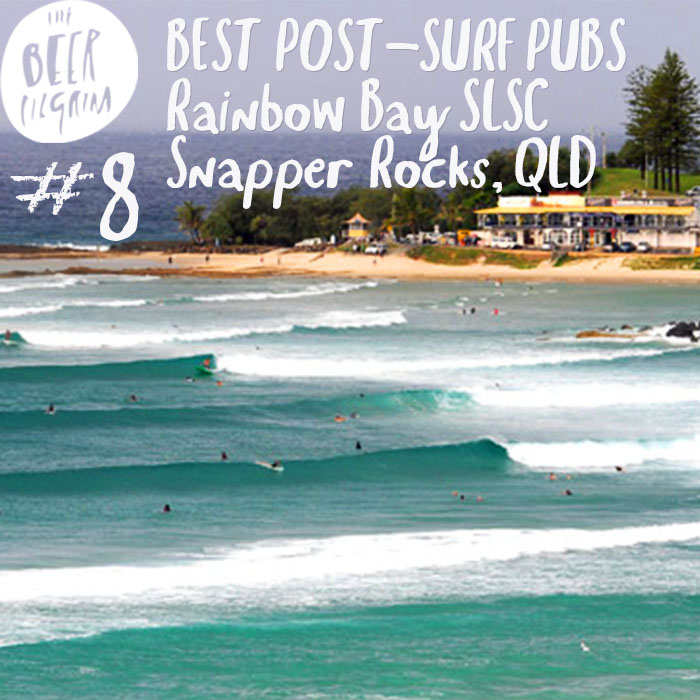 Snapper Rocks attracts surfers from all over the planet to it's long, perfect right-handers. On it's day, you can potentially get a wave for over a kilometre and ten second barrels aren't uncommon; the only problem is, you will be sharing it with over 400 people! When you have either had your fill of waves, or just getting sick and tired of the crowds, cruise over to Rainbow Bay Surf Life Saving Club where you can enjoy the waves of Snapper Rocks at a distance with a plate of fish 'n chips and a cold beer!
Close Surf Breaks: Snapper Rocks (Superbank), Point Danger, Kirra, Greenmount, Coolangatta.
Popular Food: Pizza, burgers, salads, chicken schnitzel, fish of the day, reef 'n beef and daily $10 specials.
Beer: Range of Australian beers and Asahi.
Opening Times: 10am- 9pm (8pm for Restaurant) / 7 days.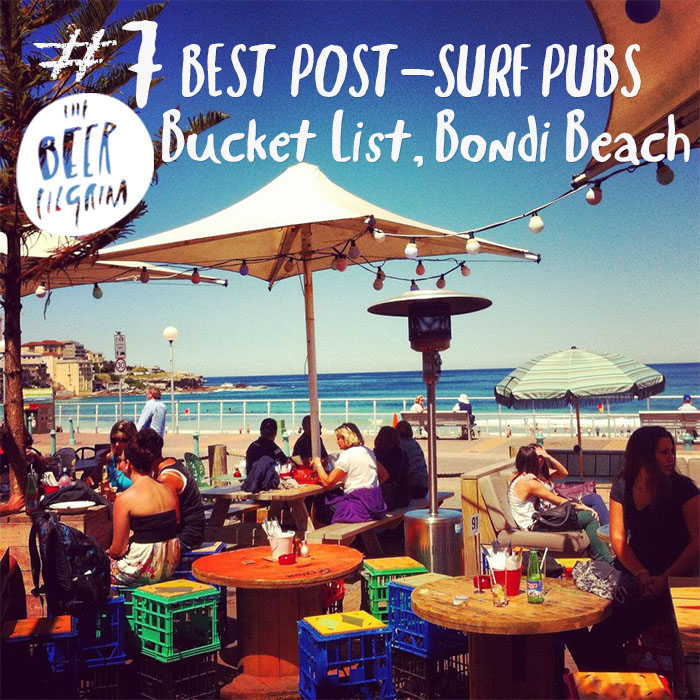 This is probably the closest bar to Bondi Beach, being almost on the sand and it absolutely heaves on a sunny Friday, Saturday or Sunday afternoon (and into the night). It has become a pretty trendy joint attracting the well-dressed and the beautiful so it feels good to rock up dripping wet and covered with zinc without a care in the world!
Close Surf Breaks: Bondi Beachies, South Bondi, Tamarama, Mackenzies, Bronte Beachies, Bronte Bommie.
Popular Food: Grilled barramundi w braised eggplant, olives, sultanas, tomato & lemon, Bucket of fresh cooked QLD tiger prawns w seafood mayo & lemon.
Beer: Corona, Stone and Wood, Pacifico (think summer-style beers).
Opening Times: Mon-Sun 11am till late.
Website: http://thebucketlistbondi.com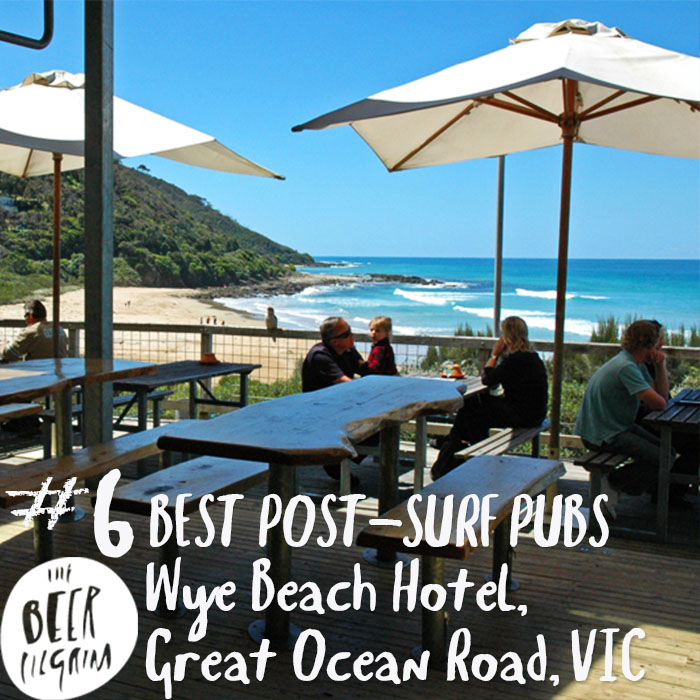 The Great Ocean Road is one of those places where you have to pinch yourself every hour just to make sure you aren't dreaming – it is just so beautiful. The waves aren't to be sneezed at either, boasting breaks like Bells Beach and Jan Juc. Wye River also plays host to some decent waves and just above the beach is the Wye Beach Hotel with it's spectacular views right down the beach. In winter keep your eyes peeled for whales!
Close Surf Breaks: Wye River, Lorne Point, Bells Beach, Basically the entire coastline has waves in the right conditions.
Popular Food: Sea Scallops with cauliflower puree and prosciutto, slow-cooked lamb shoulder with apricot sauce.
Beer: Only local craft beer on tap. Eight taps pouring beer from Forrest Brewing Company, Otway Estate, Southern Bay Draught, Mountain Goat and Requiem Pilsner.
Opening Times: 11:30am – 10pm (winter) / 11:30am – 11:00pm (summer) / until 1am weekends and holidays. Note: will close earlier if the bar is empty (so come and fill it up!)
Website: http://www.wyebeachhotel.com.au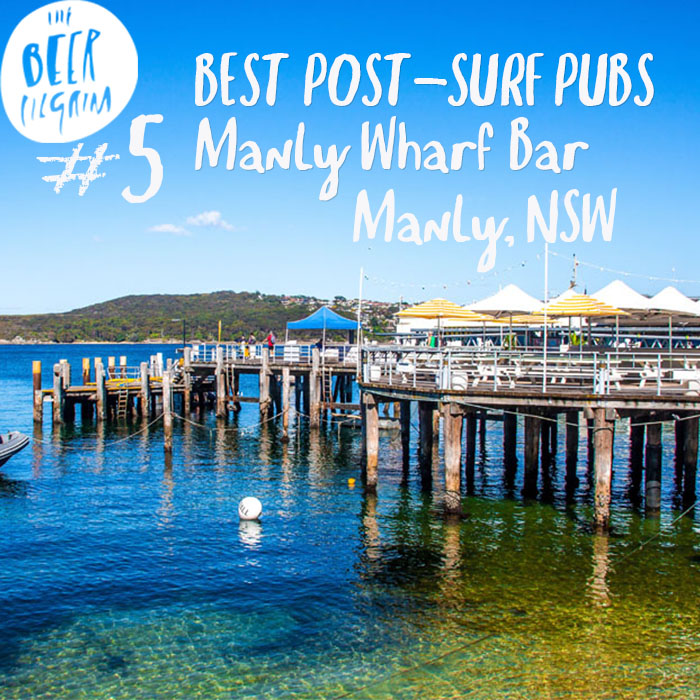 When you finally rip yourself out of the surf at Manly, it pays off to take a short stroll through the corso to the harbourside and pull up a pew at Many Wharf Bar. Have a beer, gaze out over sparkling Sydney Harbour and the ferry home is right next to you… or you could just have another beer?
Close Surf Breaks: Manly Beach, Ferry Bower, North Steyne, Freshwater.
Popular Food: 'Chur' Burgers (Pork, beef, chicken, vege, fish or lamb options), 500g rack of USA style pork ribs w/ homemade BBQ basting sauce, tiger prawn and Atlantic salmon fettuccine, olives, basil, cherry tomato, parmesan, lemon.
Beer: Impressive beer selection to choose from, served from nine taps and a large range of bottled beers.
Opening Times: 11:30am-Midnight (Mon-Fri) / 11am-1am (Sat) / 11am-Midnight (Sun)
Website: http://manlywharfhotel.com.au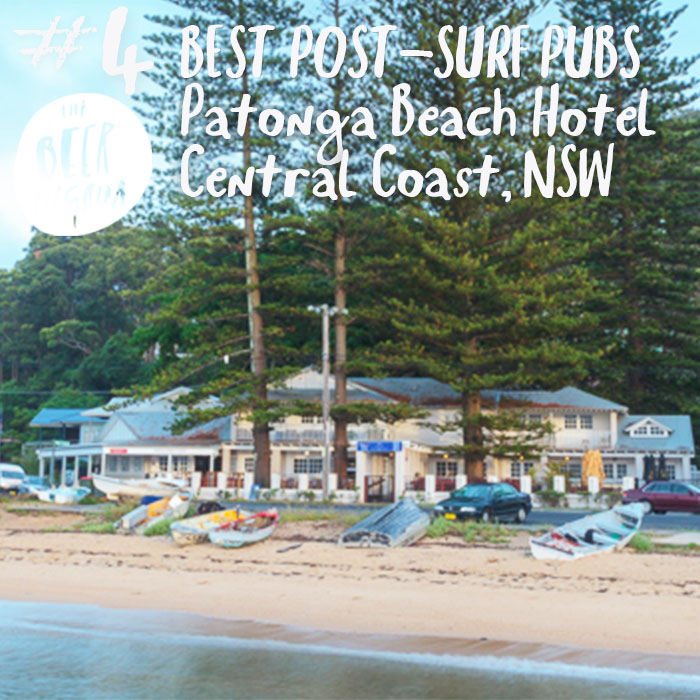 While you would be lucky to score waves on this beach (though they do come through in a huge swell), Patonga is not far from the incredible surf of Pearl Beach, Umina and Box Head. Located right on the sands of beautiful Patonga Beach, this would have to be one of the most picturesque places to have a beer in NSW. You will feel a world away from the hustle and bustle of Sydney (even though Palm Beach is just a short ferry ride away!).
Close Surf Breaks: Patonga Point (very rarely), Pearl Beach, Umina Point/Beach, Box Head.
Popular Food: Seafood platter of fresh local oysters, prawns, calamari, mussels and fish. Dry-aged Steak cooked to your liking… basically, a great menu.
Beer: Everything from XXXX and VB to Fat Yak, Dog Bolter and Grolsch.
Opening Times: 11:30am – midnight (Sat) / 11:30am-8:30 (Sun) / 11:30am -8:30 (Mon, Tues)  / 11:30am -10:30 (Wed and Thurs)
Website:http://www.patongahotel.com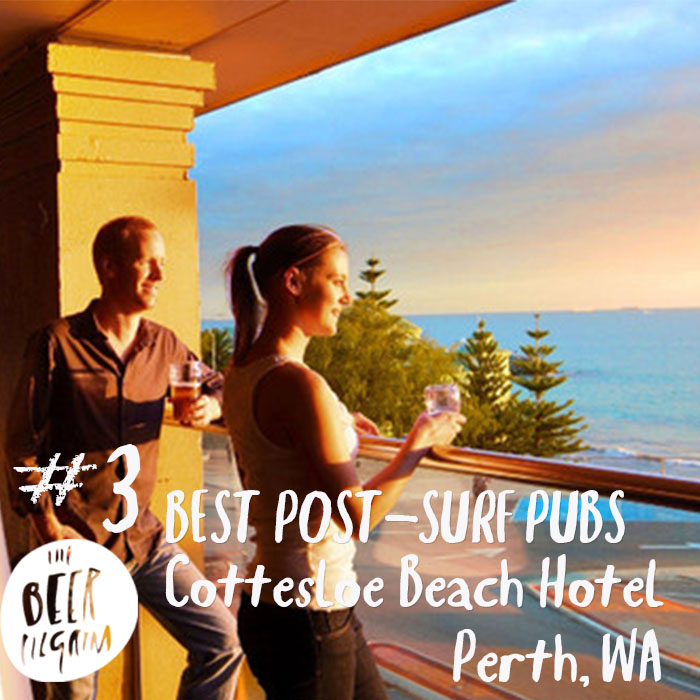 The 'Cott' as the locals fondly refer to it as, is a Perth icon. While the surf on Cottesloe Beach is generally tiny, being blocked by Rottnest Island just off the coast, watching the sun melt into the ocean here with a beer in hand after a body surf or returning from a larger surf session on 'Rotto' or Trigg Point (just north of Cottesloe) will leave you with some golden memories.
Close Surf Breaks: Trigg Point, Cottesloe Beachies, Voodoos, Anywhere on seaward side of Rottnest Island.
Popular Food: Squid, coriander and lime salad, fresh oysters, alternating 'fish of the day' menu, traditional pork sausages with 'nonnas' tomato relish. 
Beer: Their 'Verandah bar' is said to be "a mecca for beer aficionados", which means you can definitely find a good brew here.
Opening Times: Mon-Sun 11am – late (food until 9pm)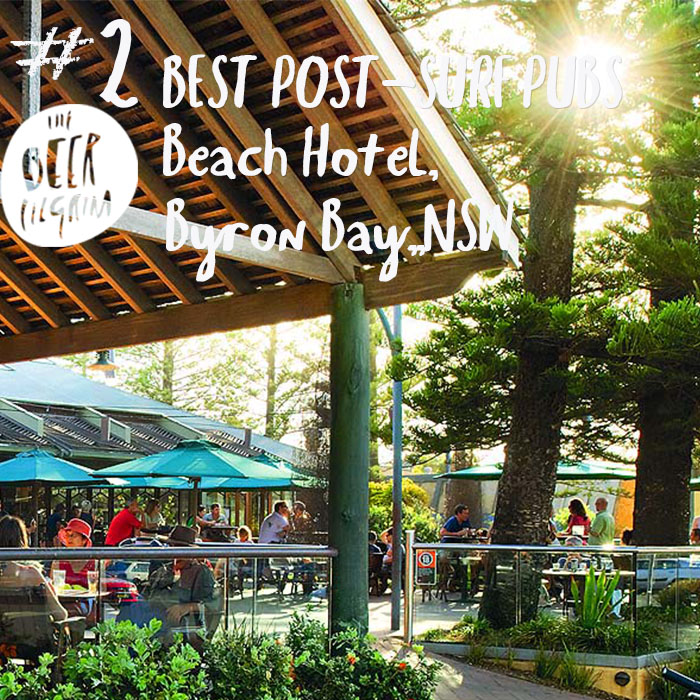 When I think of a perfect day in Byron Bay, it generally involves a long day surfing 'The Pass' or Tallows Beach and a beer at Beach Hotel. This is the kind of place you can see an entire afternoon drift away with ease. The food is decent, the beer garden is magnificent, the general crowd is unpretentious and the live music here will keep you rocking well into the night.
Close Surf Breaks: Byron Main Beach, The Wreck, The Pass, Watego's, Tallows.
Popular Food: Spicy fried King prawns w chili mayo, Pork belly sliders w hoisin, cucumber and spring onion, 'Boathouse' baked snapper pie w dressed leaves.
Beer: All your mainstay Aussie beers as well as the local Stone and Wood range.
Opening Times: 10am-midnight / 7 days
Website:http://beachhotel.com.au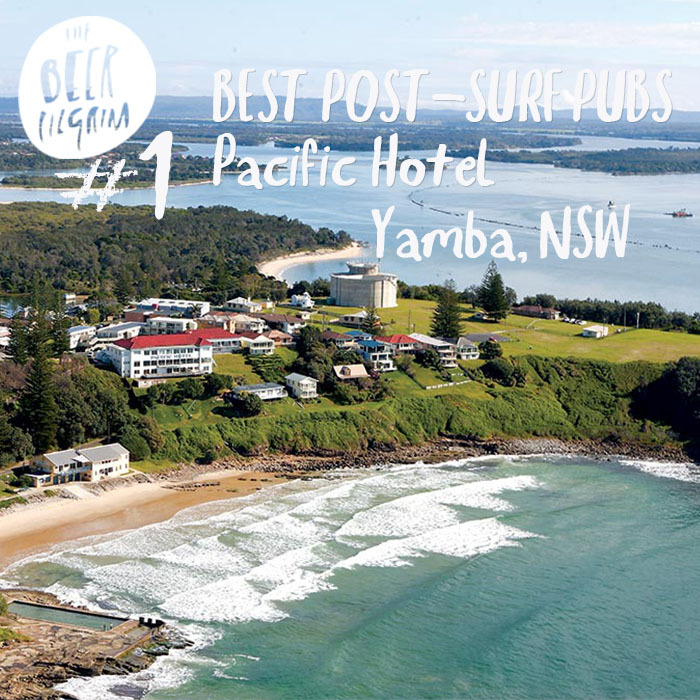 Many will say that this pub has the best view in the whole country and if you have ever been, it's hard to disagree. The Pacific Hotel is perched on the hill above the beach at Yamba on the NSW north coast. You can literally walk off the sand, up a small hill and into the bar. Having a meal and a beer on their deck area will make you feel like you are floating above the shimmering Pacific Ocean.
Close Surf Breaks: Yamba, Angourie, Razors,
Popular Food: Duck leg confit w orange & green peppercorn sauce, green vegetables & chats, crab meat risotto and tempura soft shell crab, roasted pork belly with apple cider reduction.
Beer: 20 different varieties including Carlton Draught, Stone and Wood, Tiger, and 17 others…(apparently).
Opening Times: 10am-midnight (Fri/Sat until 1am)